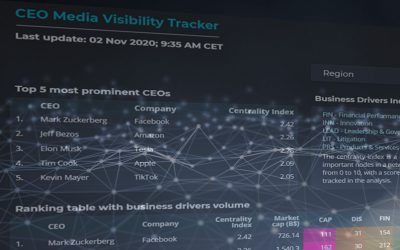 Measuring and subsequently managing chief executive officer (CEO) brand image and reputation is essential for CEOs and their companies, especially in the age of social media. Recent research by global PR advisory firm FTI Consulting has shown that fast-growth...
read more
Need to know more about analytics?
Get our latest insights and valuable content delivered every couple of weeks directly to your inbox.
Subscribe to our newsletter
By submitting this form, you are confirming you have read and agree to our Privacy Policy.
COPYRIGHT © 2021 COMMETRIC