"Storytelling" is certainly one of the buzzwords that all marketers try to make an invariable part of their jargon, and in terms of  storytelling as a branding tool, it is now common to argue that any brand story is a good brand story, if only for the sake of it.
Every marketer knows that for successful storytelling you need a good story. But you also need a good storyteller. And there might be better storytellers out there than your brand.
Whatever the outcome of telling their own stories, brands often forget to relate to their audiences' stories. But the truth is that in order to do it, they need to understand the cultural context within which consumers tell their stories.
Hypermodernity, another way of speaking about post-modernity, characterises our culture, where we are attracted by simple, visual things, those we do not need to think about: a media culture of the emotion without much reflection.
As far back as the 1960s, the Canadian philosopher Marshall McLuhan posited that the media were "extensions of our senses." This is more than valid today when the new technological devices of media convergence, such as smartphones, tablets, and VR devices, have become extensions of our eyes, ears, and brains through their different applications, such as e-mail, cameras, mobile TV, Internet and augmented reality. Furthermore, our social relationships have extended or migrated to social networking platforms.
In this context, storytelling is all about integration. In his article "Storytelling is key to engagement" Dom Robertson rightly claims that we are all storytellers at heart and with the proliferation of social media platforms, there are more and more arenas to help us tell our stories.
Facebook's timeline, for example, serves as a depository of compelling brand and consumer stories, Pinterest has become a visual pinboard of our lives, while YouTube allows us to be broadcasters.
As a result, consumers are becoming collaborative storytellers, constantly promoting their own stories online and telling the stories of others – to the extent that brand protagonists are being replaced by consumer protagonists.
In the era of big data, the more progressive brands use data and insights to help them tell stories and also listen to their audiences' stories. The greatest challenge they face in this regard is gaining access to social data free of self-promotion bias, i.e. unprompted, authentic data about consumer interactions on social media.
Another challenge with using social data for storytelling is that through company pages or public profiles on social media sites, brands usually obtain a statistically insignificant sample of data, which does not allow for generalisation.
A breakthrough data analytics product that can solve these long-standing problems of self-promotion bias and sample size is Facebook topic data, allowing marketers to access the interactions of more than 1.6 billion people on Facebook in a privacy-safe way.
Now back to storytelling and sports.
Sports marketing is especially amenable to storytelling. The reason for this is that sports and sporting events transmit emotion and provide uncertainty. The live broadcasting of sports games offers viewers a high degree of uncertainty, as they do not know what is going to happen and who is going to win the game.
A powerful story unfolding during a sporting event can inspire us about a sport we've never watched, an athlete we haven't heard of, or a country we've never visited or even located on the map.
Under Armour is a brand whose entire DNA is based on storytelling. Its first story goes that the company founder Kevin Plank started investor presentations by taking a cotton T-shirt, soaking it in a bucket of water, slapping it on the table and announcing: "Cotton is the enemy," a stance later reversed when the company launched the Charged Cotton line in 2012.
The two most powerful stories told by Under Armour are "Rule Yourself", telling about the sacrifices athletes have to make in their daily lives and the elation they feel when wholly dedicated to training for their sport, and "I Will What I Want," a story of extraordinary willpower helping ballerina Misty Copeland to overcome seemingly impossible odds caused by harsh misconceptions about the ideal ballet body.
Recently, through Facebook topic data we discovered another story involving Under Armour but this time told by the viewers of the Wimbledon 2016 final between Andy Murray and Milos Raonic.
Relatively new to the global sportswear market, Under Armour has sought to build brand equity by sports endorsement and sponsorship, but lacking the scale of giants such as Nike and adidas, it has betted on emerging athletes with a focus on authenticity rather than glamour.
The Grand Slam final on 10 July 2016 was not a fight only between Murray and Raonic, but also between their respective sponsors- sportswear brands Under Armour and New Balance, a rather unusual matchup for an event ruled by Nike athletes Federer and Nadal, and adidas– and Uniqlo-sponsored Djokovic, for many years.
The story of Murray's victory at Wimbledon, dressed from head to toe in Under Armour, is one of pure happiness. Happiness! That is the feeling both Murray and the thousands or millions of viewers of the match experienced watching the triumph of the most successful British men's tennis player since Fred Perry.
Happiness is one of the simplest, yet universal and authentic feelings that fit neatly into our existing narrative, where shortened attention spans encourage us to consume only stories that create an emotional connection.
In this regard, we support the proposition that authentic brands are essentially collections of stories created by the company, told by others, borrowed from elsewhere, but also increasingly co-created by the company, society, and/or consumers within the existing cultural context.
The story about Under Armour and Andy Murray at Wimbledon, uncovered through Facebook topic data and represented below, is in line with a research finding, cited by the authors of an article on FastCompany.com titled "What Sex, Food, And Selfies Have To Do With Effective Social Marketing," which found that 80% of social media posts were related to a consumer's immediate experiences.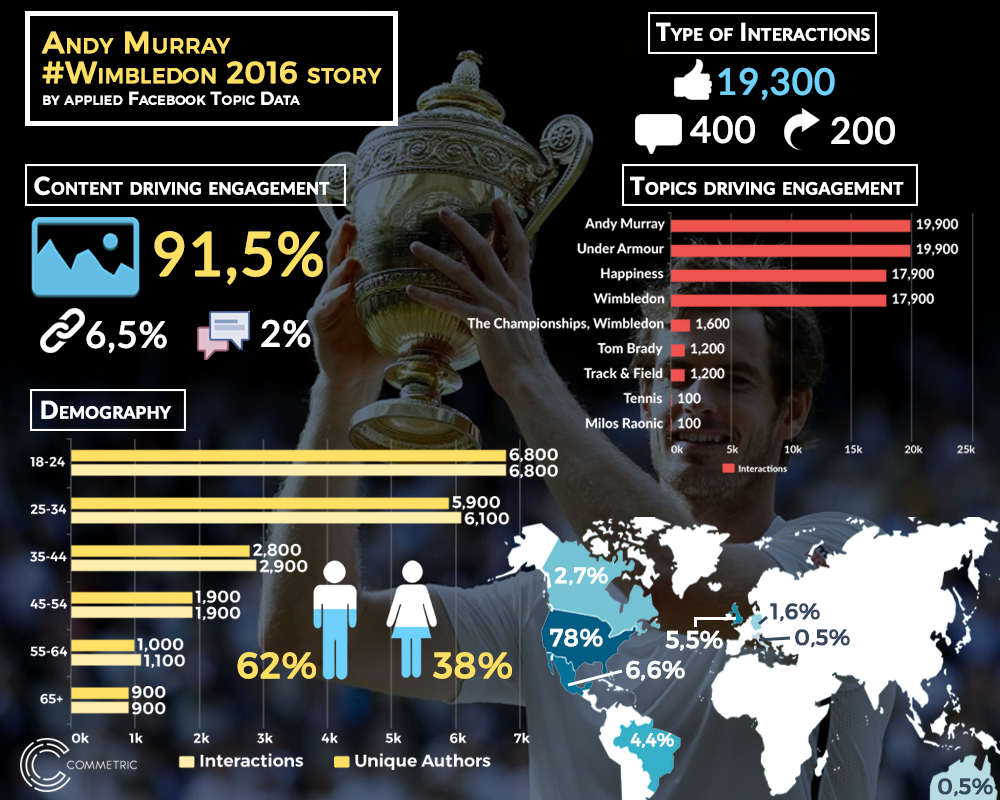 Facebook topic data reveals that more men in the 18-24 and 25-34 demographics, located mainly in the US, but also in Mexico, UK, Brazil and other countries, were engaging around the Under Armour brand in the context of Andy Murray's victory at Wimbledon 2016.
In line with the postmodern tradition, engagement centred around visual content (photos), which users mainly liked, but also commented on and reshared. What is more, almost 90% of the engagement around the brand and the event referred to the topic of "happiness," confirming the finding that on social media users mainly shared their immediate experiences and feelings.
Research by Harvard University cited in the above-mentioned article, explains that sharing our thoughts and emotions on social media activates the rewards system of the brain, providing the same shot of dopamine we get from sex, food, and exercise.
What are then the strategic implications of Facebook topic data for storytelling as a branding tool?
While traditional approaches to storytelling may help with brand positioning and differentiation, they are unlikely to generate lasting authenticity because they involve inventing stories (even if they have no shred of truth) or ignoring or even distorting consumer stories.
Facebook topic data, however, can help brands collect a broad range of unprompted and authentic consumer stories, which can be used to add ever-deepening layers to the brand's essence and thus create a strong aura of authenticity, rather than a set of well-defined brand associations.
Cover photo credit: Kirsty Wigglesworth/Associated Press