The Dubai Expo 2020 attracted unprecedented media interest in comparison to past world expos and helped the UAE to market itself as a nation of tolerance.
Our media analysis found that India, Saudi Arabia and Italy emerged as the most influential countries in the media debate, while others such as Syria, Iran and Qatar were blamed for trying to distract the public's attention from their human rights abuses.
Looking at the Expo as a nation branding case study, we suggest that countries should make sustainability a core governance value and find the right balance between presenting what's familiar about one's nation to its audience and getting them to see the country in new, different ways.
View a one-page infographic summary of the analysis.

Unlike past expos, which quickly vanished from collective memory, the Dubai expo is likely to continue radiating its aura well into the future. According to many media reports, the expo, which opened in October 2021 and is set to run until March 2022, will likely turn into a permanent fixture, and fulfil its out-of-the-ordinary role, in one way or another.
Its main themes – Opportunity, Mobility and Sustainability – crafted around the UN's Sustainability Development Goals, were chosen with this long-term vision in mind. They provide some insight into Expo's ambitions, as well as the UAE's worldview and priorities. And thanks to sophisticated targeted messaging on traditional media platforms and social media, smart design, and high visibility, Expo 2020 has reached a wide audience, within and outside the UAE.
But perhaps most interestingly, the Expo has been shaped into a tool of nation-branding. It has helped the UAE to market itself as a nation of tolerance, and one that connects people and cultures. This is how the Gulf state coloured its Expo with its unique brush. In the midst of a worldwide pandemic, it has also succeeded in showing the world that in-person events are not only possible – they also have an irreplaceable value.
Some analysts predict that Expo Dubai will continue to make waves and that the UAE will continue to reap the benefits of its well-thought-out nation-branding strategy. To see how the Expo has been reflected in the media, we decided to find out which topics got traction and which countries, apart from the UAE, managed to move the needle.
Sustainability as the hottest topic
Analysing 1,665 English-language articles published between October 2021 – February 2022 in top-tier media outlets, we found that Sustainability – one of the main themes of the Expo – was the main topic of the media discussion:
With the ambition to create a better world and be one of the most sustainable World Expos in history, Sustainability formed the cornerstone of this year's occasion.
Numerous media reports mentioned The Sustainability District at the event, which aimed to throw light on the various efforts being undertaken to preserve our environment. Furthermore, the event's first themed week was dedicated to climate and biodiversity and received a fair share of media coverage, as it brought together experts and innovators from across the globe for a series of panel discussions, tackling everything from carbon footprints and single-use plastics to clean energy adoption and recycling.
Many countries' pavilions across the Expo site aimed to highlight their pioneering efforts to battle overconsumption, overproduction and sustainable management of resources. For example, the Austria Pavilion features a start-up that collects food waste and repurposes it into gourmet food and other edibles, underlining the need for reusability. Visitors to the Bulgaria Pavilion could sample coffee from edible cups and see the innovation of biodegradable laminating foil.
Meanwhile, Finland made waves with its vertical farming system and zero waste agricultural technologies, based on the principles of circular economy, while the Bangladesh Pavilion demonstrated how its ban on single-use plastics paved the way for seeking newer biodegradable alternatives in different fields.
The Technological innovation topic focused on how tech took centre stage at the Expo and was used by various countries as a way to present themselves as innovative. For example, Slovenia aimed to position itself as a crypto-supporting nation, becoming the world's first nation to issue its own non-fungible tokens (NFTs) and offer them as visitor-gifts at the Expo.
Tech innovation was reported as being all-present at the event: many media outlets mentioned Opti, a one-metre-tall orange-coloured robot, who was "the guardian of the Opportunity Pavilion" and who takes part in Expo parades, and interacted with visitors by answering their questions, dancing with them and even telling jokes.
At the China Pavilion, another robot, named Youyou, could pull off some tai-chi moves and wield a calligraphy pen with a flourish. And the Germany Pavilion caught the media's attention with robots performing Beethoven's works in a brand new light – including electronic, acoustic and rock.
The Mobility/International cooperation topic followed the Expo's other main theme – global connectivity, with a number of journalists focusing on the Expo's political and diplomatic implications. For example, Turkey's participation was perceived as signifying a new era of cooperation between the country and UAE. Turkish ambassador to the UAE Tugay Tuncer said his country's participation is also an opportunity to showcase the robust and diversified Turkish economy.
The Diversity and inclusion topic included many reports quoting Reem Al Hashimy, the UAE Minister of State for International Cooperation and Director-General of Expo 2020 Dubai, who said that the world's female leaders are proof that when women thrive, society also flourishes. And the Expo's Women's Pavilion, in collaboration with French luxury goods conglomerate Cartier, unveiled an exhibition titled 'New Perspectives', which invited visitors to celebrate and recognise the central role women have played throughout history, leading up to the present day.
In the meantime, the Health and Wellness topic showcased the expo's bid to celebrate everyday acts and 'unsung' heroic gestures by health and sanitation workers, teachers, parents, artists and more that have kept the world moving forward.
Articles within Food and Agriculture focused on discussions about food systems, food waste, food safety, small agricultural projects and food security. Some commentators also noted that the event strived to position the UAE as the culinary capital of the world.
India, Saudi Arabia and Italy most influential
Our analysis found that India emerged as the country with the highest influencer score (calculated in terms of coverage by high-profile media outlets) in the Dubai Expo debate. (We excluded the hosting state UAE, which naturally has disproportionately more media mentions than any of the participating states.)
India showcased itself as an investment destination in the food and agriculture sector, launching a Food, Agriculture and Livelihood fortnight at the India pavilion with an aim to attract high-end cultivation technologies and push Indian millets and organic farm products in global markets.
The country focused on promoting millets, with India playing a key role in bringing a UN resolution to declare 2023 as the International Year of Millets. The country is also aiming to open up Indian organic food products to global markets as well as farm technologies based on drones, artificial intelligence and big data.
India also attracted media attention as one of its manufacturers, AirOwater, launched a technology that produces water from the atmosphere at Expo 2020. Visitors could taste water produced by AirOwater machines and understand the technology and how water is produced out of thin air.
Meanwhile, India has invited global companies to invest in its energy transition and work with it to achieve its vision to expand the green footprint by more than doubling the share of natural gas in the country's energy basket. The country's Commerce and Industry Minister Piyush Goyal was quoted as saying that at a time when the whole world is coming together to recover from the COVID-19 pandemic and bringing growth back on track, a resurgent India is ready to take on the responsibility of being the frontrunner in this revival process.
Saudi Arabia came second in our sample as it used the Expo to celebrate its Founding Day, marking the creation of the first Saudi state nearly three hundred years ago.
The country also gained traction with its new initiative designating 2022 as the 'Year of Saudi Coffee', highlighting that coffee is one of the main elements in Saudi culture and folklore and is a symbol of hospitality for all segments of society. In addition, the Saudi Arabia Pavilion glammed up for an evening of fashion, called From Saudi to the World, featuring pathbreaking Saudi labels that are already making waves.
Italy, renowned for its centuries of experience trying to preserve its rich artistic culture, used its presence at the world fair to launch a project to help other nations around the Mediterranean rescue heritage at risk. The country also hit the headlines with its reproduction of Michelangelo's David, made using one of the world's largest 3D printers and based on 40 hours of digital scanning of the original 16th-century marble sculpture that stands in Florence.
The statue sparked controversy after organisers chose to cover up the statue's manhood to avoid offending conservative Muslims. Public nudity is not permitted in the United Arab Emirates, and the first unveiling of the statue to Emirati VIPs caused 'enormous embarrassment,' according to Italian newspaper La Repubblica.
Israel ceremonially opened its gleaming pavilion at the world's fair, over a year after normalising ties with the United Arab Emirates. The pavilion's arch featured chock-full of flashy videos promoting Israel's windmills, high-tech advances and historic sights. Meanwhile, China has gone all out, hoping to take centre stage by showcasing more than 5,000 years of civilisation crowned by recent technological advances. The China Pavilion, one of the largest national pavilions, also focused on sustainability, adopting a series of environmental-friendly technologies to reduce carbon foot prints.
Differentiation points
Some of the most influential countries in the Expo conversation also managed to differentiate themselves from fellow participants, as shown in this graph illustrating the proximity of each company to the others in the media discussion.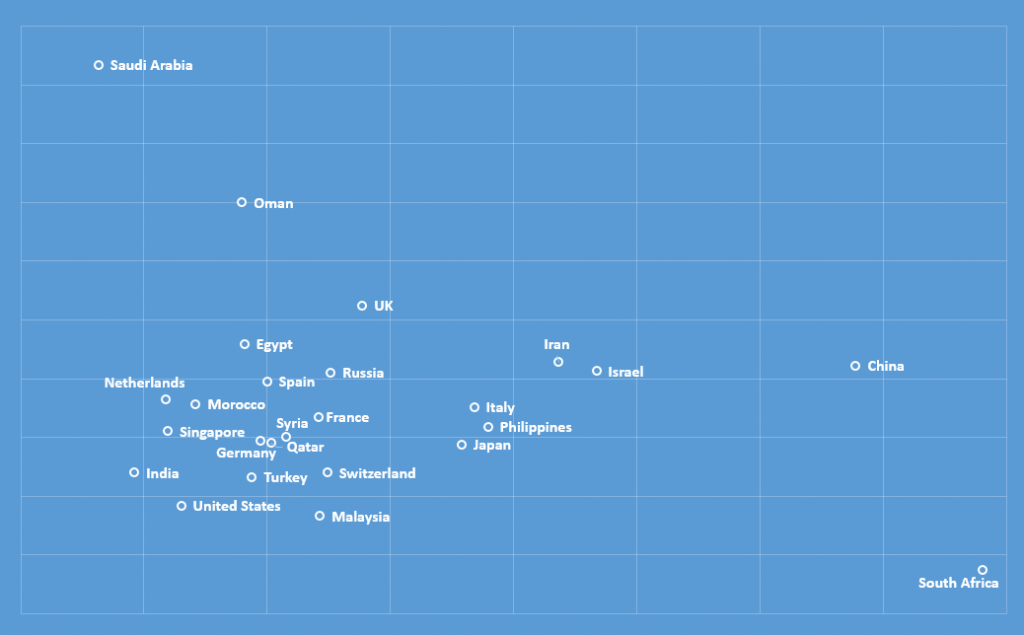 Saudi Arabia stood out in the debate as it was widely reported that it intends to bid to hold the 2030 World Expo in Riyadh, the year that's supposed to mark the culmination of its program to diversify the economy away from oil. The bid letter was sent to the Bureau International des Expositions, the World Expo's organising body. It comes as the kingdom attempts to raise the country's profile internationally.
China was also an outlier as the Expo was perceived as a bridge of friendship between the country and the United Arab Emirates. The China Pavilion's theme of "building a community with a shared future for mankind — innovation & opportunity" aligned with the UAE's pioneering and innovative national spirit, as well as the current trend of all humanities joining hands and overcoming obstacles, Chinese Ambassador to the UAE Ni Jian said.
Italy, Japan and the Philippines formed a cluster as they focused on displaying their cultural heritage. Italy launched a project to help other nations around the Mediterranean rescue heritage at risk, Japan celebrated its National Day as part of a continued effort to promote its cultural diversity, and a cultural show was held as part of the Philippines National Day celebrations at the event.
South Africa also stood out in the debate as it used the Dubai Expo platform to create economic opportunities as well as promote the country as a tourism and investment destination. Addressing the digital integrated Heritage Week Dubai Expo Exhibition, Department of Sport, Arts and Culture Director-General Vusumuzi Mkhize said heritage tourism has multiple benefits that will accrue to South Africa.
Another cluster was formed around Syria and Qatar, which were criticised for not addressing their human rights abuses. Some journalists claimed that Syria wanted visitors to forget about its brutal war and learn about the world's first alphabet, while Qatar, host of next year's World Cup, was in the crosshairs of activist groups over its treatment of labourers, often from South Asia, who build its ambitious developments.
A similar attitude was expressed towards Iran, whose showcase made no mention of religion, nor the nation's other sources of pride like its contentious ballistic missile and nuclear programs. Instead, Iran went for a hard-core handicraft spiel, pitching Persian carpets with no reference to the American sanctions crippling the trade. According to some critics, the Iranian pavilion presents the most fitting metaphor for Expo – with brief, optimistic glimpses and nothing more or less than what the countries want you to see.
A nation branding case study
The Dubai Expo could be seen as a good nation branding case study. As representative platforms directed at an international public, World Expos provide an excellent opportunity to create and improve the image of a country abroad and to impart knowledge.
The term "nation brands" first appeared in 1998 articles by Simon Anholt, an ad exec at McCann Erickson whose initial observations connected flourishing corporate brands to their nations of origin. As he observed, most successful brands came from countries that were successful brands in their own right. Anholt saw no reason why nations, like companies, couldn't modify the way they were seen.
Nowadays, nation branding strategies are gaining priority as an area of research because of increasing market complexities and the rising importance of national competitiveness ranking. The sustainable development of a nation brand, when properly managed, provides the economic incentive to attract investors, tourists and generate income for local communities.
Consequently, nations have become far more conscious of the value of their brand as an asset, using the techniques of brand marketing to build up an image. It is a long-term investment by different actors in different fields, such as exports, tourism, education and politics. Strong nation branding has an impact in terms of the country's soft power, that is to say: what makes a tourist travel to our country, a client buy a Swiss made product, a politician support an agreement with us or a student study in one of our universities.
Researchers have been calling for a more eclectic approach in examining a wider range of factors such as sustainability and market competitiveness in order to develop a synergistic nation brand. For nation brands to remain competitive, it is essential to understand key determinants of market competitiveness. Here are these determinants, as per Arholt's analysis:
Based on our analysis of Dubai Expo 2020, here are a few ways countries can step up their nation branding in accordance with these determinants:
Make sustainability a core governance value. As we saw, countries which framed themselves as sustainability hubs managed to gain substantial media attention, not least because Sustainability was the main topic of discussion. Countries can double down on that trend by focusing on sustainable tourism – a relatively new concept, which refers to tourism that attempts to minimise environmental impacts and sociocultural changes and also contributes to prolonging the life expectancy of destinations and creating a unique economic opportunity for local communities. This new concept is consistent with the expectations of a growing number of tourist segments that demand sociocultural and nature-related activities in attractive destinations on a global scope. For destinations to sustain their competitive positions, they need to develop integrated activities and products that usually range from culture/nature education and heritage/history orientation to outdoor adventure sports and wildlife viewing. Similar activities and products will enhance the comparative advantage of the destinations in appealing to an emerging global travel segment that tends to be above average in education, environmentally aware, experience-oriented and ready to accept local customs and culture. A good example from the Dubai Expo was the Seychelles Pavilion, which focused on the steps being taken to safeguard the natural beauty and history of the nation's islands and the opportunities to take part in their preservation while visiting.
Turn your heritage characteristics into a competitive market position via experience branding. The development of a nation brand should focus on a systematic examination of its attributes as a destination that presents a unique comparative advantage to attract investors, tourists and other resources such as technology and talent. Nation brand leadership can be achieved by building a differential strategy of the whole destination experience from the point of view of all stakeholders. Therefore, the starting point should be "how to differentiate the nation brand." Many countries nowadays have adopted experience branding through developing touristic programs that aim to create an authentic local experience to tourists. Good examples from the Expo included the New Zealand Pavilion, which empowered visitors to experience a true reflection of the Maori value of 'kaitiakitanga' (guardianship of the land) as they explore the oneness of people and the environment. Meanwhile, a captivating journey through the Maldives Pavilion highlighted the Maldives' unique natural environment and its people who are intrinsically linked with the sea.
Balance between the familiar and the new. The challenge is also to find the right balance between presenting what's familiar about one's country to its audience and getting them to see the country in new, different ways. In the case of the Expo, some countires used familiar and even stereotypical associations as points of departure to draw visitors into the pavilion's story, given how crowded the Expo grounds generally are. After all, much of nation branding is about confirmation and reminding. Providing delightful surprises is however crucial for successful nation branding. This is very much a reflection of the rising expectations of the growing global middle class that is young, urban, and tech-savvy. For example, the Greek Pavilion, highlighted the country's traditional profile as a cultured state, and, drawing inspiration from the legend of Ariadne's Thread, it showcased a new image as an emerging centre for innovation and entrepreneurship.
Don't be quiet about controversial issues. Our analysis showed that countries like Syria, Qatar and Iran were portrayed as trying to distract the public from their human rights abuses. As good comms practice has shown, keeping quiet about a controversial issue is never a good strategy – especially at a time when everything is well-documented and scrutinised. Look at how the so-called sportswashing practice gained steam in the media and how it affected nation brands. According to some pundits, 2022, which launches into the Olympic Games in Beijing and ends with the World Cup in Qatar, is set to be a great year for authoritarian regimes looking to cover up their atrocious human rights records. Analysts warn that one of the big objectives of sportswashing is to extend soft power while also softening a state's image, the entertainment of the games creating a subliminal link with a benign image of the hosting state. Read our recent analysis for more insights.