This analysis was originally published on the Institute for PR's website.
As a blend of three words, environmental, social and governance, ESG's reputation is now tainted. Those three letters have now transformed into shorthand for much hype and no actual impact, as their collection of objectives provides no unified and coherent guide for investors and companies.
Recent high-profile controversies contributed to this problem. Tariq Fancy, former global chief investment officer for sustainable investing at BlackRock, made headlines last year when he said ESG investing is little more than "marketing hype" and "disingenuous promises". And a whistleblower from Deutsche Bank's DWS asset management arm denounced ESG as "meaningless".
Many commentators argue that ESG can be fixed if brands split those three letters (the more targets there are, the less likely it is to hit them) and focus just on the E. From a PR and comms perspective, this makes perfect sense. Our recent analysis showed that many media outlets use ESG and sustainability in the same sentence — in some cases, you might even see them used interchangeably.
So how should brands focus on the E to save ESG's problematic reputation? Here are a few tips based on our media analysis, which included 130,000 English-language articles published between 1 Jan 2021 – 31 Mar 2022.
1. Move beyond the pledges and the PR buzz
Companies are coming out with a record number of pledges. At least a fifth of the world's 2,000 largest public companies have now made some kind of pledge – e.g., setting a target to achieve something great in a given period of time – and put it at the centre of their PR strategy.
We found that such pledges are generating most of the news coverage around the E aspect of ESG, accounting for the strongest media driver: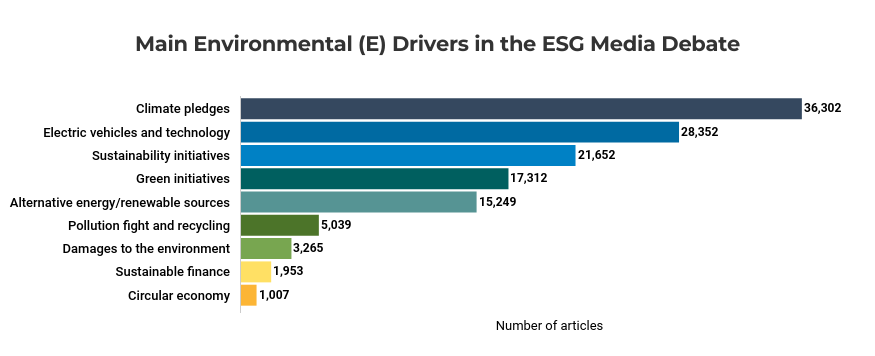 News around more specific efforts, such as the use of sustainable transport or renewable energy sources, is far behind pledges in terms of volume. This goes to show that the E in ESG is still predominantly buzz. The problem is that headline climate pledges can often sound like just the latest PR exercise – and there's nothing worse than your PR efforts being perceived by the public as PR efforts and nothing more. Moreover, the pledge-centred strategies could often sound reactive to the numerous research findings blaming corporations for climate change.
Environmental action pledges are no longer sufficient, and companies are losing the ability to "fudge the numbers" on sustainability policies. Business must walk the talk. Moving forward, the focus should be on clear, comprehensible pathways and actionable implementation.
2. Focus on a single measure such as emissions
We all know ESG has a measurement problem: the different scoring methods have inconsistencies and are easily gamed. The problem is that terms like "sustainability" tend to be interpreted in many different ways by businesses, investors and consumers. For some, it's about reducing plastic, while for others it's about using natural ingredients.
That's why many experts suggest that the E should stand not for environmental factors, but for something measurable like emissions (which are by far the most significant danger). In fact, the more practical talk of emissions is what made the Automobile industry, and particularly companies like Toyota, Ford and Nissan, the most prominent one when it came to the E factor: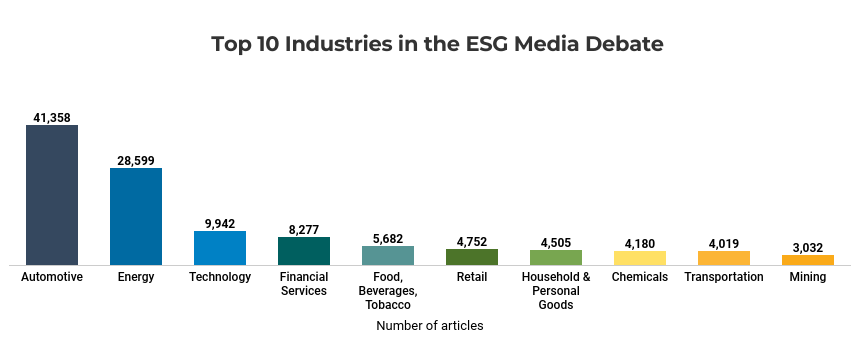 Investors, regulators and the general public are already pushing to make emissions disclosure more consistent and standardised. The more universal they are, the easier it will be to assess which companies are doing the most to tackle climate change. PR teams should be better able to follow the carbon footprints of their firms and make them central to their strategies.
3. Drop the eco-catchphrases to avoid greenwashing
There has been a sharp rise in mentions of buzzwords like "climate", "low-carbon" and "transition" in annual reports in recent years, especially for oil and gas giants, such as Shell and BP, alongside the increasing number of pledges. But specific actions were rare and financial analysis revealed an ongoing business dependence on fossil fuels along with negligible and opaque spending on clean energy.
We found that this is what gave rise to many greenwashing allegations. Companies can be accused of greenwashing simply out of inadequate communication. Labelling everything you do as "environmentally friendly", "eco-friendly" or "green" can backfire if you don't back up these claims with real attributes and results.
Today, these terms are used so often that consumers barely detect them – and may consider them superficial, empty words unless you are able to explain exactly why your product has a reduced impact or how much CO2 it avoids. Try substituting catchphrases or slogans with some straightforward and measurable details, supported by facts and data: your audience will come away with a better understanding of your endeavours, and you will have planted a seed of trust in them.
4. Focus on a positive impact rather than just doing less harm to the planet
Many ESG critics have started asking whether sustainability can ever be truly "sustainable" if what it means is merely controlling our human urge to consume nature's resources.
By now it's clear—doing less harm is not going to be sufficient. According to a Wunderman Thompson study, 83% of consumers think businesses and brands should focus on a positive impact, rather than just doing less harm to the planet. The solution lies in the emerging concept of "regeneration", which goes beyond mitigating damage and means actively restoring and nurturing, creating conditions where ecosystems and economies can flourish.
For now, regeneration is being employed predominantly in the Food and Drink industry, with companies like PepsiCo, Nestlé and Danone focusing on regenerative agriculture to improve soil and water cycles. As it's still a new concept, there's an opportunity for companies from other industries to stand out by transcending conventional sustainability, adopting a more holistic worldview and putting the E in ESG in style.