In the previous blog post, we discussed how Facebook topic data can help sportswear brand Under Armour improve its storytelling by collecting authentic consumer stories through social data and using them to add ever-deepening layers of meaning to its brand essence.
As one of the oldest and brain-friendliest methods of communication, storytelling relies on patterns, i.e. characters, action and places, which we learned about as children and which make it easy to understand, process and remember: evil becomes good, poor becomes rich and ugly becomes beautiful.
Thanks to the Swiss psychiatrist Carl G. Jung, today we have a universal way to understand and craft stories that speak to human emotions. In his Archetypal theory, Jung described seven archetypes, i.e. universal constructs that symbolise basic human needs, aspirations or motivations. He defined archetypes as prototypes that are not learned but are with us from birth.
The Jungian archetype theory was first applied to brand storytelling by Margaret Mark and Carol Pearson in their seminal book "The Hero and the Outlaw," where they identify 12 familiar personas, or brand archetypes, each telling its own archetypal story.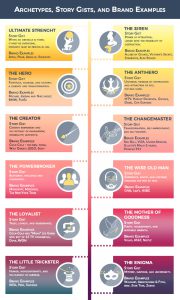 Adapted from: Megehee and Woodside (2010)
Archetypal brand building involves ascribing a dominant archetype to your brand, which creates a value-based method of brand discovery and brand storytelling with a high degree of consistency and authenticity.
To take the example of Under Armour and its archrival Nike, their brand storytelling strategies have been following two distinct archetypes: The Change Master vs The Hero, as presented in the table below.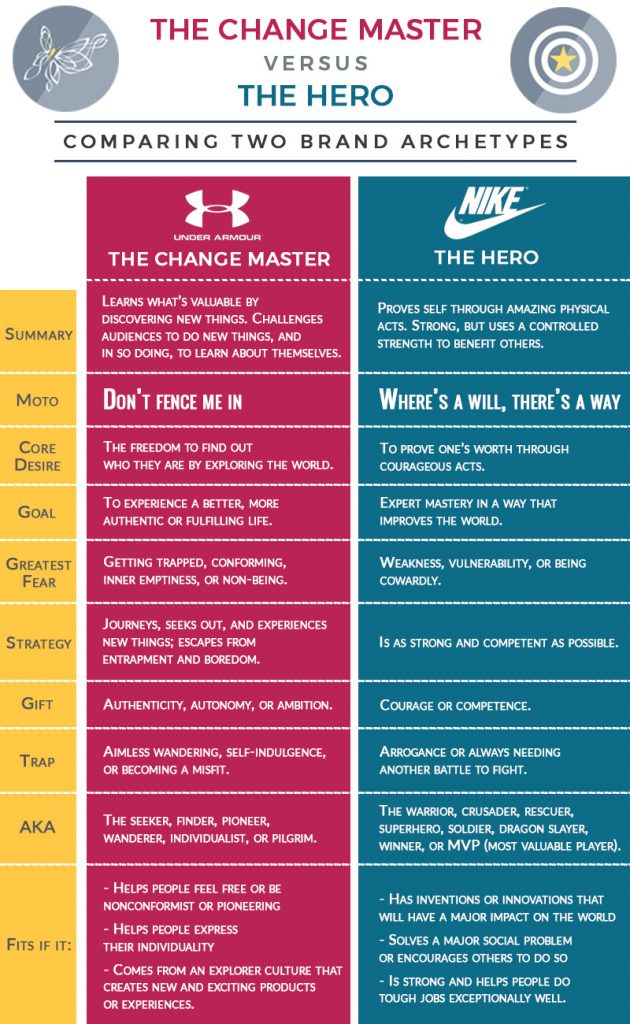 Adapted from: Zeiser, Anne. (2015) Transmedia Marketing
Under Armour's "I Will What I Want" campaign, awarded silver at the Cannes Lions 2016 for creative effectiveness, is an excellent example of The Change Master archetypal story.
The storyline features super model Gisele Bündchen training hard, without makeup, as social media messages flash up with opinions about who she should be. Yet Gisele, whose life as a celebrity is under a tremendous amount of pressure to live up to others' expectations and media-imposed stereotypes of femininity, defies it all to confidently experience a more fulfilling life, breaking away from all clichés.
The story of Andy Murray's victory at Wimbledon 2016 discovered through Facebook topic data, and described in Storytelling and Sports: The Perfect Pairing (Part I), provides Under Armour with an emotional and authentic consumer story, which fits in nicely with The Change Master archetype.
Murray has yet to reach world number one in tennis, and despite the stark contrast in terms of the number of Grand Slam titles among the Big Four: Murray has three, Federer-17, Nadal-14, and Djokovic -12, his deep and undisguised internal drive sets tennis fans longing to see what he can achieve going forward.
Nike's entire brand personality reflects The Hero archetype with its most recent incarnation in the "Unlimited You" 2016 Olympics Opening ad campaign, which celebrates athletes that break through their perceived limitations, and as usual prove their worth through courageous acts.
The interesting part is that this time in order to prevent the story from becoming self-perpetuating and repetitive, Nike opens a curiosity gap by introducing a second archetype- that of The Little Trickster- to explore what would happen if the athletes almost pushed back and had a little bit more fun.
Determining your brand's archetype usually involves informal primary research into the understanding of internal and external stakeholders of your brand about its distinguishing attributes.
In the process of defining your brand's archetype, it is possible that several archetypes emerge because some brands have more than one archetype contributing to them. The ultimate goal is to choose one governing archetype that is truest to the brand's values, mission, vision, and personality.
In this regard, Facebook topic data can be especially useful to test key brand attributes and characteristics that have emerged in the primary research as Facebook can serve as the largest global focus group with more than 1.6 billion monthly active members.