Just like in the case of most unconventional wars waged in the business arena, winning or losing the 'streaming wars' is a matter of interpretation, of 'framing', as we say in communications management. And while the effects of the streaming wars are what consumers get out of them, the media has been the main battleground where the contenders to the throne have been fighting one another, armed with their corporate reputations.

The media has been using the term 'streaming wars' for a few years now, but the coverage trend below indicates that the wars intensified significantly in the period October 2019- January 2020. Then came the coronavirus outbreak, which has played a transformational role for the entire media and entertainment industry.
Our analysis will thus take a look at the streaming wars before COVID-19 and during the pandemic and will use a data-driven approach to make some hypotheses about the winners and losers in this unconventional battle.
The contenders to the throne
Imagine a world without Netflix. For those of us over the age of 20, perhaps it is not so difficult. But for most of Generation Z, whose coming- of- age happened in a world where unlimited entertainment is just a click away, the idea of renting a VHS to see a film would seem positively alien.
In just a decade, Netflix – a company that began life as a humble DVD rental by mail service – has dramatically transformed the way we consume entertainment. Twelve years since it began its transition into a streaming service, there is now a number of similar services available and around half of all UK homes use at least one of them.
Then imagine Star Wars, Marvel, Pixar, and decades of TV and movies, all priced extremely well with compelling original content. How could this fail? Having just launched in some countries, Disney+ is already off to a flying start, and hopes to have 90 million subscribers by 2024.
Apple TV+, another contender to the throne, has had a tough time finding its audience, despite investing over $15m an episode on original content and hiring Jennifer Aniston to star in its breakout drama 'The Morning Show'. However, it is believed that Apple TV is used mainly to upsell Apple devices to new customers, and to maintain relationships with existing ones. So, in fairness, it does not necessarily fight to win the streaming wars.

Amazon Prime is a much more viable competitor and has recently made the move into exclusive sports broadcasting– something that might just prove to be the feather in its cap. But in terms of subscribers, it is Netflix that sets the standard.
The pre-coronavirus media debate around the streaming wars
We analysed a sample of 974 articles from top-tier English language media outlets published in the period 1 Oct 2019- 29 Feb 2020. PR and communications practitioners are often confronted with the task of making sense of massive amounts of media data- posts, comments, articles, etc. The most efficient way to do this is to use text mining. Topic detection is a text mining task that tries to identify the topic(s) of a piece of text.

In order to analyse the streaming wars media coverage, we used one of the most popular statistical models for topic detection – Latent Dirichlet Allocation (LDA). LDA is a generative unsupervised probabilistic algorithm that finds out the top K topics in a dataset described by the most relevant N keywords.
This preliminary analysis helped us to identify the main topics discussed by the media, which were then qualitatively evaluated and summarised into four key themes, as presented below.
These four key themes are in fact representative of the main drivers of the streaming wars, or in other words the weapons that put some of the players in a more favourable or unfavourable position.

The two themes with the biggest share of voice – Monetisation and Content – are where the streaming service providers are putting in their best efforts to excel and win more subscribers.

Based on content only, it is becoming increasingly difficult to guess who the potential streaming wars winner might be. It is still widely held that Netflix's primary strength is its original content, in which the company is investing $15 billion a year– an amount by far unmatched by the other players. Being consistent in its strategy– not going into sports and not doing advertising- has so far proved successful.

Perhaps Netflix's biggest rival in terms of content is Disney+. To differentiate Disney+ from the many other streaming offerings, Mickey has asked everyone to return home to the Disney castle. Its iconic characters will all leave their existing streaming homes and return to their creator's home, Disney's own platform.
Disney's advantage in the streaming wars is its terrific global brand and the outstanding portfolio of world-famous stories and worlds it can reboot and extend. That's exactly what it has done with The Mandalorian, a Star Wars spin-off, which has drawn plenty of attention.

Another runner-up in the fight is HBO Max, the AT&T-owned extension to HBO GO, whose ambitious target is to reach 80 million consumers around the world by 2025, with a 50 million-strong audience in the US.

The launch of HBO Max illuminates AT&T's strategy for keeping customers locked into its wireless business through additional benefits. In the longer term, executives told Reuters, a further goal is to combine the data collected both from wireless and DirecTV satellites to generate deeper insights for advertisers and charge them more for it.

According to some analysts, the streaming wars are emerging as a conflict of broad catalogue versus specific original content. But while an extensive back catalogue of content from the past is good for casual viewing on a Saturday night, the most effective way to acquire new subscribers is to constantly come up with new original content. From a marketing communications perspective, the new content works like a product launch, giving the streaming providers something new to talk about.

The heating-up of the streaming wars towards the end of 2019 has put the topic of Monetisation in the limelight, which seems to be another lever, apart from Content, used by the streaming platforms to gain the upper hand in the battle.

One of the main monetisation strategies adopted by the streaming giants is using partnerships to further expand their customer bases. Thus, Verizon Communications announced that it will offer all its new and existing wireless customers a free one-year subscription to Disney+.

Meanwhile, Apple partnered with Amazon to reach an expansive audience by launching a new feature in Prime Video's apps for Apple devices that lets users buy or rent TV shows and movies using the in-app payment feature, which had been impossible previously.
Another interesting trend likely to grow in the future is for streaming providers to partner with traditional broadcasters, as was the case with Netflix and Sky. Prior to Netflix, Sky was arguably the most visible disruptor on the TV market in the UK, after it popularised the digital video recorder (DVR) technology – a move that significantly impacted advertisers by enabling viewers to record shows and skip adverts.

Finally, it is very likely that the streaming wars will kick off a new era in TV advertising. This is already happening with the advent of ad-supported streaming, which has introduced a bunch of new players in the game, such as NBCUniversal's Peacock launching in July, and mobile video app Quibi.

In this regard, ad-supported streaming can be considered a smart idea as the streaming wars are already bringing a flavour of 'subscription fatigue'. We are now in a world of fierce streaming services competition, like the cable companies 15 years ago. Whereas until recently, having a single Netflix subscription was enough, it may well be the case that we all are going to end up subscribing to a number of different services to cover our entertainment needs.
Mapping the streaming wars media debate
Using Commetric's Influencer Network Analysis (INA) methodology, we visualised the streaming wars media debate as a network map consisting of the main streaming service providers (bubbles) and the media outlets (squares) that referenced them most often (more than 3 times).
For the purposes of the analysis, the sample of 974 articles is viewed as one big media debate. The size of the bubbles is indicative of the streaming providers' prominence in the media debate, and the width of the connections – the coverage volume by the respective media outlet.
Streaming Wars Media Mapping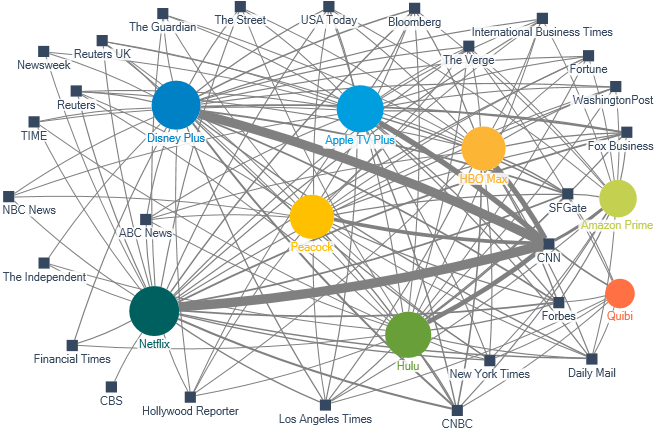 The debate mapping shows a highly networked map, which is indicative of a debate that has matured and has established players that are covered by most media outlets participating in the discussion.

Netflix, Disney+, and Apple TV+ are the three most central streaming providers in the discussion, which is in line with our hypothesis about the main contenders to the throne. Many publications base their analyses on these three companies, and mention the others so support their claims about the increasing competition on the market.

It is interesting to note that Amazon Prime and Quibi are peripheral in the debate, whereas Peacock – a new service to be launched later in the year – is gaining a lot of traction due to the different business model it has adopted- ad-supported streaming.
Netflix's media profile in the heat of the battle
In the period when the streaming wars were in full swing – Oct'19-Feb'20 – the media coverage around Netflix's products and services was predominantly negative of sentiment.

We used Commetric's AI-based reputation analytics platform ComVix, which won the 'Best in Marketing Technology' prize at the EMEA 2020 In2 SABRE Awards, to automatically analyse 13,993 English-language articles from more than 5,000 media outlets covering corporate news about Netflix.
The platform extracted the business events driving coverage around Netflix's products and services with their underlying sentiment, as follows:
The most prominent business event covered by the media in that period was the increasing competition faced by Netflix, which cast doubts on the streaming giant's chances to keep its leading position on the video streaming market. This was coupled with news about its unsatisfactory financial performance and high indebtedness used to fund the development of original content.

At the same time, for Amazon and Apple (and maybe even Disney), it is a different story. These ultra cash-rich businesses can afford to continuously pour money into original content development, giving them a significant competitive advantage over the smaller players in the marketplace that will eventually run out of money.
For more on using Commetric's AI-based platform ComVix to measure and manage corporate reputation, download our "Netflix: Corporate Reputation Analysis Case Study."
The streaming wars amid Covid-19
The COVID-19 pandemic has rapidly transformed society and has fundamentally changed people's behaviours in countless ways both personally and professionally. With many communities in lockdown, people started connecting virtually with family and friends, obsessively checking the news and consuming an increasing amount of media content.

According to research by GlobalWebIndex, the increased media consumption during the pandemic is primarily video-based– 87% of U.S. consumers and 80% of UK consumers surveyed say they're consuming more content – broadcast TV, online videos, and online TV streaming take the top spots overall for increased media consumption.

As in-home entertainment becomes our primary source of leisure, there is a strong appetite to pay for more media subscriptions. What is more- the winner in this situation seems to be Netflix, which boasts the highest rate of those considering purchasing a subscription (18%).
Closely following is Disney+, whose UK launch seems to have made a big impact – UK consumers are as likely to consider purchasing this service (15%) as they are Netflix (14%).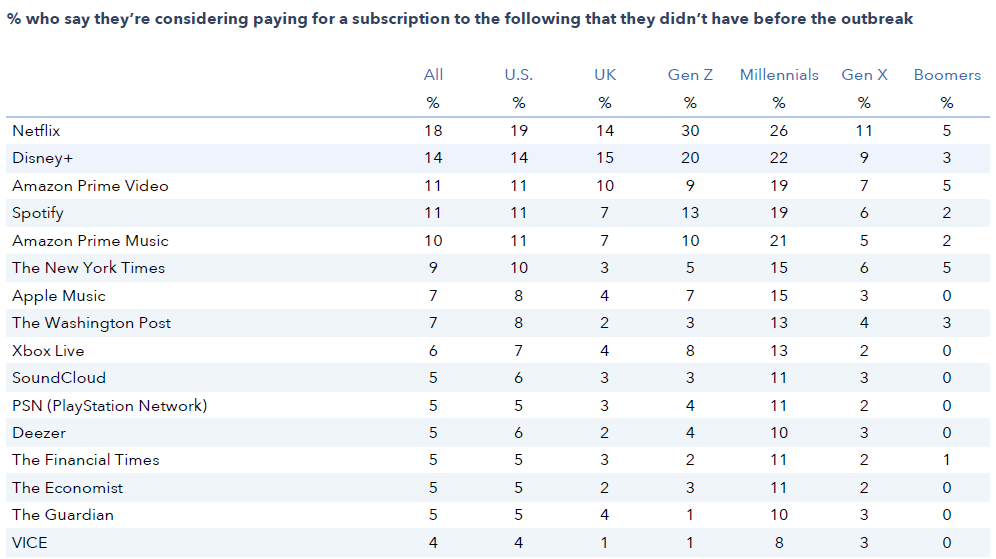 Source: GWI, Coronavirus Research, April 2020
Instagram-based brand equity
An analysis of any modern brand nowadays cannot go without looking at its social media footprint. For brands that are more 'visual', the social media platform to go to is Instagram. Our analyses of brands' social media marketing and communications have shown that the dynamics of a brand's social media follower base over time can often be an indicator of changes in its customer-based brand equity (CBBE).

This hypothesis has been supported by recent research published in the International Journal of Data and Network Science, which has proved that there is a positive relationship between social media marketing on Instagram and brand equity/purchase intention.

Customer-based brand equity is based on the concept that to build a strong brand – it is important to understand how the customers think and feel about your product. For a customer to love your product, you must build pleasant experiences around your brand. If they experience positive thoughts, opinions, feelings, and perceptions about your product, then it signals positive brand equity.

The chart below represents the monthly trend in Instagram followers gained by the biggest streaming service providers during the period Oct'19- Apr'20. Due to the big difference in the followers' numbers, Netflix and Disney+ are displayed on the primary (left) vertical axis, and Apple TV and Amazon- on the secondary (right) axis.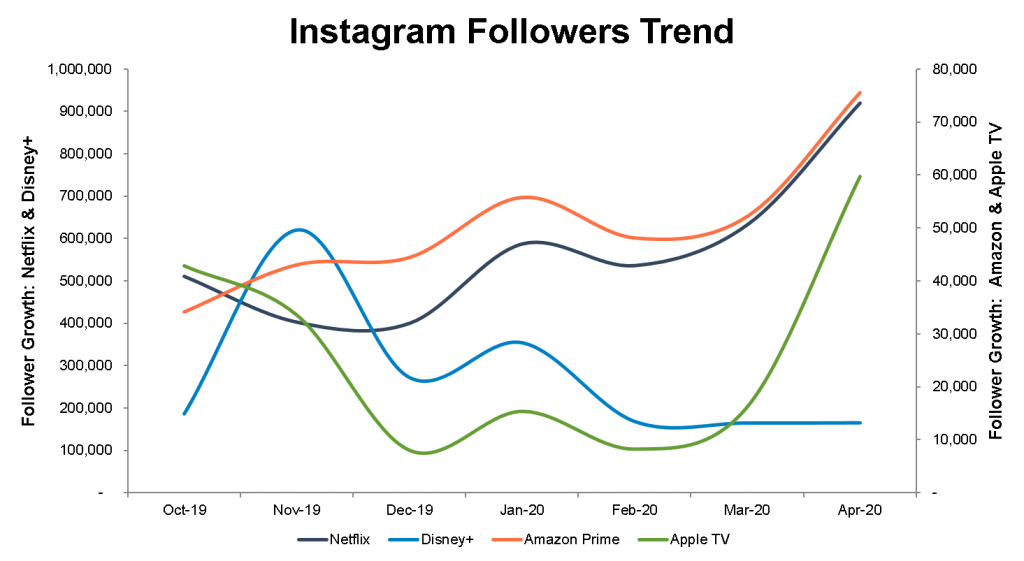 Netflix and Amazon Prime clearly show an upward trend in Instagram followers, which suggests that their CBBE is growing.

The trends for Apple TV and Disney+ tell a different story. Disney+ had a flying start at the beginning of the period, but the initial buzz seems to be fading during the pandemic. Similarly, Apple TV's initial growth subsided but then picked up again in March and April.

The coronavirus pandemic has certainly cemented Netflix's leading position in the streaming wars, upping its growth by 32%, while the broader market is down 13%, which has led some analysts to call it "the perfect coronavirus stock." In this context, the next couple of months should prove very interesting as far as the 'streaming wars' are concerned.