Food and health have been a key issue in the conversation around Brexit, with "chlorinated chicken" becoming shorthand for the mounting concerns that British food standards could be sacrificed on the altar of future trade agreements.
As the UK Government votes on the Agriculture Bill, we examined the social media resonance of the #SaveOurStandards campaign launched by celebrity chef Jamie Oliver on Twitter.
His tweet announcing the campaign reached 7 million users, while the hashtag #SaveOurStandards was mentioned 12.4k times by 9.02k people in the last two weeks. Jamie also earned the support of other UK celebrities such as fitness coach Joe Wicks and television presenter Anita Rani.
His approach illustrates five key tips all campaigners can learn from him:
1. Be authentic: Jamie has been careful to root his campaign in his own area of credibility – child health and food. He had already backed Bite Back 2030, a youth-led charity focused on reducing childhood obesity in the UK.
2. Identify unexpected new partners through common interests: He supported the National Farmer's Union's petition. The NFU is often seen representing big agribusiness, not an obvious bedfellow.
3. Create 'cultural bridges': Involve users who are strategically positioned on Twitter to connect different communities, often combining conversational themes within an advocacy field that are seldom discussed together (see graphic below).
4. Unify around a common campaign: In this case, the UK Agriculture Bill which allows for traditional lobbying activity – mobilising around the MPs' petition.
5. Leverage digital shareability: Develop good hashtags to encourage widespread sharing – in this case, #saveourstandards.
How did he do it?
What got the attention of the national press was the growth of the movement on social media thanks to Jamie Oliver, who was the top influencer in the Twitter discussion.
In a video posted on Twitter, Oliver criticised MPs for rejecting an amendment to the UK Agriculture Bill which would have required all imports to be produced to the same standards as the UK: "We want standards and structures and law to maintain what we've worked hard for," he said.
Perhaps most importantly, Jamie Oliver backed the NFU petition and made it mainstream: his support led to a surge in signatures from just over 30,000 to more than 120,000 the day after his statement and to more than a million today. In fact, some media outlets referred to the whole effort as a "Jamie Oliver-backed petition".
The second most influential figure in the debate was political journalist Ian Dunt, who tweeted that the moment we've known was coming for four years: when the reality of what a US trade deal entails meets the sensibilities of British consumers.
The most influential organisation was Bite Back 2030, which tweeted that all young people should have access to high quality, healthy, affordable food no matter where they live.
The Twitter discussion around #SaveOurStandards is an interesting example of how advocacy campaigns can produce social media messages that inspire far-ranging conversation among social media users.
Our analysis shows that advocacy campaigns are more likely to inspire comments from new social media audiences and generate engagement if they create 'cultural bridges', i.e. involve users who are strategically positioned in the Twitter network to connect different communities, often combining conversational themes within an advocacy field that are seldom discussed together.
As shown on the Twitter graph below, influential user accounts such as Jamie Oliver, IanDunt, BiteBack2030, UKSustain, BritishSave, etc., formed inter-connected 'campaign ecosystems' that produced authentic amplification rather than an echo-chamber.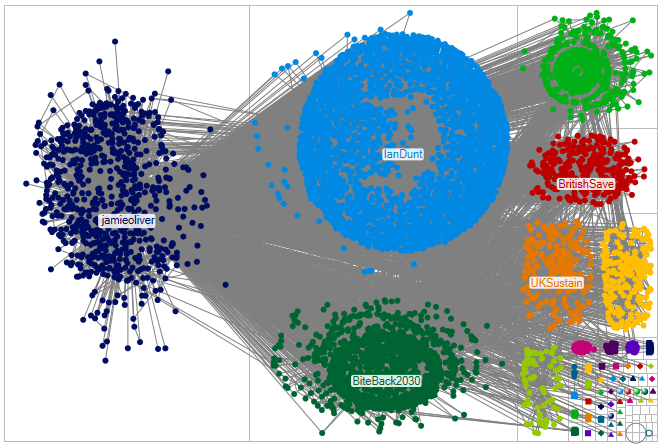 New frontiers for public affairs
Jamie Oliver's campaign shows how a relatively niche issue could be brought into prominence with the right communications tactics.
Jamie's case goes to show that in advocacy communications, the issue of who tells the story is often as important as the story itself. Deciding who the message source should be is a significant organising and strategic question. Audiences naturally look for messengers they can identify with. These messengers have the power to personalise the story and deepen the audience's connection.
Public affairs campaigns that harness the power of social media can be much more effective if they target communities, not just influencers. They can achieve authenticity if they insert themselves into conversations that already exist within a community by using the language, humour and hashtags that are natural to it.