Although accusations of artwashing are still not as widespread as those of greenwashing or pinkwashing, the use of the term across media outlets is gradually increasing – meaning that it could soon transform into a serious reputational danger for brands which include art sponsorships in their PR strategies.
We found that while allegations of artwashing focus primarily on the oil and gas industry, other sectors like financial services and pharma also start to feel the heat, with Purdue Pharma being the most influential company in the debate.
We suggest that companies should align art sponsorships with their core value proposition, learn the basics of consumer activism and see how Twitter activism has impacted national brands.
The term "artwashing" was coined in the 2017 protests against gentrification in the Boyle Heights neighbourhood of Los Angeles. The coming of art galleries, claimed the protesters (although of course, they had nothing against art per se), forced out local shops and services and drove up property prices. Furthermore, they alleged that this is an intentional policy on the part of greedy property companies, whose aim is to "artwash" an area to prime it for development to a smarter demographic.
Since then, artwashing has evolved beyond gentrification to critique any corporate sponsorship of the arts in which large companies with problematic images establish a relationship with a cultural venue with the aim of improving their reputation.
To examine artwashing's presence in the media, we analysed 497 English-language articles published since 2019. Here are our top findings:
1. Artwashing is not as popular as other "washings", but get ready for it to take off
If you work in PR and comms, you've surely come across all kinds of washing, most notably greenwashing – a form of messaging spin in which green PR and green marketing are allegedly used solely to convince the public that an organisation's products, aims and policies are environmentally friendly. Our recent analysis on that topic found that the use of the term "greenwashing" has been steadily growing across media outlets and that the issue is quickly becoming a new crisis management concern across industries.
With the 2022 Olympic Games in Beijing and the World Cup in Qatar, the concept of sportswashing started gaining steam in the media, as critics allege that oppressive governments use sports as a PR tool to legitimise their regimes and distract the public from their human rights abuses.
And every June, when brands launch campaigns celebrating Pride, a growing number of them face accusations of pinkwashing. Our latest analysis found that criticism for "rainbow capitalism", in which corporations are accused of boosting their image with LGBTQ+ marketing, has never been louder.
In contrast, artwashing is still in its infancy (for example, greenwashing was mentioned nearly four times more by media outlets for the same research period of four years). But what's more important is that it's gradually gaining traction:
In 2019 artwashing was still primarily used to describe processes in which councils and real estate developers purposefully move artists into areas of cities which they wish to see developed. Many critics pointed out that the cleansing process in which the artists moved into a burgeoning area was treated by developers as a form of regenerative detergent. Given such language, it is perhaps unsurprising that the artists involved in these schemes are finding their work labelled "artwash".
2020 saw a shift in the artwashing narrative, when a group of "artivists" successfully managed to rid Amsterdam's museum quarter of fossil fuel money, after a series of artistic performances in the Van Gogh Museum and the Concertgebouw. Meanwhile, Fossil Free Culture NL (FFCNL), a collective of artists, activists, researchers and critics, grew into an international movement to stop attempts by fossil fuel companies to clean up their image by sponsoring cultural institutions. This is how artwashing evolved from criticising gentrification to criticising fossil fuel companies. For many institutions, oil money now looks almost as rancid as cash from arms and tobacco companies.
This narrative deepened in 2021, when scientists, conservationists, environmental organisations and human rights NGOs called for a boycott of London's Science Museum's new exhibition on the climate crisis because of its sponsorship by Shell. Groups including Extinction Rebellion, Greenpeace and Global Witness said Shell's sponsorship of an exhibition on climate change solutions was "appalling". And they're increasingly successful: since October last year, the Royal Shakespeare Company, the National Theatre, National Galleries Scotland, the Southbank Centre and the BFI have dropped either Shell or BP as sponsors.
And in 2022, artwashing came into the political sphere, as more than 20 acts were withdrawn from the 2022 Sydney Festival in protest over the Israeli embassy in Canberra's financial support of a performance at the event. Many artists argued that the festival is supporting Israel as an oppressor state and that it is ignoring the plight of Palestinians.
2. Allegations of artwashing go beyond the oil sector, so ensure art sponsorships are aligned with the brand's core proposition regardless of your industry
Like greenwashing, accusations of artwashing have centred primarily around the Oil and gas sector. The campaigns against oil sponsorship resonated with historic campaigns to end tobacco and arms sponsorship of cultural events.
However, other industries have also been accused of artwashing:
The Automotive sector was naturally implicated – for example, journalists noted that MoMA has enjoyed more than a million dollars in support each year from Volkswagen — a company that admitted to equipping 11 million cars with illegal software to cheat emissions testing, and then lying to investigators about the scheme.
Financial Services also had a presence in the debate, as more than two hundred and twenty artists and scholars signed an open letter to MoMA, protesting over the fact that one of its sponsors, BlackRock, has connections to private prisons and the economic crisis in Puerto Rico.
Interestingly, Pharma also emerged as an artwashing industry, as in recent months, museums and galleries have started removing the Sackler name from their exhibitions, wings and educational centres. Leading members of the family are alleged to have close ties with Purdue Pharma, the company that produces a pain relief medication called OxyContin. OxyContin – and the aggressive marketing of the medication – was accused of being a key contributor to the devastating opioid crisis sweeping the US, which has lasted for more than two decades and continues to cause tens of thousands of deaths every year.
These examples go to show that we shouldn't perceive artwashing as a phenomenon confined to the oil industry and its problematic reputation – any attempt to boost your image in an inauthentic way via the arts could be perceived as reputation laundering, regardless of the industry. Many companies include arts sponsorships as part of their "purpose" strategies – but the problem is that they use PR and comms as the back door to turning an organisation that is not purpose-driven into purpose-driven. The worst PR campaigns are those that look like PR campaigns and nothing more. Purpose must be baked into how a company operates every day, across all stakeholders: employees, supply chains, communities, the environment, consumers and investors – not just a sponsorship deal.
In the past decade, PR pros began conflating emotional marketing with purpose-driven marketing as a way to appeal to consumers. Now, every brand believes it must find a "bigger purpose" and put that purpose at the forefront of PR activities. The reality is most brands don't have the stature and credibility to be successful this way. Using purpose to drive awareness without authenticity can harm the brand.
Brands with successful purpose initiatives align social impact campaigns with the brand's core proposition – for example, a food company supporting sustainable farming or a grocery brand supporting community charities. Attempting to position the brand in an area which doesn't make sense could be perceived as opportunistic and not genuine – which is exactly what happens when many brands try to position themselves in the arts sphere.
3. Company ethics need to go beyond window-dressing
Despite the prevalence of the oil industry, it was actually Purdue Pharma that emerged as the most influential company in the artwashing debate.
We determine an organisation's media impact in the context of a topic by looking at its media influence score calculated in terms of coverage by high-profile media outlets, topic relevancy score measuring its contextual relevance, and media visibility as measured by the number of mentions.
The practice of putting capital behind artistic organisations in order to associate them with the names of wealthy people is rife across the art world. And up until a few months ago, Purdue Pharma's owners – the Sacklers – were notorious art-washers. Parts of the Met and the Guggenheim in New York, the Tate museums, British Museum and Serpentine Galleries in London, and the Louvre in Paris all bore the Sackler name. As many critics noted, the Sacklers were so adept at laundering their reputation that, for decades, their philanthropic generosity had given them an almost saintly position in the art world. For too long, the thankful recipients appeared apathetic about the ethics of how their donors made their fortune. 
Recently, we have also seen many companies and families being accused of philanthrocapitalism or reputation laundering. The Chan Zuckerberg Initiative, founded by the tech billionaire Mark Zuckerberg and his wife Priscilla Chan, pledged 99% of Zuckerberg's shares in Facebook to the mission of advancing human potential and promoting equality. Zuckerberg was praised for his largesse, but a closer look at the facts revealed that the endeavour was not a not-for-profit vehicle, but a limited liability company. This allowed Zuckerberg to do much more than charitable activity, but potentially invest in other companies and make political donations with substantial tax benefits while yielding a massive PR advantage to Facebook. Regardless of Zuckerberg's actual goal, the point here is that companies need to act with transparency and integrity or risk serious reputational harm.
A more blatant instance of 'window-dressing,' is the practice of investing money into the mitigation of continuing damage caused by your company. Purdue is a classic case in point, with media reports alleging that the company planned to profit from selling medicines for opioid addiction while still aggressively marketing its opioid-based products, during an addiction crisis. It is doubtful whether the Sacklers will ever be able to restore their reputation after the hammering they have taken for these alleged actions.
PR campaigns need to be aligned with well-articulated guiding principles, and there needs to be adequate governance in place to ensure that companies consistently act by these principles, or risk a reputational fallout.
The Sackler family's position is a reminder of how philanthropy, even when driven by sincerely motivated people, is not a reputational blanket if the wealth behind it is tainted. This has implications not just for philanthropy but for business owners engaged in the current hot trend of environmental, social and governance-themed investing, or ESG. 
A company that makes billions selling tobacco, firearms, certain chemical treatments, internal combustion engine autos or alcohol is going to have difficulties in convincing others that its charity is not compromised. Of course, it is worth noting – to play the "devil's advocate" here – that tobacco, firearms, petrol-powered cars and alcohol are legal products (although laws on these common dities can change of course). But even when the product for sale is legal, and the retailer can make the point that grown-up purchasers should be treated as such, rather than naughty children, in practice it becomes hard to persuade people that charity funded by such business is any kind of "offset". 
4. Learn the basics of consumer activism, as protesting against artwashing is a prime example of it
The drive to rid museums and galleries of the Sackler name stemmed from a campaign by American photographer – and former opioid addict – Nan Goldin. Since 2018 Goldin has been protesting for establishments around the world to cut ties with the Sacklers, demanding that they remove the name and stop taking the family's money.
In fact, Goldin emerged as the most influential spokesperson in the debate:
Apart from Goldin, almost every influential spokesperson managed to move the needle in the debate by engaging in a form of consumer activism. Goldin's successful campaign was a reminder of what many communications professionals warn us about – that we are at an inflection point in consumer activism today, as companies operate in an increasingly public environment.
An increasing number of consumers feel obliged to rise up and fix a broken business world themselves, using ballots, banners, Twitter and other mechanisms at their disposal. As with Purdue Pharma, one point of leverage increasingly used by activist consumers is attacking brands. This often takes the form of boycotts, as in the case of those who objected to Starbucks challenging Trump's immigration policies, or Uber's perceived support of them. It can also show up as consumers calling for advertisers to pull their spending from content they object to, such as when Parkland student David Hogg asked marketers to pull dollars out of Laura Ingraham's program on Fox News after she taunted the shooting survivor on Twitter.
If you're used to taking comfort in assuming millennials are mostly the ones who are socially energised and likely care about brands taking a stand, think again. The Washington Post-Kaiser Family poll showed that close to half of these activists are 50 and older. So this is no gaggle of young, scruffy, fringe citizens who generate more noise than profits. These activist consumers represent a prime segment of attractive, profitable consumers and prospects for a large number of brands. They populate the personas of mainstream market segmentations and represent core targets of high-dollar marketing campaigns. They have also shown by their actions that they are energised and engaged in the big issues of the day—and they expect you to be as well.
Faced with this new reality, many brand owners are tempted to do the one thing no one should do: adopt a head-in-sand, do-nothing, hope-it-goes-away approach. This path leaves brands vulnerable to being viewed as irrelevant at best or complicit at worst. Remaining inert also leaves brand owners vulnerable if (and when) they are thrust into the social or political swirl by events beyond their control—such as an accusation of artwashing.
5. Twitter artwashing activism focuses on politics – for now
To see how artwashing has been discussed on social media, we analysed 5,903 tweets posted between October 2021 and October 2022.
We found that Twitter users didn't focus on fossil fuel companies or the Sacklers. As it's usually the case with Twitter, the discussion was politicised, with users concentrating primarily on Israel's controversial sponsorship of the 2022 Sydney Festival, as showcased by the most commonly used keywords: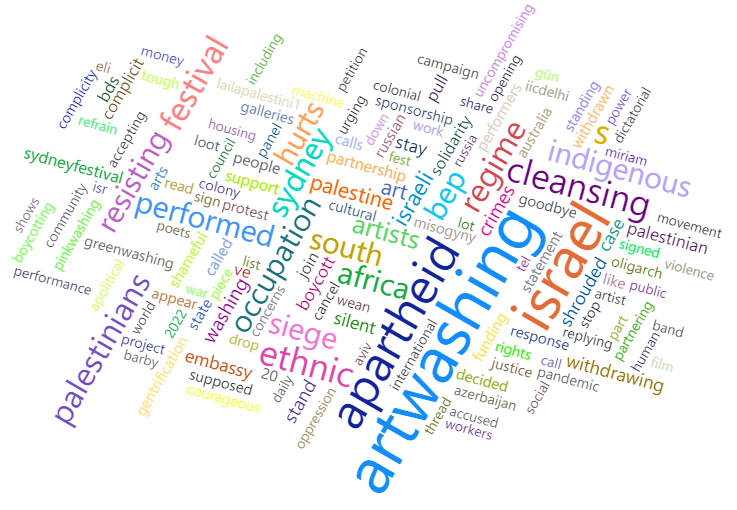 The remarkably successful pro-Palestinian boycott by artists of the Sydney Festival was a vibrant example of engaged citizens taking foreign policy into their own hands. With the hashtag #BoycottSydneyFestival going viral, around 35% of the festival's participants withdrew, objecting to Israel's A$20,000 sponsorship of a dance created by an Israeli choreographer and performed by the Sydney Dance Company. Over 1,000 artists also signed a letter supporting the boycott.
The heat on Israel follows alleged war crimes in last year's Gaza war, accusations of apartheid by Human Rights Watch and now Amnesty International, evictions and home demolitions in East Jerusalem and the ever-expanding colonial settlements in the West Bank.
The calls to boycott the festival had an impact both on Israel's national brand – the country was framed as an oppressive state using art as a PR tool to legitimise its regime and distract the public from its human rights abuses – as well as on Australia's national brand, with many suggesting that the country was willing to accept money from an oppressive state.
As artwashing has already taken off on social media, it's only a matter of time before brands will get involved – as we found in our recent analysis, Twitter is the breeding ground for consumer activism.
Take boycott calls as a typical example of a Twitter reaction against something deemed inappropriate. A brand could be boycotted the same way the Sydney Festival was – and the real power of a boycott lies in its ability to hurt corporate reputation by generating negative media coverage, which could be far greater than the one we analysed in our research sample. A recent study of 133 corporate boycotts conducted by Northwestern University's Kellogg School of Management found that media coverage of boycotts is detrimental to a company's reputation and that the stock price of a targeted company dropped by nearly 1% for each day it got national media coverage. Perhaps more importantly, about 25% of boycotts that received national media attention resulted in concessions from the targeted company.
So even if their firms aren't the target of artwashing allegations, PR practitioners investing in the arts should regularly monitor traditional and social media to be aware of the latest political and social issues that might trigger consumers. Scoping the broad marketing environment (demographic, economic, cultural, natural, technological) could serve as the basis for identifying potential activism threats. It's vital to understand the drivers of criticisms in order to take appropriate countermeasures.
Firms should therefore pay close attention not only to what gains broad media coverage but also to the small blips on the social media radar that have the potential to gain traction. The volume of public backlash could start gaining momentum like a boulder down a mountain, leading to serious reputational hazards for a brand and for a whole industry.