The PR Measurement Twitter Influencer Index 2022 is the second edition of the index with the first edition published in November 2021. It uses Commetric's proprietary influencer mapping methodology and human analyst expertise to identify social media influencers actively participating in the Twitter discussion around PR analytics and communications measurement and evaluation.
Unlike most influencer identification tools, which focus on reach or associate influencers with a pre-defined list of topic categories, Commetric's proprietary Influencer Network Analysis (INA) employs technology and human expertise to measure influence relating to a conversation on a specific topic.
The Index is based on both quantitative and qualitative evaluation of English language Twitter data and does not pretend to present the most influential Twitter users. A detailed description of Commetric's process and methodology is as follows: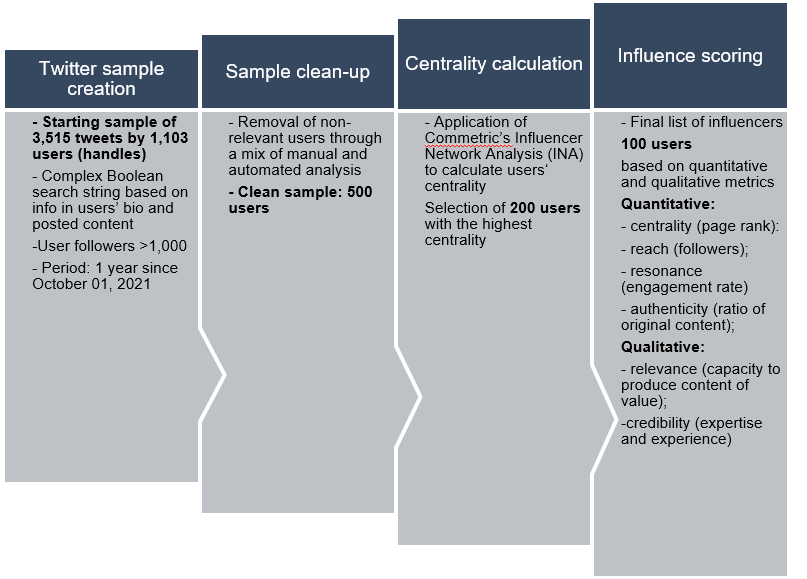 Winning strategies for movers and shakers
The top 10 this year has almost completely been reshuffled with new entries at numbers 1 and 10, and four people making it to top 10 from lower positions in the 2021 rankings.
Movers and shakers have been employing two key strategies for building their thought leadership around PR measurement on Twitter: (i) posting original content whose goal is to inform, educate, inspire, or entertain; and (ii) engaging with and commenting on content during live or virtual events.
Sarah Evans (@prsarahevans), CEO of Sevens PR, is heading the rankings this year. In an interview with Commetric, she mentioned that she liked to try out different styles and approaches on Twitter with one year focusing on inspiring and motivating her followers, and the other – on tools and resources for PR & Comms professionals. Sarah's original content around PR & Comms measurement made her the most influential Twitter user in our sample.
Another strategy followed by some of the top 10 influencers in the Index is being more active and engaging more at live and virtual events, such as two of the most important events in PR measurement and evaluation – the AMEC Summit and AMEC Measurement Month. This strategy was employed by the biggest movers in our ranking- Nicole Moreo (@kikimoreo), Johna Burke (@gojohnab) and Darryl Sparey (@darrylsparey), whose engagement around PR measurement events moved them straight to 8th, 7th, and 6th place respectively.
Twitter PR measurement discussion word cloud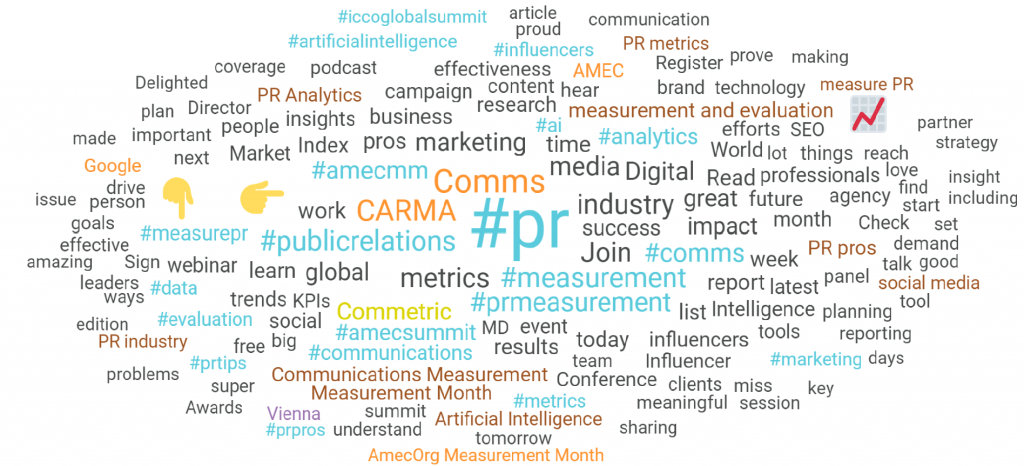 Organisations driving engagement
The Twitter conversation around PR measurement and analytics consists of multiple communities, which often form around a few hubs each with its own audience, influencers, and sources of information. These Community Clusters conversations illustrate diverse angles on the subject based on its relevance to different audiences.
Our analysis has identified the most prominent organisations that often act as community hubs in the Twitter discussion around PR measurement. These are trade organisations, measurement and analytics companies, PR agencies, and media outlets.
What it takes to be a PR influencer on Twitter (and not only): Top 3 key success factors
Based on our influencer identification and mapping research so far, here are our top three key success factors for becoming a PR influencer:
Authenticity is key: don't be afraid to share your views or even personal aspects online. Don't just repost other people's content.

Add value with original content that informs, educates, inspires or entertains.

Spend time listening to others and understanding the key drivers behind different Twitter communities.