In order to find out what the public relations industry will look like in 2023, Commetric interviewed several prominent PR practitioners.
They expect economic turbulence to make strategic counsel more valuable and AI to have a big impact on the sector.
In addition, they anticipate that PR measurement will focus on higher-level business goals and that organisations will double down on building, maintaining and protecting their reputations.
After 2020's massive shake-up, followed by a still-unpredictable 2021 and a war in 2022, PR pros across all industries have had to adapt, evolve, and pivot to satisfy upcoming PR trends and get their client brands in the spotlight.
Combine this with ongoing changes in buying behaviour and global threats like the cost-of-ling crisis, and 2023 will surely be a year to remember—albeit not, one hopes, anywhere near as much as the ones we've all just gone through.
With this in mind, we thought it'd be very interesting to ask some seasoned PR pros about what lies in store for 2023. The people we reached to are among the top influencers from our PR Measurement Twitter Influencer Index 2022, which uses Commetric's proprietary influencer mapping methodology and human analyst expertise to identify social media influencers actively participating in the Twitter discussion around PR analytics and communications measurement and evaluation.
1. Economic turbulence will make strategic PR counsel more valuable
One thing on everyone's minds was how the cost-of-living crisis will affect the PR industry.
Stuart Bruce, co-founder of Purposeful Relations and founder of Stuart Bruce Associates, said that economic turbulence will make strategic counsel more valuable than ever with clients needing expertise on strengthening and protecting reputations and relationships. They will need to use measurement, not just to prove their value, but more importantly to improve their efficiency and capacity to deliver more effective communications that provide real impact on business objectives.
Bruce also explained that budgetary pressures and recruitment challenges mean there will also be increased investment in professional development and training to retain staff and make more effective use of their talents by improving their skills. "For consultancy services, we'll also see a growth in advising on online communities which McKinsey predicts are going to be the 'big idea' in marketing for the decade," he added.
Similarly, Andy Barr, head of 10 Yetis, thinks 2023 is going to be all about proving the tangible benefit of PR activity in relation to actual pound value. As the cost of living crisis deepens and budgets tighten across consumer agencies, he expects more of them to pivot to trying to do B2B PR.
Echoing these sentiments, Katie Paine, CEO of Paine Publishing, and Maya Koleva, Head of Research and Insight at Commetric, believe the biggest PR trend will be an increased emphasis on proving the effectiveness of all forms of communications.
According to Katie Paine, every department is essentially competing for a smaller share of the marketing and/or comms budget. "I've been measuring PR for nearly a quarter of a century and every time there's been a downturn, the demand for meaningful metrics has gone up," she said. "In corporate offices everywhere they're looking at an uncertain economy and they'll be asking "where can we get the most sales/revenue/leads (or whatever success looks like) for the budget we have. As a result, you'll see a lot more implementation of integrated communications dashboards that make those answers more visible and easily accessible."
Maya Koleva added that PR teams would need to be able to prove the value of their work not only to organisations but to society as a whole. For her, this means any PR team – big or small – would need to be more data-backed and data-driven, and more savvy in measurement and evaluation.
2. AI will have a big impact on PR
In addition to the cost-of-living crisis, many PR practitioners expect 2023 to be a year when AI will greatly influence the industry.
Martin Waxman, President of Martin Waxman Communications, believes the commercialisation and use of generative artificial intelligence tools are going to have a big impact on PR and marketing. He cited AI writing apps like ChatGPT and text-to-image generators that create visuals as evidence that the tools are getting good: "Certainly, you will need a human in the driver's seat to ensure the output is thoroughly fact-checked, edited and refined. But the tools themselves are inexpensive and have the potential to improve productivity."
For Waxman, it's an exciting and challenging time with the potential for many unseen risks and consequences, and it's important for communicators to take part in the strategic discussions about how organisations integrate AI in order to help shape where we go.
He thinks that important issues we should be asking in this regard are: How will this affect your organisation and the way people do their jobs? What implications will there be for training and altering the creative workflow? Will organisations need fewer people to do the same amount of work? What will students and practitioners need to learn? And what are the ethical implications?
Andy Barr shared a different perspective, saying that while tech advances such as AI will continue to be promised as the next big thing to challenge PR, it will make little to no difference to how we work across 2023 other than providing more content that can be used in proactive marketing.
Meanwhile, PR & Marketing Strategist Deirdre Breakenridge anticipates AI and marketing automation to make authentic brands even more important. According to her, customers expect authenticity, transparency, and ethical conduct from their brands, especially as there's more personalising of the brand experience: "The way brands maintain authenticity, transparency, and trust with their customers is to educate customers and other stakeholders on their AI decisions, including how they use AI, the type of data they collect, and what privacy policies are in place."
3. PR measurement will focus on higher-level business goals
All PR pros seem to agree that PR measurement and evaluation will be tied more closely to corporate priorities.
As Maya Koleva put it, the suite of metrics, attribution models, tools and technologies might be expanding, but at its core, best practice measurement and evaluation will mean aligning objectives to outcomes and the impact of communications.
Measurement was the fastest-growing part of Stuart Bruce's business in 2022 and he expects demand to be even greater in 2023. He said that it's not about what metrics will be important as there will never be a silver bullet or one metric to rule them all. Rather, it's about creating a bespoke framework and playbook so that a consistent approach can be applied to multiple scenarios.
"The PR measurement framework needs to work for media relations, employee engagement, crisis communications, public affairs and every aspect of communications and reputation management. We will be focusing more on how clients can measure the value and impact of relationships with stakeholders," Bruce said.
In a similar vein, Martin Waxman hopes 2023 will be the year we finally turn away from output-based metrics and media impressions and focus on measuring the outcomes communications programs have on achieving business goals, including lead generation and ultimately sales. That will demonstrate the value PR brings so organisations consider PR work as integral to business growth and not simply an expense that can be cut when things go bad.
Agreeing, Deirdre Breakenridge and Katie Paine stated that PR measurement will connect directly to corporate priorities and higher-level business goals. Breakenridge explained that PR pros will gather and analyse different metrics, from community growth and engagement on social media to how that translates into performance analytics on websites resulting in lead generation and sales.
Katie Paine added that if the priority is to increase awareness of a new product line, you'll see an increase in survey research that shows awareness, consideration and preference. If the priority is to retain talent, you'll see more research on the internal comms side. If the priority is to increase market share, you'll see a greater emphasis on share of desirable voice and/or share of desirable positioning: "What won't be as important are the vanity metrics like impressions, likes, and even follower growth, unless they can be directly connected to the corporate priorities," she said.
4. Organisations will double down on building their reputations by repurposing content
According to PR consultant Michelle Garrett, organisations need to double down on building, maintaining and protecting their reputations.
She thinks that it doesn't take long for something or someone to try to come at your brand – but if you've invested the time and effort into building your reputation before an incident occurs, you'll be in a much better position to address anything that might come along that endangers what you stand for.
Garrett added that once again we see the importance of brands focusing on channels they can control – that is, their site. So sharing content on their own sites is all the more vital: "Yes, they can then share what they publish on their sites on social media, but it's time to focus on shoring up that content and providing what prospects are looking for. Most buyers do the majority of their research online before ever getting in touch with a brand. If companies focus on providing resources that support that process, they'll come out ahead."
In this regard, Garrett also thinks brands will look to repurpose the content they create. For example, once a piece of content like a video is created, it can be turned into a blog post, and then pitched as earned media to garner more attention. She cited the PESO (paid, earned, shared, owned) model by Gini Dietrich of Spin Sucks that takes your owned media (= content) and repurposes it as earned media, shared media and even paid media.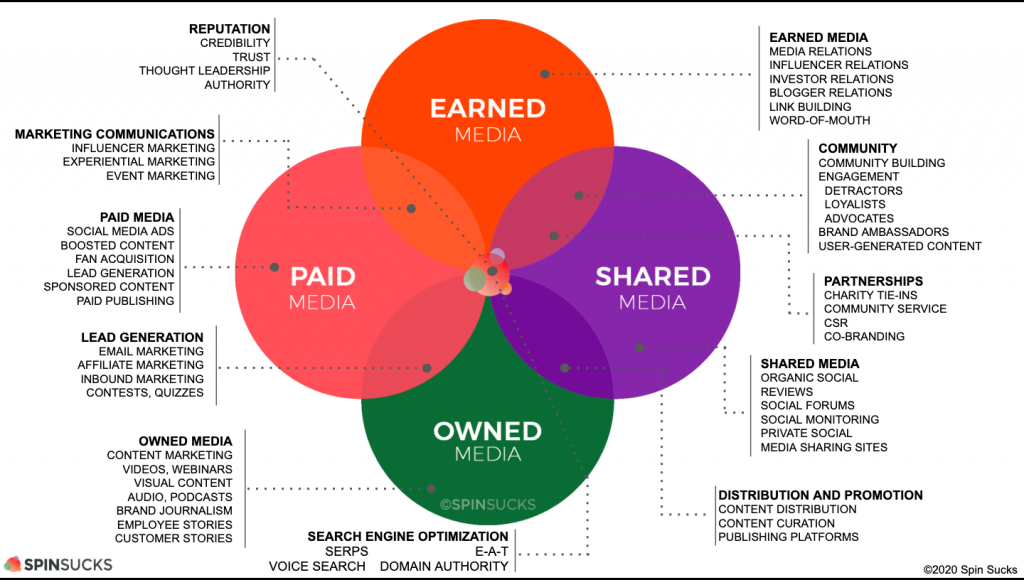 When it comes to community building from a reputation management perspective, Deirdre Breakenridge added that the relationship with social media has often resembled the "shiny object" syndrome and may not always reflect where, as a brand, you need to be. Regardless of personal opinions about different platforms, if your customers are on Twitter, Instagram, LinkedIn, Facebook, etc., then their platform preference will determine where you show up and participate.
"How you evolve represents where your customers appear and whether they stay," Breakenridge explained. "If your customers are on social media and want you to participate in a particular community, then focus on that community. Put the resources in place and be ready to monitor, engage and enhance their experience with you. Shiny objects are a drain on your resources. They do not get you the exposure you expect, or the relationships you desire to create business impact."
5. The chaos at Twitter will stabilise
Another thing on everyone's minds was the situation at Twitter following Elon Musk's chaotic takeover. Most of them seem to agree that Twitter isn't going anywhere.
Stuart Bruce believes that the chaos at Twitter will stabilise, explaining that for consumers and brands, Twitter isn't an irreplaceable platform, but for corporate affairs it's different. Twitter is also still an effective platform for engaging with key opinion formers such as journalists, politicians and their staff, academics, campaigners and others, and there isn't really an alternative to the real-time engagement that Twitter provides.
But the real growth according to Bruce won't be in traditional social media platforms but in online communities. WhatsApp, Twitter and Microsoft Teams are just some of the platforms to launch new community management features in 2022 and he expects that we'll see more of this in 2023. In addition, specialist community platforms like Guild, Mighty Networks and Geneva will continue to grow and evolve.
Andy Barr, Michelle Garrett and Katie Paine think that Twitter is far too entrenched in the PR and journalism workflow for it to be left to die.
Paine added that journalists have been using Twitter for well over a decade to find news stories and sources, and while a few of them have switched to Mastadon or some other alternative, most of them are still on Twitter and so far they don't seem to be going anywhere. That means that if you want someone to pick up your story or interview your opinion leader, you will still be on Twitter and also probably TikTok, Insta and everywhere else journalists are hanging out.
Like Bruce, Paine expects the big growth to be elsewhere – in blog posts and newsletters on platforms like LinkedIn, SubStack, and Patreon.
Michelle Garrett concluded that while there is no real replacement for Twitter, the question is how will it evolve: "No one knows what's going to happen."
For Maya Koleva, when it comes to social media, the most important is to know where your audiences are. If audiences remain on Twitter, so will brands, so will PR professionals. And how the relationships might evolve is hard to predict – any social media platform will be making decisions on moderation, user fees, advertising models, user data protection and content visibility to name a few – all of these decisions will be closely monitored by the communications industry, including us in the measurement and evaluation space.