The annual Consumer Electronics Show (CES) is the biggest treat for communications professionals in the technology industry. The show provides a platform for companies of all sizes to build their brands by exhibiting, speaking, sponsoring, attending or holding co-located events and business meetings.
The attendance audit numbers of this January's CES are coming in the spring, but to get a taste of its importance for comms experts, we should note that last year's gathering attracted more than 4,500 exhibiting companies and 6,645 reporters from 78 countries. CES 2018 was covered by major broadcast networks, trade publications, magazines, newspapers, websites and blogs, extending beyond traditional technology media outlets to reach new audiences via lifestyle, travel, health & fitness, and food publications.
The event secured 107,120 total media mentions and 71.7 billion potential impressions across print (12,615), broadcast (18,138) and online (76,367) outlets. It was also big on social media: there were 1,051,350 mentions of CES on Twitter, 49.1 million views of Snapchat live story, 224,000 views of Facebook videos and 37, 696 Instagram posts that included #CES2018.
Battle of titans
While we wait for the CES 2019 stats, we analysed the event's coverage in the top-tier publications globally and found the most often mentioned brands:
Many articles look at Google and Amazon's presence at the event, juxtaposing their new products and the ways they exhibited them. A great number of reporters focused primarily on the two tech giants, writing features such as "Google Assistant and Amazon Alexa fought for our attention at CES 2019", "Google vs Amazon At CES: The Battle For The Future Of Voice (And Computing)" and "Google and Amazon Fought a Smart-Home Battle at CES 2019".
According to technology news website CNET, most of the hype centered on Google and Amazon, and CES is "turning into an annual tradition for the two tech titans to head to Las Vegas in January to battle it out in the desert and see who can gain the most ground in the war for your smart home, smart car and smartphone".
A similar sentiment was expressed by USA Today: "When we wrapped up the 2018 CES show last January, we said this: "The one story that overshadowed everything else was the rivalry between Amazon and Google to get their connected speaker technology into as many products as possible, from speakers, stoves, refrigerators and even a shower to respond to your wishes. So how did the show go this year? Funny, it was déjà vu." And CNBC wrote that "at CES 2019, that competition was brought to a boil as partners from both companies launched dozens of products that will bring Amazon Alexa and Google Assistant into nearly every aspect of our lives".
Journalists remarked that Google has tripled the size of its booth from last year, installing a three-minute roller coaster showcasing how consumers can facilitate their daily tasks by using Google Assistant. CNBC's Todd Haselton tried it out and concluded: "It was fun and it's the most impressive booth experience I've ever seen at any trade show." Other news around Google's CES presence also involved the Google Assistant: analysts focused on its new features such as conversational translation, boarding pass support and improved auto-reply, and the fact that and is being built into even more devises, such as Dish's Hopper DVR and Samsung TVs.
Meanwhile, Amazon had three separate booths: one for "Key by Amazon", which demonstrated how packages can be delivered to houses, cars and garages; one for its home security system Ring, which exhibited new products, such as security cameras and lights; and one for products working with its virtual assistant Alexa, for example smart glasses, coffee machines, ovens and more.
"Google's Googley takeover"
When it comes to media mentions, we can see that the CES rivalry between the two tech giants was won by Google. Journalists paid more attention to the Google Assistant's compatibility with an increasing number of devices from TVs to showers. Many articles quoted the company's announcement that the voice assistant will soon be installed on a billion devices by the end of January, which is 10 times bigger than the 100 million Alexa devices.
Some articles also highlight Google's marketing efforts: in  "Rollable TVs and butler robots: Gadgets that caught our eye at CES 2019", CNN pointed out that "for the second year in a row, Google's marketing department went a bit overboard at CES", with monorails and billboards in an attempt "to build more hype than its rival, Amazon's Alexa".
In the meantime, Samsung hosted a press conference, but it announced its biggest news on the CES' penultimate day, when the show's media coverage started winding down: it will unveil its next smartphone on 20 February, ahead of the Mobile World Congress (MWC). GlobalData analyst Avi Greengart told CNET: "It was a major coup to time the Galaxy S10 launch such that they get coverage at two shows – CES for the date, and MWC for the device just after launch. CES has not been a big phone show in years, so even a hint of a major phone launch can break through the clutter."
Apart from the smartphone announcement, journalists also noted Samsung's CES presentations of TVs, laptops and appliances, such as refrigerators and washing machines, a smarter Bixby voice assistant and even four robots to do things like monitor health and help you walk better. According to Forbes, the company's micro-LED innovations "completely dominated the event". Speaking about the new television made of modular micro LED panels, the BBC's Chris Fox explained why micro LEDs may soon become mainstream.
Samsung, alongside Apple, "have managed to steal the limelight" without holding major press conferences, according to CNET's Shara Tibken. She remarks that Apple has never had an official presence at CES, doesn't host press events and rarely releases CES-related news related to products, but instead hosts its own events and dominates the news cycle. But it made an exception this year as it wants to become a bigger services provider: it put out a billboard saying "What happens on your iPhone, stays on your iPhone" beside a monorail with Google advertisements.
Apple made its services available on Samsung, LG, Vizio and Sony devices, which was well-documented. As Shara Tibken remarks: "Apple didn't even have to officially show up to CES to generate a lot of coverage. It let its partners handle the announcements."  She quoted Moor Insights & Strategy analyst Patrick Moorhead: "In my circles, the first thing people wanted to talk about was the news between Samsung and Apple," but "sometimes buzz doesn't indicate impact": "For instance, Amazon and Alexa owned the smart home, which is significant."
Nvidia is often mentioned for the comments of its CEO Jensen Huang, who is described by Forbes as "known for being outspoken and aggressive against his competition". In an interview with PCWorld after his competitor AMD's CES keynote, Huang criticised AMD's new graphics card: "It's a weird launch, maybe they thought of it this morning. The performance is lousy and there's nothing new." AMD CEO Lisa Su gave a more measured response, saying that he hasn't seen it yet.
Although Intel's press event wasn't as bombastic as last year's blowout keynote, it had much more news to share, writes Engadget, giving examples with the company's ninth generation Core CPUs,10nm chips and Nervana AI processor. Intel is also testing autonomous vehicles in Jerusalem, with the company's SVP and GM of Network Platforms Sandra Rivera telling  ZDNet that it will test safety systems and navigation around heavy traffic and "aggressive" driving.
LG delivered the pre-show keynote address on AI and its impact on consumers, while the media focused on its see-through and vibrating 88-inch organic light-emitting diode (OLED) TVs, which it presented as its premium option at 2019's CES. But "if you thought LG's 88-inch OLED screen was too much, enters Sony", writes the Economic Times. "The company showcased monstrous 98-inch and 85-inch LCD TVs at the CES 2019." The new products were deemed "ideal for people with super-large living rooms and budgets" by Trusted Reviews.
Sony's CES presence was perceived as a different one in comparison to previous years, with the company focusing on movies and music. In a video interview with Engadget, Sony's Head of Communications, Cheryl K. Goodman, explained how the company wants to align moving parts, including cameras, OLED TVs, mobile and PlayStation. Goodman was in the studio with robo-puppy Aibo and talked about upgraded robot pets.
Qualcomm's president Cristiano Amon argued that how 5G cellular will amaze consumers and AI processing on smartphones will become more prevalent, while telling ZDNet: "Remember when 4G started, everyone was saying, Why do I need a hundred-megabit-per-second device?  Carriers told people it would be for connecting a laptop computer. Now, we look at our smartphones and we say, How could we live without it? You have to design a technology to last for 10 years."
Qualcomm executives shared a stage with Samsung and Microsoft peers to discuss connected computing, 5G, and the benefits, challenges and the future of laptops that are always online. Mark Linton, GM of OEM Portfolio and Product Management for Microsoft, talked with Tech Radar about the "absolute deluge of laptops" at CES 2019: "There are a few factors here: innovation in silicon, innovation in graphics [and] Windows 10 momentum in terms of the install base. Windows 7 is going end of support in a year, and so customers are looking to move to make sure they get updated and so on."
Web of influence
To identify the most influential companies in the media discussion around the event, we used our Influencer Network Analysis (INA) methodology, which employs natural language processing, entity extraction, free-text data mining and dynamic network mapping technology: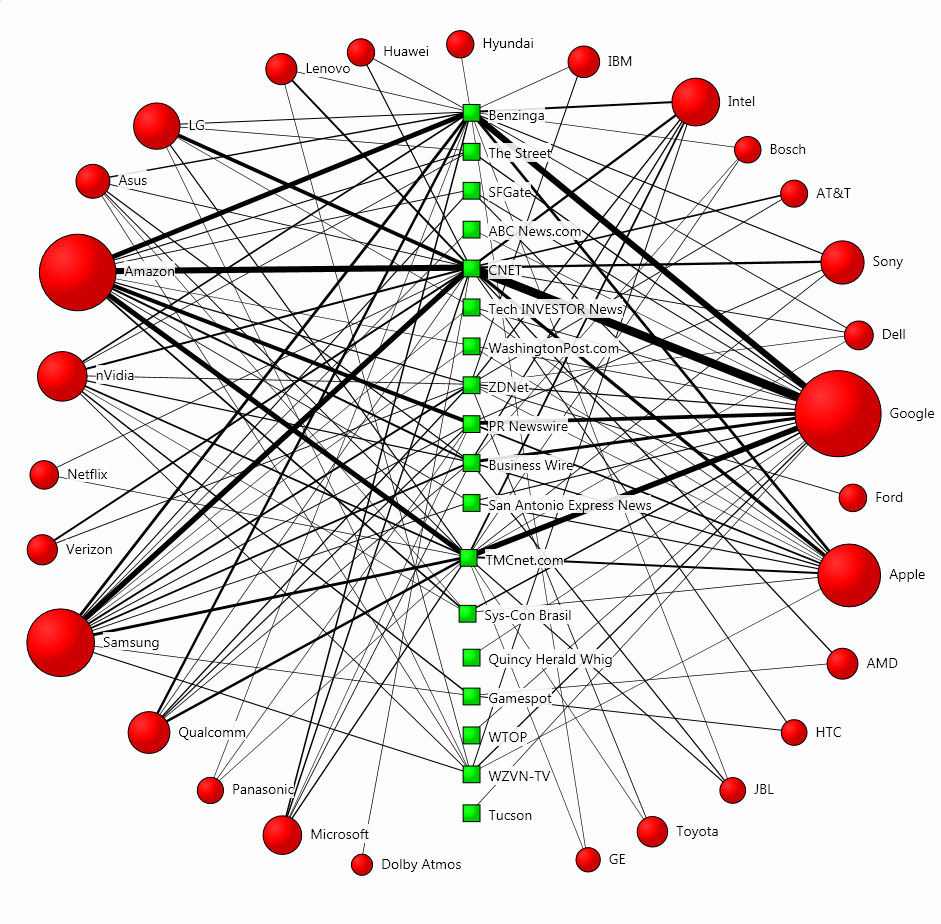 The size of each company's circle denotes the prominence of their presence in the coverage, and the strength of their connections to publications shows the volume of coverage.
We can see that Google, Amazon, Samsung and Apple are the companies driving the media discussion around the event, receiving significant coverage by a number of major media outlets, such as CNET, the Technology Marketing Corporation (TMC) and Benzinga. These companies were also covered by national titles such as the Washington Post, the New York Times and the Washington Times.
Events such as CES are becoming more and more important for communications professionals, as more and more reporters flock to the exhibiting centres every year. In the case of CES, PR and social media agencies such as Uproar begin their preparations as early as October so that everything is in place by the actual event in January, when they aim to secure a fair share of coverage. Measuring and analysing the impact of comms campaigns is crucial not only for evaluation but also for planning and implementing future strategies.
For more tech insights, take a look at Trends in Telco PR: 5G in the Media and The Internet of Things: Leveraging the New Industrial Revolution.