Sustainable fashion has become a management agenda for an increasing number of brands, and communicating environmental values is in the centre of many ambitious campaigns. Using our Influencer Network Analysis (INA) methodology, we analysed the recent media coverage to find the brands and influencers most often associated with the sustainable fashion trend.
Earlier this week, a cross-party group of British MPs released a detailed report on the fashion industry's environmental impact, the first inquiry of this kind carried out at parliamentary level worldwide. The lawmakers warned that "fast fashion" (the accelerated fashion business model involving increased numbers of new collections and quick turnarounds) is encouraging overconsumption and the sale of clothes so cheap they are being treated disposably, contributing to water and air pollution.
Textile manufacturing, for instance, is a major contributor to climate change, producing an estimated 1.2 billion tonnes of carbon dioxide equivalent (CO2e) per year – more than international flights and maritime shipping combined. The annual carbon footprint of the industry is close to the combined carbon footprint of all 28 current members of the EU. In addition, the fashion sector is projected to use 35% more land for fibre production by 2030—an extra 115 million hectares which could otherwise be used for sustaining biodiversity or growing crops.
These problems are likely to deepen as the fashion industry is expected to expand: by 2030, global apparel consumption could rise by 63%, according to The Pulse of Fashion report. The annual retail value of apparel and footwear would reach at least €2 trillion by that time, which would represent an over 30% increase of €500 billion between now and then.
The British parliamentary report coincides with a growing public awareness of fast fashion's environmental impact – journalists, scientists, academics and industry representatives regularly raise concerns. There are also a growing number of charities, not-for-profit organisations and global movements such as Fashion Revolution which campaign for systemic reform of the sector. The Fashion Revolution's call for transparency under the hashtag #WhoMadeMyClothes became a global trend on Twitter for trying to raise the standards in the back end process of manufacturing.
Brands take stands
As a result, a large number of fashion brands are now considering environmental sustainability a management agenda, and words such as "green", "eco", "organic", "slow" and "ethical" are increasingly becoming a part of the fashion conversation. Many companies have started building their business models on sustainable production and operation, making sustainability a major focus for long-term growth.
In order to gain attention and credibility, as well as to strengthen the emotional connection with their customers, brands have started communicating specific initiatives like supporting charitable organisations and collaborating with influencers focusing on sustainability. They are also employing giving-back-to-the-society strategies by donating a part of each purchase to a cause or community. In this way, the customer not only purchases a sustainable product but also supports a cause beyond the fashion industry.
Other often used strategies for communicating an eco-conscious attitude include showing transparency and keeping consumers informed, emphasising local manufacturing and sustainable packaging, and collaborating with artisans. Emerging fashion brands entering the market also tend to build their reputations via socially conscious marketing efforts.
Eco fashion has become a hot topic at international events: from United Nations conferences to the London Fashion Week. "Sustainability in fashion today is like organic milk," Paul van Zyl, co-founder and chief executive of the American ethical brand Maiyet, told the Financial Times. "Five years ago, it was seen as esoteric, a bit of a luxury. But increasingly, people are trying to only buy organic milk. Luxury fashion consumers are now demanding transparency. They want to know where their clothes came from."
Online searches for sustainable fashion have surged in 2018: fashion search engine Lyst, which tracked more than 100 million searches over the year to find the biggest trends, reported a 47% increase in consumers looking for ethical products with terms such as "vegan leather" and "organic cotton". And for the first time, brands with strong sustainability attitudes made the 'most searched for' list.
According to Vanessa Friedman, chief fashion critic at The New York Times, green is not the new black – it's not just another trend to come in and go out with the seasons, but a paradigm shift. This is also underlined by the fact that big fashion houses are hiring sustainability experts. Such hires were made by brands such as Gucci, Saint Laurent, Balenciaga, Calvin Klein, Tommy Hilfiger, Hugo Boss, H&M and Zara.
Greenest labels
We analysed the media coverage of sustainable fashion from 1 October 2018 to 15 February 2019 and found the most often mentioned brands. We used our Influencer Network Analysis (INA) methodology, which employs natural language processing, entity extraction, free-text data mining and dynamic network mapping technology, to connect the brands to the media outlets which mentioned them most often: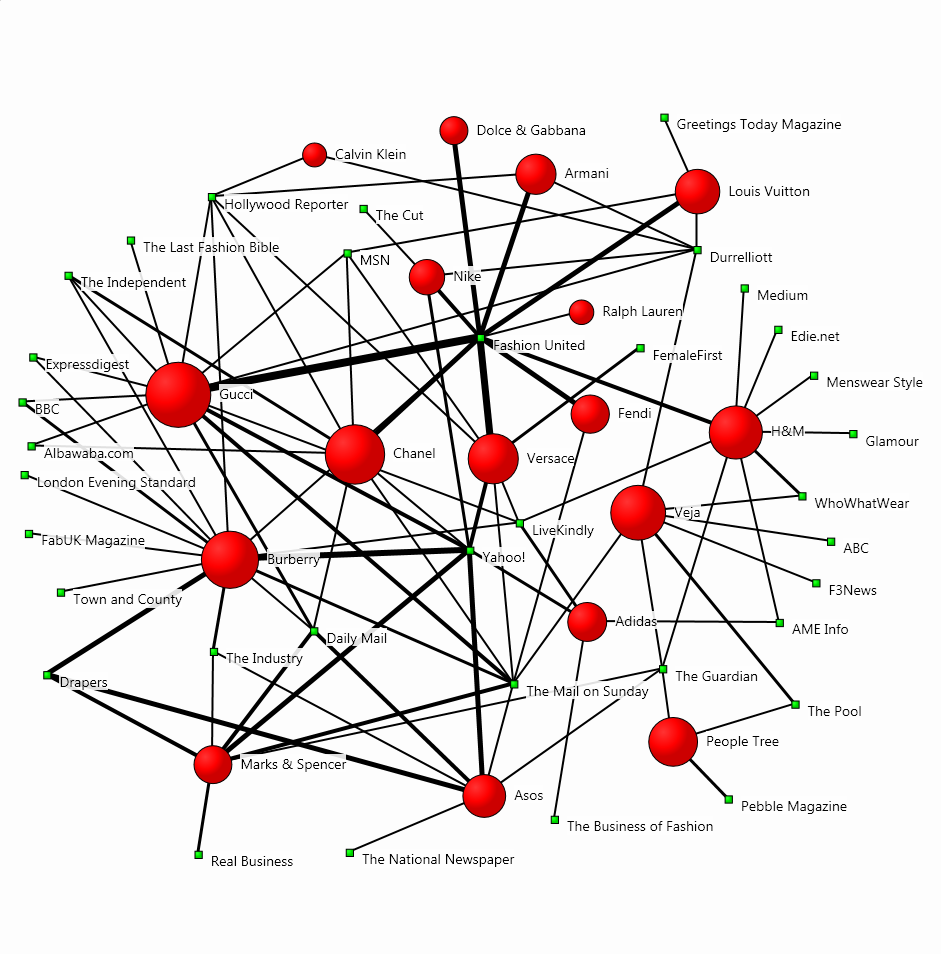 The size of each company's circle denotes the prominence of their presence in the media discussion, and the strength of their connections to publications shows the volume of coverage.
Although the industry's environmental footprint is associated primarily with fast fashion brands, the discussion was dominated by big luxury houses, as their actions are often perceived as trend-setting and indicative of the industry's state. They featured prominently in articles enumerating the best eco labels on the market, such as: Sustainable Fashion 101: The Beginners Guide to Dressing Ethically, Super cool ethical brands you need to know about and 36 Conscious Fashion Brands I'm 100% Buying Into.
The popularity of the topic was also emphasised by the fact that the brands featured not only in specialised publications such as Fashion United, The Business of Fashion or Glamour, but also in daily outlets such as the BBC, The Guardian, London Evening Standart and The Independent.
Gucci had the greatest prominence and centrality in the discussion mainly because of its latest initiative, Gucci Equilibrium, which aims to solidify the brand's position as a sustainable and responsible luxury fashion house. "Gucci is committed to a culture of purpose putting environmental and social impact at the heart of the brand," Marco Bizzarri, Gucci President and CEO, said in a statement. "Together, by committing to a culture of purpose, taking responsibility and encouraging respect, inclusivity and empowerment, we want to create the necessary conditions for a progressive approach to sustainability."
In addition, luxury group Kering, which owns Gucci and Yves Saint Laurent, has pledged to transform its own business and the wider luxury industry at every level. Unveiled in 2018, Kering's 2025 ethical strategy asserts that the company sees sustainability as a necessity, because "sustainability and luxury are one and the same". A similar sentiment was expressed by Donatella Versace, who said that sustainability and luxury go hand in hand.
One of Kering's initiatives which grabbed the media's attention was launching a WeChat programme named 'My EP&L' (Environmental Profit & Loss), an environmental impact measurement tool that informs consumers of the environmental cost of what they buy. A similar initiative was the Higg Index — a set of self-assessments that allow a brand to measure the environmental impact of everything they do – which is used by H&M and Burberry.
The second most prominent luxury brand in the discussion, Chanel, was at the centre of many reports about houses forgoing fur in their future collections. When it announced that it will stop using exotic skins such as crocodile and lizard, Chanel got on board with fashion's shift toward ethical sourcing, following labels such as Burberry, Donna Karan/ DKNY, Versace and Jean Paul Gaultier.
Fast fashion outlets like Zara, H&M and Asos have committed to taking ambitious steps to become more sustainable. They signed a pledge led by the Global Fashion Agenda, stating that they will start to repurpose wasted material and develop new recycling methods and technologies According to the report, these brands will have implemented change by 2020.
H&M had the greatest prominence and centrality among the fast fashion houses in the discussion because of its ongoing efforts to position itself as a sustainable fashion brand with its Conscious Exclusive Collections made from sustainable materials. On the other hand, Marks & Spencer has often been called one of the most sustainable retailers on the planet. It launched its sustainability strategy in early 2007 and called it "Plan A" as a reminder that sustainability is the only option for solving our planet's problems and there is no Plan B.
Specialised sustainable fashion brands which appeared in the media among the industry giants included Veja and People Tree. Veja, a French label selling eco-friendly shoes, gained its prominence and centrality because of the Meghan Markle Effect: according to a report from global fashion search platform Lyst, Veja's V10 sneakers were the third "hottest" product in women's fashion, in a list including brands luxury brands such as Prada, Nike, Gucci and Balenciaga. Online searches for the eco label increased by 113% after Markle wore the sneakers at the 2018 Invictus Games sailing final.
The company's Instagram posts received an average of 1,000 to 3,000 likes, and a photo of Markle wearing its V10 sneakers got over 20,000 likes. In this way, Veja became number one in Lyst's 'Insta brands' ranking which traced search spikes and compared them against Instagram mentions and tags. Meanwhile, another brand receiving media attention for its eco sneakers was Adidas, which unveiled its first collection in partnership with English fashion designer Stella McCartney.
People Tree, one of the most well-established ethical retailers, gained its centrality in the discussion not due to a particular hype but because it frequently featured in lists of the top sustainable fashion brands, such as Forbes' Three Ethical Retailers For Your Next Sustainable Fashion Purchase or Glamour's Here's how to shop the high street ethically if you're a fashion lover who wants to work towards a greener future. Having been using sustainable materials for nearly 30 years, one of People Tree's unique points of difference is being accredited internationally: it's the only fashion label certified by the World Fair Trade Organization.
Green faces
Using our Influencer Network Analysis (INA) methodology, we analysed the sustainable fashion media to identify the influencers driving the discussion:
Stella McCartney is well-known for promoting ethical and sustainable fashion practices. In addition to its aforementioned eco-partnership with Adidas, Stella McCartney's collections focus on sustainability – for instance, she uses factory waste, recycled microfibre and non-toxic dyes. She communicates her environmental values in most of her interviews and media appearances.
"My first job is to be a fashion designer," she said. "I make desirable, beautiful clothing. But my first decision is always based on whether I can do this in a more environmental way without sacrificing design? If I can, then there is no reason not to."
Meghan Markle donned a pair of Adidas/McCartney eco sneakers during the New Zealand royal tour, while McCartney also designed Markle's modern wedding reception dress. Other items from the Dutchess' wardrobe often mentioned in the media include flats made of post-consumer recycled water bottles and an eco-friendly striped dress.
Meanwhile, Vivienne Westwood, fashion's grand dame of punk and activism, has been subject of criticism for allegedly violating her commitment to 'cut out plastics whenever possible' – a piece in calling out the fact that most of the designer's products were made from petroleum-based materials. An article in fashion magazine Eluxe dubbed Westwood 'the Queen of the Greenwash'.
Actresses Emma Watson and Marion Cotillard were frequently mentioned as endorsers of eco-friendly fashion. Watson, who is also a UN Women Global Goodwill Ambassador, frequently uses her celebrity status to back ethical causes and has spent a decade promoting eco brands through collaborations, on the red carpet and directly to her numerous fans on social media.
She consistently shares outfit-of-the-day posts on Instagram, promoting new brands and elucidating why she likes them. Some of her best-documented eco fashion moves included wearing a Calvin Klein dress made completely of recycled plastic bottles and setting up a separate Instagram account @the_press_tour, to share detailed fashion credits about the outfits she wore while promoting "Beauty and the Beast".
If green is not just another trend to come in and go out with the seasons, and we are indeed in the middle of a paradigm shift, brands should be quick to strengthen their ecocentric communication strategies. This can be achieved by utilising sophisticated media analytics and measurement which go beyond the numbers and employ human-led qualitative inquiry.