As the deadly coronavirus continues to spread, the media has been engrossed in extensive reports and analyses of how the outbreak disrupts the global economy.
A number of biotechnology and pharma companies have started developing vaccines, diagnostics and antiviral therapeutics, positioning themselves at the forefront of the media debate and causing investors to bid up their shares.
Using our Influencer Network Analysis methodology, we found out that small biotechs Inovio Pharmaceuticals, Moderna and Novavax were the most influential companies in the recent media discussion around the coronavirus, followed by giants such as Gilead, Johnson & Johnson and Roche.
Since the beginning of the year, one eerie word has been reigning over headlines and social media feeds: "coronavirus". As the epidemic infected thousands, claiming numerous lives and rattling global markets, the global mainstream media largely focused on the possible solutions to what the World Health Organization declared a public health emergency of international concern.
This has put biotechnology and pharma companies promoting their plans to develop vaccines, diagnostics and antiviral therapeutics in the public eye, but the media conversation has been rather heated: while a number of outlets are speculating that some products may prove instrumental in the fight against the deadly disease, others note that cash-hungry biotechs are tapping the crisis to raise money.
In this regard, some commentators said that investors should be careful, given that most biotech companies lack an established track record or are simply trying to position themselves to benefit from a public health crisis. For example, Jefferies analyst Jared Holz threw some cold water on the big buzz in these small companies by remarking: "Companies stating their interest in the development of vaccines for coronavirus are likely too late, as we saw similar commentary around SARS and other similar situations."
Pharmaceutical stocks have also experienced temporary spikes. Pharma giants like Johnson & Johnson, AbbVie and Gilead announced they were repurposing HIV, Ebola and Zika products to come up with a vaccine, while Roche is planning to disseminate testing kits for the virus. But then again, some analysts warned that investors may be getting ahead of themselves.
The discussion around coronavirus vaccines takes place at a time when the efficacy and alleged dangers of vaccination are among the most intensely debated subjects on a variety of media channels, in spite of the fact that vaccines are scientifically recognised as one of the greatest achievements of public health. Researchers examining the determinants of vaccination decision-making have called this phenomenon "vaccination hesitancy", suggesting that it significantly contributes to decreasing vaccine coverage and an increased risk of vaccine-preventable disease outbreaks and epidemics.
Study after study has suggested that the media (and social media in particular) is to blame for giving a platform to anti-vaccine groups who often recycle long-debunked theories about links between vaccination and autism. Most recently, a report by the Royal Society for Public Health (RSPH), sponsored by US pharmaceutical company Merck, concluded that up to half of parents are exposed to negative messages about vaccines on social media. Meanwhile, the World Health Organisation (WHO) ranked "vaccine hesitancy" as one of 2019's top 10 global health threats, alongside climate change and HIV.
For more on this topic, read our analysis "Vaccination in the Media: An Ongoing Immunisation Against Misinformation".
Biotechs lead the way
We employed Influencer Network Analysis, our patented methodology that uses natural language processing (NLP), text mining, dynamic visualisation and human enrichment, to analyse the recent media discussion around the coronavirus and the healthcare companies under the spotlight.
Our analysis was based on a sample of 2668 English-language articles published in top-tier international media outlets from 1 January to 1 February 2020. The media discussion around the relevant healthcare companies is presented as a two-mode network map (see below), displaying the major companies (circles) and the publications (squares) that referenced the firms in their coronavirus coverage. The size of the circles indicates the firms' prominence in the media discussion, and the width of the connections between the firms and the publications is indicative of the coverage volume.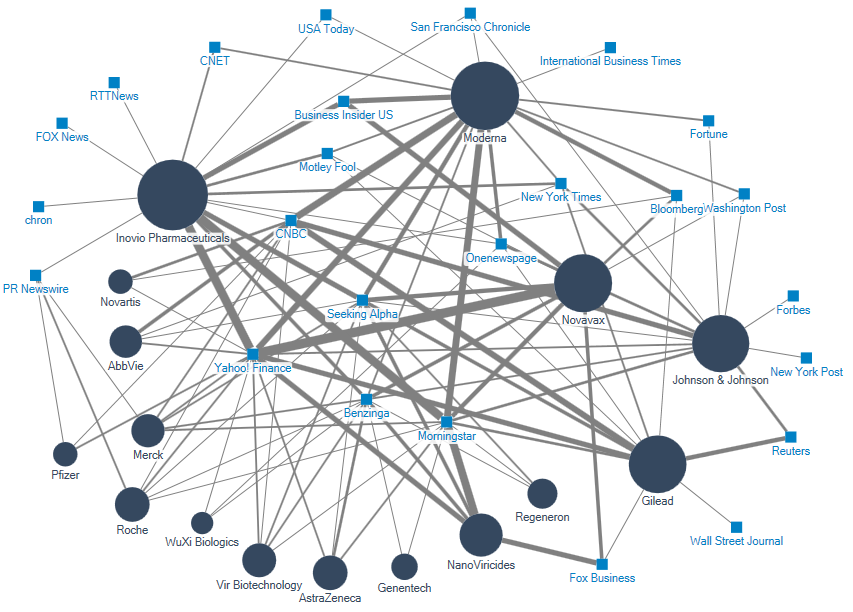 Small biotechs Inovio Pharmaceuticals, Moderna and Novavax were the companies with the greatest centrality in the debate. They were among the first companies which were mentioned by publications such as The Wall Street Journal and the New York Times for seeing their shares surge as the coronavirus spread further.
The rallies were sparked when the Norway-based Coalition for Epidemic Preparedness Innovations (CEPI), a nonprofit formed in 2016 to fund and shepherd the development of new vaccines against emerging infectious diseases, announced it would provide $11 million in funding to Inovio and Moderna to develop vaccines against the coronavirus.
Inovio began working on designing a vaccine hours after the sequence appeared, but some commentators remarked that any commercial treatment from the company could be years away and that buyers of biotech stocks should beware as that could be the issue with any of these firms amid the rampant speculation.
Meanwhile, investment bank Morgan Stanley was bullish on Moderna, which recently indicated that it was working on a potential vaccine. The bank's analyst Matthew Harrison said that Moderna "has a potential benefit over traditional vaccine makers in that once it has the sequences that code for the most immunogenic part of the virus' surface proteins, or antigens, management can rapidly make a clinical development candidate".
Novavax was recently bouncing off all-time lows until it became among the first ones to announce it was working on a coronavirus vaccine, with its president of research and development Gregory Glenn telling CNBC that the company could develop a vaccine for the coronavirus within two to three months. But some analysts said that the company made similar claims on the Ebola and other virus outbreaks over the years and that the major hiccup is the inability to actually obtain FDA approvals while chasing all of the latest viruses.
Inovio, Moderna and Novavax featured primarily in financial publications such as Morningstar, Yahoo! Finance and Seeking Alpha. Morningstar, whose research and recommendations are considered by financial journalists as extremely influential in the asset-management industry, focused mainly on Inovio and Moderna, while Yahoo! Finance, the largest US business news website, concentrated on Novavax.
Large-cap companies were referred to more often in larger news outlets like Reuters and the New York Times, with Gilead and Johnson & Johnson being the most influential ones.
Gilead was mentioned for its new antiviral drug Remdesivir, aimed at infectious diseases such Ebola and SARS, which will be tested by a medical team from Beijing-based China-Japan Friendship Hospital for efficacy in treating coronavirus.
Johnson & Johnson, the world's largest healthcare company, said its vaccine programme would utilise the same technologies used to make its experimental Ebola vaccine, which is currently being administered in the Democratic Republic of Congo and Rwanda. J&J also donated its HIV drug Prezcobix to China for use in research to find a solution against the outbreak.
In the meantime, Roche was mentioned for introducing the first commercial test for the coronavirus, ramping up production of high-tech machinery in a bid to help laboratories in China that are getting overwhelmed. AstraZeneca got in the news when its CEO Pascal Soriot told CNBC at the World Economic Forum (WEF) in Davos that the coronavirus spreading in China appears to be contained for the time being.
For more on WEF 2020, read our analysis "Davos 2020: "Green" and "Stakeholders" are the New Corporate Jargon".
Cautious CEOs
The recent media conversation around the coronavirus featured a wide variety of healthcare spokespeople, predominantly from public institutions and non-profit organisations.
The most often quoted spokesperson was Tedros Adhanom, director-general of the World Health Organization, who explained that the main reason for WHO's designation of the coronavirus as a public health emergency was not "because of what is happening in China" but "the potential for this virus to spread to other countries with weaker health systems which are ill-prepared to deal with it".
Nancy Messonnier, director of the US National Center for Immunization and Respiratory Diseases, was also frequently cited, alongside Anthony Fauci, director of the National Institute of Allergy and Infectious Diseases and Alex Azar, US Secretary of Health and Human Services.
Academics and medical practitioners such as William Schaffner, a professor of preventive medicine and health policy at Vanderbilt University, and Zhong Nanshan, a Chinese epidemiologist and pulmonologist, also had a substantial presence in the debate.
In contrast, corporate spokespeople had a considerably smaller share of voice. The most often quoted company representative was Paul Stoffels, chief scientific officer at Johnson & Johnson:
The general message communicated by many C-level spokespeople was that a coronavirus vaccine could be slow to enter the market. For instance, Stoffels was commonly quoted for saying that Johnson & Johnson has initiated work on a preventive coronavirus vaccine and has "dozens of scientists" working on it, but he warned it could take around a year to bring a product to the market.
A similar sentiment was expressed by Novartis CEO Vas Narasimhan, who said: "The reality is, it will take over a year in my expectation to really find a new vaccine for this so, we need to really use epidemiological controls to really get this situation in a better place."
Likewise, Moderna CEO Stephane Bancel told CNBC his company is working with the NIH to develop the vaccine, but warned that "no manufacturer will be able to have a vaccine ready for the summer". In this regard, some publications remarked that companies spent more than a year developing a vaccine for the 2003 SARS epidemic, which killed almost 800 people globally.
Meanwhile, George Scangos, CEO of Vir Biotechnology said his company is testing if its current antibodies are effective treatments against the virus, while Joseph Kim, CEO of Inovio, praised his company's DNA medicine platform as "the best modern-day approach to combatting emerging pandemics".
An exercise in IR and PR
The media's heavy focus on investing in biotechnology highlighted some of the challenges accompanying biotech stocks, which are often deemed tricky as volatility often pockmarks that space and there are well-known risks like clinical failures, regulatory approval setbacks, commercialisation problems, and loss of exclusivity/patent expiration.
Since launching in the early 1980s, the narrative around the biotechnology industry has been shaped by inconsistent investment results, especially after a biotech bubble burst in the early 2000s. This has led commentators to be extra critical when it comes to the 'hot areas' of biotech, since it's quite possible that companies burn through hundreds of millions of dollars, often with nothing to show for it.
In this regard, traders should keep in mind the difference between investing in biotech and investing in pharma – as some analysts note, biotech is a risk-taking enterprise, while pharma is about managing and diversifying risk.
Many financial outlets reporting on the coronavirus reminded their readers of these biotech challenges, publishing headlines like Yahoo! Finance's "Biotech stocks get a boost from coronavirus fears — but here's why investors should be wary" or Bloomberg's "Coronavirus-Linked Stock Speculation Reminds Health Sector of Bitcoin". Journalists noted that the stock rallies sparked by the coronavirus are similar to the frenzies of other health scares and that some companies are simply issuing well-timed press releases to take advantage of the situation, while some traders are making "fast-money trades" off the coronavirus headlines.
The dynamics of these debates have underlined the growing importance and influence of investor relations (IR) – a practice which has established itself as a key management responsibility in the last 20 years, evolving beyond the narrow focus on compliance and dissemination of financial information, and now extending to a wide spectrum of stakeholders across the financial community. In addition to existing and potential investors, IR's audiences include bidders of debt instruments, market analysts who are often opinion-makers, financial outlets, stockbrokers, financial advisers working with investors, and professionals such as creditors, lessors and contractors.
But IR in the biotech sector is a unique beast, as Robert Uhl, managing director on Westwicke's life sciences team, notes, adding that there are some distinct guidelines to be followed – for instance, making the technology stories coherent and concise, laying out a convincing roadmap through the approval process and a reasonable description of the market opportunity, and planning a corporate lifecycle that involves a number of value-creating milestones.
The value of IR within the biotech industry, as in other highly-specialised sectors, aligns with PR's function as a builder of strong relationships – the emphasis of both corporate practices is on the value of communications. This is also illustrated by the fact that the measures preferred by IR practitioners focus mainly on the qualitative assessment of their activities by the C-suite combined with demonstrations of the quality of relationships they have established across the financial community.
Biotechnology is still a sector which, unlike pharma, is not that much in the public eye. However, the dynamic media conversation around the coronavirus has already started to change that, which provides an opportunity for biotech companies to not only attract investor interest but also to augment their most important intangible asset – their corporate reputation. This would mean putting a stronger emphasis on PR and going beyond the financial media in order to establish a strong presence in a wide variety of mainstream news outlets.
In this regard, biotechs have an advantage over pharma as they are considered healthcare's bright spot in terms of public trust. The most recent edition of Edelman's Trust in Healthcare report showed that trust in biotech increased in many markets, while pharma has taken the bulk of the blame for the high costs of healthcare. Indeed, the pharmaceutical industry is experiencing unprecedented reputational declines: according to a new Gallup poll, pharma is now the most poorly regarded industry in the US, unseating the federal government.
Due to the very nature of their work, biotechs are well-positioned to tap into the mainstream media's growing focus on topics involving corporate social responsibility (CSR) by highlighting the public value of their research and development. From a strategic communication standpoint, this would also mean tapping into the recent understanding of corporate reputation as implying purpose before profit and delivering value to all stakeholders instead of merely focusing on the interests of stockholders.
Such communications strategies would be especially effective at a time when conveying corporate social responsibility has started translating into a gradual shift in corporate behaviour against a backdrop of a significant rise in sustainable finance or Environmental, Social and Governance (ESG) investing – a way of investing which takes into account not only the potential financial returns of an investment but its social impact as well.
For more on this topic, read our paper "Bridging Public Relations and Investor Relations".