Measuring and subsequently managing chief executive officer (CEO) brand image and reputation is essential for CEOs and their companies, especially in the age of social media. Recent research by global PR advisory firm FTI Consulting has shown that fast-growth companies are virtually synonymous with CEOs who prioritise communication – over 80% had a distinct brand. Furthermore, CEOs with a distinct brand better withstood the negative impact of the COVID-19 crisis.
There is general consensus in the marketing literature that people can be considered as brands referred to as "person brands" or "human brands." CEOs often are assigned as company spokespeople, because they naturally are assumed to share the views and vision of the company, and anything they say or do in public might affect the company.
To better understand what is driving CEO brand image and hence corporate reputation, we have launched a free monthly CEO Media Visibility Tracker, which uses advanced AI to measure the media and social media visibility of 150 CEOs of Fortune Global Companies and to identify the business events driving their image in the media.
The tracker uses two types of metrics: "centrality" and "number of articles mentioning a specific business event". Centrality measures CEO's visibility in top-tier online media outlets, such as the New York Times, the Financial Times, the Guardian, Reuters, Bloomberg, Forbes, as well as on Twitter. It is a metric similar to Google's Page Rank, applying a mathematical method to measure the quantity and quality of connections between a CEO and the media outlets and Twitter users that reference them.
The number of articles mentioning a specific business event identifies the type of news around CEOs that drives traction with the media. Unlike media analytics platforms that categorise entities or topics, Commetric's platform can disambiguate sentence structure to classify the business events that drive CEO visibility and image.
The following snapshot presents the summary data about the top 20 CEOs in terms of visibility for the period of June- September 2020.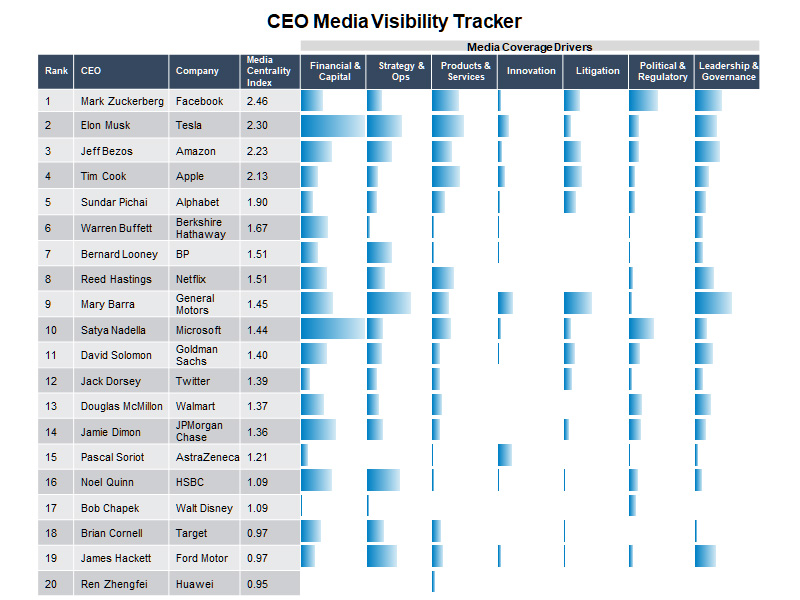 Our analysis shows that despite the pandemic, the US election, and an explosion of social movements, leadership messaging had the most impact when it continued to be directly linked to the brand's biggest strengths. In other words, the bulk of Tim Cook's top tier coverage still comes from stories about iPhones, and not Apple's ESG strategy.
Unsurprisingly, the major technology platform CEOs gained most of the total CEO coverage, with the top CEOs in terms of media visibility for the period June – September being: Facebook's Mark Zuckerberg, Tesla's Elon Musk, Jeff Bezos at Amazon, and Tim Cook at Apple.
At Facebook, for example, around 20% of the articles about Zuckerberg from June – September were about political and regulatory, topics, indicative of the challenges he has faced with issues around privacy and the dissemination of fake news, as well as appearances before various government committees. However, perhaps more surprisingly, a higher proportion of his coverage was based on products and services, including Instagram, WhatsApp, and acquisitions.
Another interesting example is the pandemic's impact on the visibility of big pharma's leaders, as the sector takes the opportunity to overcome its poor reputation and emphasise how its core business is helping. For instance, AstraZeneca CEO Pascal Soriot and Pfizer head Albert Bourla are now the 18th and 20th most visible CEOs in the rankings respectively. Almost all their coverage is driven by innovation, a core feature of all major pharmaceutical companies' operations, and especially as work on Covid-19 treatments and vaccines progresses.
Companies such as Pfizer, AstraZeneca, Gilead, and Merck are bolstering their CEOs' presence in the media to explain their approach to producing drugs and vaccine trials. As a result, these CEOs have all now made it to the top 50 of the most visible CEOs, which would have been highly unlikely before the pandemic.
What is the relationship between CEO media visibility and market cap?
To enable comparisons between CEOs of companies of different size, CEO Media Visibility Tracker also incorporates market cap data.
Mapping CEOs' media visibility against companies' market cap provides some interesting insights into the strategic potential of CEO communications and brand building, as indicated in the following chart: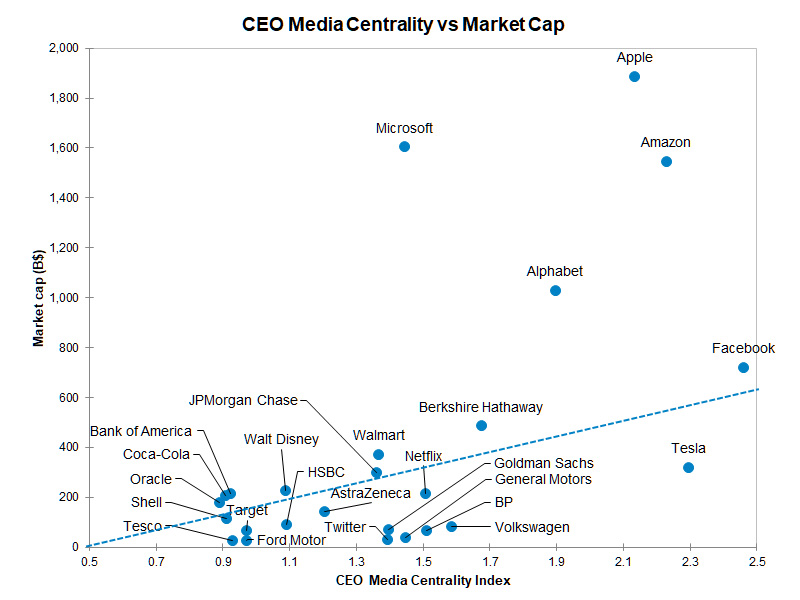 We can identify two types of brands based on this mapping:
'Investment' brands (represented by the companies below the dotted line) – whose CEO media centrality is bigger relative to their market cap. The strong CEO visibility of 'investment' brands drives growth. Such brands are Tesla, Netflix, AstraZeneca.
'Milking' brands– whose CEO media centrality is lower relative to their market cap. The low CEO visibility here represents unrealised growth potential. Examples are Coca-Cola, Walmart, Walt Disney.
Key takeaways for PR and communications practitioners
Public relations agencies and internal comms teams could use the CEO Media Visibility Tracker in three ways:
At a conceptual level, the tracker could help comms practitioners to focus on the relevant drivers to communicate, which should underpin the CEO brand idea and positioning. Corporate reputation drivers should be used as filters for message generation and prioritised in line with the image-transfer needs of the company brand.
At a strategic-planning level, the tracker can be used to ensure that the chosen media channels fit and amplify the drivers to be communicated. The performance-related drivers can be enhanced in mainstream media, for example, but it probably will be easier to enhance personality in social media channels.
At an operational level, the CEO Media Visibility Tracker could be used as an integral part of corporate, communication, and brand-tracking studies to assess CEO image and corporate reputation and identify differences or gaps in positioning versus company brand image and key competitors. They also may evaluate the evolution of CEO brand image over time, assess the effectiveness of public-relations campaigns, and quantify the added value of CEO brand image for overall company performance. This will help to justify public-relations investments and ensure that CEO image can be managed as a brand rather than left to affect the company brand passively.