The analysis originally appeared on PRmoment.com
Commetric's social media analysis shows that the typical PR influencer works at their own agency and has between 6-8K Twitter followers.
At least 50% of PR influencers' tweets are original content (as opposed to retweets) about topics ranging from politics and Covid to climate change and diversity & inclusion.
In-house PR pros who mostly tweet about their company or industry lag behind their peers from small agencies who start conversations about different topics and even their daily lives.
As we pointed out in our most recent social media analysis, avoidance continues to be a preference for many executives when it comes to social platforms. However, that's certainly not true for PR execs – they usually live and breathe social.
That's because the PR's daily duties have already transcended drafting press releases and media relations – clients often expect advice on social media strategy and digital branding. In addition, comms practitioners spend time on a variety of channels because they know better than anyone the importance of using social media to build a personal brand.
So how are the people working in the business of influence make themselves influential? We thought it would be interesting to employ our influencer mapping methodology and human analyst expertise to identify social media influencers working in PR & Communications.
Unlike most influencer identification tools, which focus on reach or associate influencers with a pre-defined list of topic categories, Commetric's proprietary Influencer Network Analysis (INA) employs technology and human expertise to measure influence relating to a conversation on a specific topic.
We compiled a PR Influencer Index based on both quantitative and qualitative evaluation of English-language Twitter data. We analysed 222,083 tweets posted in the last year by 3,594 users with more than 5000 followers. The following chart provides a detailed description of our 5-step process and methodology: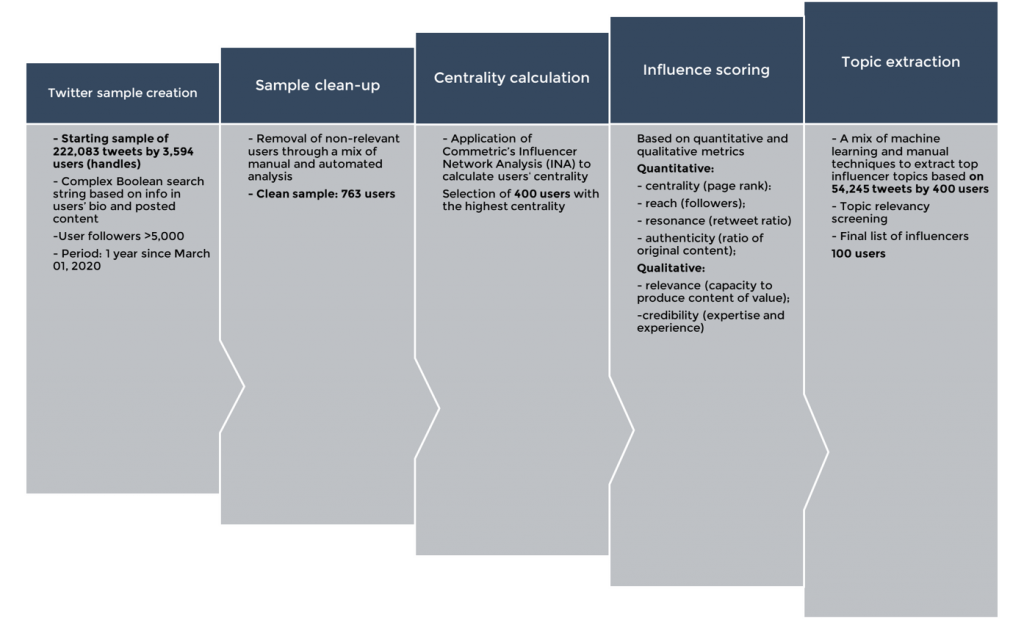 PR influencers are socially engaged
During the last step of our process – topic extraction via a mix of machine learning and manual techniques – we found that at least 50% of PR influencers' tweets are original content (as opposed to retweets) about a range of topics.
Naturally, most influencers tweet about developments within their own field – PR and marketing.
Many active conversations within the PR and marketing topic revolved around comms advice – for example, how to turn insight into action, or how to create and share content that solves your customers' problems at a time when the old hard sales tactics and traditional advertising don't work anymore.
However, the most influential users didn't employ a corporate-sounding tone – they rather stirred up discussions by using a conversational down-to-earth style, and often conveyed authenticity and honesty by talking about their mistakes.
A closely related topic was Social media, where influencers discussed whether Clubhouse could be the next major platform and whether brands could turn TikTok into an advertising machine that rivals YouTube.
After PR and marketing, the most popular topic was Politics, which goes to show that PR influencers don't shy away from commenting on current affairs and taking stances.
Of course, the top-trending political issue for PRs has been the 2020 US election – even those who normally try to stay away from politics have come up with something to say. Most criticised Trump and discussed what should be done if he refuses to leave office or takes other steps to stay in power.
Many PR influencers stated that Joe Biden's victory is to redeem America's reputation on the global stage. In this way, PR pros joined the ranks of many execs, especially CEOs, who stepped in to publicly legitimise Biden's win and to offer their thoughts – something that might signal a new dawn of CEO activism in the political sphere.
Until recently, it was rare for corporate leaders to plunge aggressively into political discussions, as they typically dislike few things as much as openly wading into politics. But as new waves of corporate activism get lots of media attention, PR firms are now building entire practices around it.
As with any discussion, Covid was also a big theme. Many PRs discussed how the clear trend is that consumers want brands to respond to the situation with empathy, openness and integrity while continuing to communicate their values.
More interestingly, influencers actively commented on Diversity and inclusion issues such the #BlackLivesMatter movement and George Floyd's death, which some described as a public lynching.
According to many comms people, brands must take a stand to publicly speak out against racial injustice and need to use their marketing dollars to advocate for racial equality and to educate the public on the issue. This comes at a time when consumers want the corporate world to step up and play a central role in addressing systemic racism.
The topic of Climate change also gave rise to many passionate discussions. While PR influencers welcomed Biden's agenda and pledged their support to the new administration's goals to combat climate change, some also claimed that the US needs a national institute of climate change and that the G-20 countries must show more ambition and action.
Most PR influencers come from small agencies
Looking at the influencers' professional affiliations, we found that more than half (59%) work in PR agencies, usually their own or small ones.
Almost a third (32%) of PR influencers have their own firms. The most influential self-employed PRs included Adam Rogers, Elizabeth Thorp and Michelle Garrett.
As these PRs are founders, it makes sense that they invest in actively building their personal brand – which could, in turn, give credibility to their firms' corporate brands.
Meanwhile, 27% of influencers are employed at agencies, but 21% come from small ones like Bryson Gillette, Firehouse Strategies, Enterprise Canada and Resolve Communications. The 6% coming from big agencies work in places such as BCW, Edelman, Ogilvy and FTI Consulting.
In fact, half of the top 20 influencers have their own practice:
However, the most influential user in our sample is in-house: Andy Stone, policy communications manager at Facebook. Andy Stone has worked at Facebook since 2014, so it's likely that he dealt with a string of high-profile failures, including the Cambridge Analytica scandal, the 2016 election meddling, the "fake news" phenomenon, the sharing of sensitive data to third parties, the hacking of millions of accounts and the 2020 Stop Hate for Profit campaign, which claimed that Facebook allowed incitement to violence against protesters fighting for racial justice in America.
A quarter of the content Andy Stone shares are Facebook press releases, most often related to fighting disinformation and fake news. To help defend his company's damaged reputation, Stone participated in conversations about Facebook's measures to protect the 2020 US elections and the steps on enforcing against QAnon and militarised social movements.
Among the top 20 influencers, a good level of engagement was induced by Elizabeth Thorp, president of EDT Communications, who passionately criticised Trump and the Capitol Hill riot. She also praised Biden's immigration policies and urged people to vaccinate.
Another user tweeting about vaccination with a high level of engagement was Stephanie McGann Jantzen who focused on vaccination hesitancy and online health misinformation. In the meantime, Vicki Ringer, director of public affairs at Planned Parenthood South Atlantic, provoked many discussions around birth control and abortion.
In-house PRs lag behind
Apart from Andy Stone of Facebook, PRs working in-house at big corporations lagged behind their peers from small agencies. In fact, Andy Stone had a disproportionate larger influence than the rest of the in-house practitioners in our sample.
Many of them were from tech firms like Twitter, video game developers Infinity Ward and Respawn, and giants like Microsoft, Amazon, Google and Huawei:
Andy Stone's high level of engagement saw him sneak past Twitter's own Nick Pacilio, a senior communications manager, who drew attention to himself when he publically addressed Twitter's spat with Trump. Pacilio is often being accused by conservatives of being the platform's "top censor", with some suggesting that there is a clear conflict of interest because he worked as Kamala Harris' press secretary.
It's worth remembering that in order to stay away from similar allegations of bias, Facebook didn't choose someone from the increasingly polarised American political landscape when it hired Nick Clegg, former deputy prime minister of the United Kingdom, to lead global policy and communications in 2018.
There might be a reason why in-house PRs lag behind: the bulk of them shared news about their own organisations and focused on the products and services they were hired to promote.
For example, Ashton Williams and Ryan K. Rigney managed to engage mainly gaming fans by talking about their companies' products. Scott Brownlee, head of PR and social media for Toyota in the UK, talks only about his company's cars. Paul Harrison, UK director of Communications at Huawei, often retweets news from Huawei's corporate account and talks about the company's products and services.
What can we learn about influence?
As we compiled our PR Influencer Index, we found that a few lessons in influence suggest themselves:
Don't be too PR-y. People generally don't log in to Twitter to talk about work. Even though PR and marketing was the largest topic in our sample, the most influential PR pros didn't approach it from a corporate standpoint – they rather shared their thoughts and experiences with a casual tone, often pointing out their mistakes. Many also talked about their daily lives and shared funny stories about their kids and pets.
Don't be afraid to take a stance, even if it could be controversial. In recent years, we saw many brands suffering from social media backlashes because of their stances on particular polarising issues. However, a personal Twitter account has the advantage of being able to talk about a controversial subject without being afraid that it might lead to consumer boycotts. On the contrary – it usually leads to active discussions.
Try to start conversations. This is all-time classic advice for social media comms, but it's particularly relevant for everyone who aspires to be a PR influencer. Posting highly engaging content with a good frequency is how social media can be used for interactive and collaborative communication with stakeholders, which may include soliciting feedback, ideation, crowdsourcing of solutions, and knowledge co-creation.