One of the most pertinent problems of CEO comms is the CEOs' social media activity. Fewer than half of all S&P 500 and FTSE 350 CEOs have a social media presence, and only a quarter have posted anything over the past year, according to a recent survey from business advisory firm Brunswick Group.
This means that avoidance continues to be a preference for many executives and a truly social CEO is still rare, despite the understanding among many corporate leaders that their social media competence can demonstrate not only their thought leadership but also reinforce their companies' innovativeness and reputation.
Brunswick's research found that by a margin of five to one employees would rather work for a leader who's on social media, while 93% of financial readers expect to hear from a CEO online during a crisis, and 7 out of 10 people trust a CEO who's active online. This isn't about leaders spending more time communicating—it's about using that time to lead more effectively.
CEOs as social media evangelists
But what about the CEOs who are active on social media and try to boost their personal brands and the corporate reputation of their companies? Are they doing a good job? We decided to approach the question by utilising our free monthly CEO Media Visibility Tracker, which uses advanced AI to measure the media and social media visibility of 150 CEOs of Fortune Global Companies.
We analysed around 1,000 English-language tweets posted by 20 CEOs between July – November 2020 and categorised them using the framework proposed by Heavey et al. (2020), published in Strategic Management Journal.
Drawing on academic research, we understand the social media engagement of strategic leaders as a set of behaviours through which strategic leaders seek to leverage social media affordances to communicate with stakeholders in developing and executing strategy. Because leaders vary in why (information processing vs. social influence) and how they use social media (reciprocal vs. nonreciprocal exchanges), we employed five engagement patterns—conveyance, evangelisation, discourse, mobilisation, and celebritisation. These patterns capture the nuances of social media engagement rather than assume uniform engagement.
We found that evangelisation was the behaviour exhibited in the large majority of tweets.
Evangelisation refers to the use of social media for convergence among stakeholders around a common vision, set of values, strategy, interpretations, and/or frame of reference. It also entails the use of symbolic acts, stories, metaphors, allegories, examples, and role modelling to influence and promote change in perceptions, attributions, or behaviours. The purpose is not to inform per se, but rather to influence using messages with which stakeholders could identify, or to articulate a specific version of reality to align the frames of stakeholders and secure support.
Evangelisation is informed by two strands of research: sense giving and impression management. In the academic literature, sense giving involves the use of language, symbols, and even verbal accounts to selectively convey preferred meanings and suggest certain interpretations, while impression management is any action carried out with the intent of influencing an audience's perception of the organisation.
Strategic leaders may use social media to engage in a range of impression management tactics, such as projecting images that induce positive emotions or favourable cognitions, or framing techniques that shape how stakeholders interpret new information.
In our research sample, many CEOs used evangelisation techniques for convergence among stakeholders around a common vision and a set of values such as diversity and inclusion – an increasingly hot topic in the corporate world.
A good example of such evangelisation in our sample is a tweet by Christian Klein, CEO of German software corporation SAP, who said that there is no such thing as male professions, yet only 17% of all German IT jobs are held by women: "IT careers must be promoted to girls in the same light, as a desirable choice, as it's done to boys."
Some CEOs also used evangelisation for political activism – even though business leaders normally try to stay away from politics, the turbulent 2020 US election changed that, as nearly 200 top US CEOs publicly urged a smooth transition of power by pressing Congress to certify Biden's electoral victory.
For example, Patrik Frisk, CEO of Under Armour, tweeted that his company is "100% in for democracy" and shared that he's proud to join the Civic Alliance alongside other business leaders "who are committed to getting out the vote, and strengthening our democracy".
In the meantime, Antonio Neri, CEO of HP, shared his letter to Joe Biden, tweeting: "It was inspiring to see record numbers of Americans participate in this election. @HPE is committed to working with the Biden-Harris administration to fight #COVID19 and leverage #tech to better society."
Another major topic for evangelising CEOs was climate change – an issue with which more and more executives start to engage. After the US election, more than 150 world leaders, including Jeff Bezos, Salesforce CEO Marc Benioff and Ford Motor Company executive chairman Bill Ford, signed an open letter to Biden to pledge their support to the new administration's goals to combat climate change.
In our research sample, a good example of this was Apple CEO Tim Cook, who tweeted that the time for climate action is now and that Apple is proud of the commitment to be carbon neutral across our entire supply chain and products by 2030.
Conveying, celebrating and mobilising
The second most often exhibited behaviour, conveyance, refers to the use of social media for one-way dissemination of strategic information, developments, and financial results to stakeholders. Here, leaders took advantage of social media to facilitate real-time conveyance to minimise communication voids and uncertainty through a more munificent information environment.
For example, following announcements of plant closures at General Motors in December 2018, Mary Barra tweeted: "Today, we have a plan for the majority of employees currently working at our impacted plants in Maryland, Michigan, Ohio and Oshawa, Canada that includes job opportunities at other GM facilities. We're committed to doing the right thing, for the future of GM and our people."
In our research sample, some CEOs relied exclusively on conveyance instead of the more widely preferred evangelisation. For example, Pfizer CEO Albert Bourla tweets regularly to convey the results of his company's vaccine development process. One of his top-trending tweets announced that the first set of results from Pfizer's Phase 3 COVID-19 vaccine trial provides compelling evidence of the vaccine's ability to help prevent COVID-19.
Meanwhile, celebritisation involves the use of social media to garner attention, seek acclaim, and/or evoke positive emotional responses to their firms', and their own, activities and decisions. A defining characteristic of celebritisation is the bid to garner large-scale public attention and positive emotional responses from stakeholders.
For leaders of entrepreneurial ventures, celebritisation may manifest in using social media to promote their venture, products, and business model. For instance, Ibrahim Al-Haidos, founder of FURSAN luxury handbags often posts on Instagram photos of him "behind the scenes" enjoying life and promoting the lifestyle that the company brand projects. Engaging in celebritisation requires reciprocal exchanges with stakeholders—notably the media and key information intermediaries.
We found that many CEOs used celebritisation to express gratitude – for example, Hans Vestberg, CEO of Verizon, marked National First Responders Day by tweeting: "Thanks to those on the frontlines who are always ready to come to the aid of others, every time."
Mobilisation, on the other hand, aims to rally stakeholders around a common set of strategic themes, initiatives, or movements with the intent of engendering collective action. Strategic leaders can also use social media with the intent of establishing a community around common strategic themes, causes, or movements and ultimately mobilizing stakeholders to act, advocate, and contribute on the firm's behalf.
Because collective action requires first forging a common identity, the focus of mobilization is on developing social relations and bonding by providing stimuli for interaction and steering stakeholders' interactions. Mobilisation entails a higher-order form of engagement aimed toward building community and facilitating collective action.
Many CEOs in our sample used mobilisation to urge their followers to vote in the 2020 US election. For instance, Dell CEO Michael Dell tweeted that the most fundamental right Americans have is the right to vote and encouraged his fans to do it: "Make sure you are registered now and then take #TimetoVote. Be #VoteReady. It matters."
Too little dialogue

Social media also enables reciprocal and multiway information exchange between strategic leaders and stakeholders. Dialogue refers to the use of social media for interactive and collaborative communication with stakeholders, which may include soliciting feedback, ideation, crowdsourcing of solutions, and knowledge co-creation.
However, nobody in our research sample engaged in dialogue as actively as in other behaviours. Breaking down behaviours by individual CEOs, we can see that a very low percentage of their tweets aimed at interactive and collaborative communication.
As we can see, the highest percentage of most CEOs' tweets was used towards evangelisation. This was especially true for leaders who haven't been that active – the relatively few tweets they posted were with evangelisation purposes.
For instance, Antonio Neri had just 29 tweets during our research period, yet 62% of them were aimed towards evangelisation, most notably related to diversity and inclusion. He shared his commitment to support an inclusive workplace at HP: "I'm proud of the strides we have made toward unconditional inclusion."
A similar example was Mary Barra, whose 22 tweets were also primarily evangelising. Some of her most popular posts were about GM's commitment to put everyone in an EV, including in pickup trucks and semi-trucks: "Working with like-minded innovators will help us accelerate EV development, production, consumer adoption – and ultimately reach an all-electric future."
Tim Cook, who has had twice as many tweets but still wasn't among the most active users, also relied heavily on evangelisation, with some of his top-trending posts being about Apple's additional donations to firefighting and recovery across the West Coast.
In contrast, the CEOs who tweeted most actively – Hans Vestberg, Michael Dell and Albert Bourla – spread their behaviours more evenly between different behaviours. Still, dialogue was neglected even among them.
A rare example of dialogue was Hans Vestberg, who started a lively discussion about staying healthy: "I'm running, trying to eat right, and disconnecting from devices when I can. What are you doing to stay healthy and well?" Another such example was Michael Dell, who asked his followers which of Europe's 100 most valuable companies was founded in the last 40 years: "If there are none, why? Discuss."
Engagement problems
Although those leaders didn't put that much effort into starting dialogues, the tweets we mentioned received some of the highest engagement rates in our sample. Engagement was actually the main problem for all of the CEOs, as we found out by looking at the effectiveness of the posting density for each CEO.
To illustrate that, we designed a posting density matrix comparing the level of engagement (the sum of all social interactions: comments+shares+likes) to the number of posts between March 2020 – March 2021. We also took into account the number of followers for each user by comparing the interaction rate (the engagement divided by the number of followers) with the number of posts.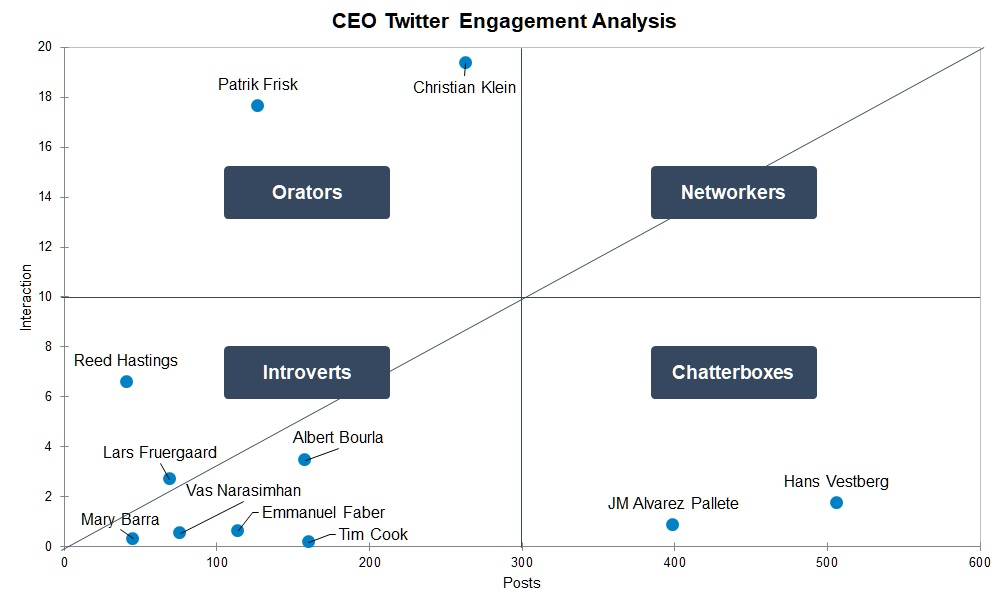 We found out that most CEOs in our sample classified as introverts, i. e. they are posting very little and get a small reaction from their followers. Interestingly, this was true for CEOs who are regularly in the public spotlight, such as Tim Cook and Albert Bourla (who recently received a lot of media attention because of Pfizer's vaccine).
Hans Vestberg, who had the highest number of tweets, classified as a chatterbox – meaning that he is posting a lot, but gets very little response from his followers. Although he figured as a good example of someone who started a dialogue, that level of engagement wasn't enough compared to the many tweets which didn't get such good response rates.
The most successful CEOs in our sample were classified as orators – meaning that they are not posting much, but their posts hit the target.
Under Armour CEO Patrik Frisk, who has just 1741 followers, received 27,625 likes and 3028 shares of his 127 posts, as 14% of his audience was active, giving him 241 engagements per post. Many of the engagements were due to Under Armour's #RunToVote campaign, whose aim was to educate, mobilise, and empower Americans so as to increase voter turnout.
Under Armour was one of the many fashion brands and retailers that have started to cast aside their usual political reticence, releasing limited edition voting merchandise or giving their employees benefits for volunteering at the polls. This was an interesting development given that the fashion world has usually stayed away from politics and kept its communications focused on questions of personal identity such as gender and race.
For more on this topic, read our analysis ""Vote Fashion": Is Political Activism the Latest Fashion Trend?"
Meanwhile, Christian Klein, who has much more followers – 20, 547 – posted 263 times and received 1513 engagements per post, meaning that 7% of his audience was active. Similarly to Frisk, some of his top-trending posts were about civic values – for example, he celebrated World Democracy Day 2020 by tweeting that while the world confronts COVID-19, #DemocracyDay2020 also reminds us of the importance of the free flow of information and international cooperation.
But nobody among the CEOs we studied was a networker, i. e. posting highly engaging content with a good frequency. This aligns with our finding that nobody engaged in dialogue, preferring other behaviours such as evangelisation and conveyance, and even those who managed to engage their followers, did so sporadically.
This means that CEOs are not taking advantage of social media's ability to provide a forum for leaders to include diverse stakeholders in ideation processes. Engaging in dialogue can capitalise upon the diversity of stakeholders' knowledge to enrich information flows, while also enabling emergent strategy feedback loops by soliciting stakeholders' input in the strategy process.
The concepts of dialogue and dialogic communication have been increasingly incorporated in public relations theory and practices by scholars and professionals. Taking a public-centered approach, dialogic communication focuses on relational outcomes including trust, satisfaction, and sympathy.
How can social media analytics help CEOs start successful dialogues?
See what has worked in the past. Social media analytics could be used only to assess CEO image and corporate reputation and identify differences with key competitors, but also inform CEO comms about what types of content effectively enhanced public engagement outcomes like reactions, likes, shares and comments.
Identify relevant conversations where the CEO could step in. A social media analytics programme could help comms practitioners to focus on the conversations that are most relevant to the CEOs followers, which could underpin the CEO brand idea and positioning. They should also capitalize on the functional dialogic features of social networks such as hashtagging, replying, and reacting to the publics' comments to complete the dialogic loop.
Hone the messaging. By using the right conversational tone, CEOs can project their personalities and show authentic empathy in their interactions, creating social presence and psychological intimacy with the digital public. Such processes and personal interactions foster mutual understanding and co-creation of dialogue between the CEOs and their fans, which can lead to deeper-level bonding and relationship building.