Legacy alcohol giants and emerging start-ups are eager to capitalise on the no/low alcohol trend, which has accelerated along with the pandemic-induced rise in health consciousness.
Our media analysis found that Heineken and Diageo were the corporate brands with the biggest impact on the media debate, while Gordon's and Tanqueray were among the most influential product brands, as non-alcoholic gins gathered media attention due to the growing interest in botanicals.
Based on our analysis, we suggest that NOLO brands could stand out by going beyond the "free-from" health and wellness narrative, trying out premiumisation strategies and educating different consumer types in order to dismantle the stigma around drinking 0.0-labelled beverages.
There's a certain PR ploy we're starting to see on a regular basis: when a global industry tries to reframe itself as the solution for the very same problem it's often accused of causing. Take the tobacco companies, which are trying to reposition themselves as a tech-savvy champion of quitting, or oil giants, which are building an image as the saviours of the planet by investing in green initiatives.
In a way, the alcohol industry is doing a similar thing: it aims to reposition itself as a champion for moderation and mindful consumption. Take for instance Heineken's famous When You Drive, Never Drink responsible consumption campaign featuring former Formula 1 World Champions Keke and Nico Rosberg. Part of the insight for the campaign was that the prominence of alcohol-free options made a positive impact on drink driving behaviour.
Many brands promoting zero alcohol products like Heineken are involved namely in motorsports partnerships in order to educate consumers on responsible driving. Another prominent example is Peroni's sponsorship of the Aston Martin Formula One team. Thus, alcohol companies aim to build an image as brands interested in their customers' safety – a strategy that is quite different from the usual comms approach in the alcohol sector, which is predominantly product-centred.
But lately, the industry has strived to go beyond the mindful consumption messages and to tap into the health and wellness megatrend, which has become big business during the pandemic. As consumers become increasingly health-conscious and seek reduced alcohol and alcohol-free drinks, brands are rushing to fill what was, until a few years ago, a nearly non-existent category. New zero-proof products seem to launch every month.
The alcohol-free options, in particular, come at a time when food and drink producers rely on branding that emphasises that products are "free-from": for example, dairy-free, sugar-free, GMO-free, bisphenol A-free and so on. In this way, what the product doesn't contain becomes more important than what it actually does contain. For some, this is a culmination of today's anxious eating and drinking culture.
Beer and spirits shape the debate
To see how the NOLO trend is unfolding in the media, we analysed 1,170 English-language articles published between March-August 2021.
Our media list included top mass media outlets like Reuters, the New York Times, Forbes and the Guardian, as well as leading industry publications such as The Spirits Business, Beverage Dynamics, Beverage Daily, BBC Good Food and Food & Beverage Magazine.
We found that beer was dominating the NOLO media conversation:
Beer emerged as the most talked-about alcohol type as it has been considered the biggest success story of the low and no alcohol movement, with the process of brewing making it easier to replicate the flavours and aromas of their alcoholic counterparts. Furthermore, research into lower alcohol brews is much further into its development than wine or spirits.
Mass and trade publications alike present the NOLO beer industry as shaped by big brewers, but many articles emphasise that the market is being serviced by a growing number of small, niche, "craft" producers who, by catering to the new sensibilities of Millennial and Generation Z consumers are trying to replicate the success of the craft beer industry, as craft breweries have remained a key driver influencing the market mainly due to its appeal to younger consumers.
But while NOLO beers have been around for years and have commanded the media debate around the whole sector, the emergence of low-to-no "spirits" have recently gained considerable attention.
Start-ups such as Seedlip, which describes its products as "the world's first distilled non-alcoholic spirits", have led the early charge in the market, but the past year has seen many more traditionally alcoholic distilleries enter the game. Most of these brands, like Diageo's Gordon's or Bacardi's Grey Goose launched their own low or no alcohol versions, trading off their already existing brand awareness, while others have created new non-alcoholic brands altogether.
Ready-to-drink cocktails have been mentioned as another promising new avenue for the no- and low-alcohol segments. While NOLO canned cocktails have been slow to grow and are a small segment of the RTD sector, many commentators identified the category as promising, not least because RTDs are now positioned as better-for-you, craft, premium, and offering a sophisticated array of flavour profiles, with a focus on natural ingredients, canned formats, and Instagram-friendly brand identities.
For more on this topic, read our analysis "The Ready-to-Drink Trend: Can Canned Cocktails and Hard Seltzers Save the Alcohol Industry?"
A smaller portion of the conversation was focused on low- and no-alcohol wines, which have not kept pace with beers or distillates. NOLO wines have been regularly described as a small but growing category targeting regular drinkers looking to cut back during the week without sacrificing on ceremony or taste.
Similarly, aperitifs had a small share of voice in the debate. Some of the top-trending aperitif stories were about non-alcoholic brand Ghia, which launched its first RTD offering, and Bacardi's Martini, which intorudced a non-alcoholic alternative to its vermouths.
Heineken and Diageo as trend-setters
We used Commetric's proprietary 'media conversation impact score' metric to identify the corporate brands with the biggest impact on the media discussion around no- and low-alcohol drinks.
We determine an organisation's media impact in the context of a topic by looking at its media influence score calculated in terms of coverage by high-profile media outlets, topic relevancy score measuring its contextual relevance, and media visibility as measured by the number of mentions.
Heineken and Diageo, the two giants that emerge as key players within the category, have also had the biggest impact on the debate, as their massive PR budgets secured them coverage in both mainstream and industry publications.
We found that while promoting specific products, companies have utilised these PR and comms efforts to boost their corporate brands as well. In this regard, new no- and low-alcohol offerings have been presented as part of a big all-encompassing effort for companies to become better corporate citizens. That's why messages around these products have been intertwined with messages around topics such as sustainability or diversity and inclusion.
For example, advocating responsible consumption via its product branding has been part of Heineken's 'Brewing a Better World' campaign, which also encompasses water stewardship, reducing CO2 emissions, sourcing sustainably, promoting health and safety, and growing with communities. Another example is Beam Suntory, whose Proof Positive campaign is committed to increasing investment to support consumers in making responsible choices, as well as to advancing diversity, equity and inclusion.
Heineken's high media impact score is hardly surprising since Heineken 0.0 has become the most prominent global alcohol-free beer brand since its launch in 2017. Heineken's media presence also indicated its aim to gain a less beery image and look beyond its traditional male-dominated audience. Some journalists noted that the company devotes a quarter of its Heineken beer marketing budget to the 0.0 alcohol-free brand, although it makes up much less than a quarter of sales.
One of the top-trending news stories around the company was that it will cut 8,000 jobs as the virus took the fizz out of sales, but all of these stories emphasised that the zero-alcohol Heineken was a rare bright spot. According to many reports in the trade press, Heineken 0.0 grew 'strong double digits' during the pandemic against flat volumes for brand Heineken (0.4%) and an 8.1% decline for the overall beer portfolio.
Heineken was also mentioned for announcing the global launch of Desperados Virgin 0.0%, as it looks to provide more consumer choice in the no- and low-alcohol category.
Diageo became the second most impactful company as its acquisition of Seedlip, the start-up producing "the world's first distilled non-alcoholic spirits", was covered by many journalists as a defining moment for the NOLO movement. It was portrayed as a bold acquisition for a company that has historically been focused on alcohol.
Seedlip's market share (it holds over 50% share in the key UK market for example) and already established reputation for quality are expected to place Diageo in a strong position in the no-and-low category. Analysts have praised Seedlip's seductive product positioning: its current products are meant to bridge the gap between a conventional soft drink and "grown-up" drinks like wine or whisky, giving a feel of something classy and sophisticated.
As the competition will of course intensify with the wide range of new brands entering the market, commentators noted that Diageo's relevance in this area will be maintained by further acquisitions, such as that of start-up Ritual Zero Proof, which launched in 2019 with zero proof all-natural botanical alternatives to gin, whiskey and tequila.
Apart from its M&A efforts, the media also focused on some specific products Diageo introduced: for instance, Gordon's Alcohol Free and a 0.0% abv version of its Tanqueray gin brand. In addition, Diageo's Guinness 0.0 launched in Great Britain after the product was recalled last October.
Anheuser–Busch, which introduced alcohol-free Budweiser Zero in 2020, earned its prominence as its Russia-based unit expects double-digit growth in its non-alcoholic local beer sales in the next few years. Non-alcoholic beer has become a focus for the company as it seeks to turn around its slipping beer sales.
Anheuser–Busch was most recently in the news for launching Stella Artois Liberté, a non-alcoholic offering for "beer lovers who want to enjoy a beer, but who want the option to reduce their alcohol consumption." According to some, choosing Stella Artois as the next brand for a nonalcoholic makeover makes sense, as the company has worked to position Stella Artois as a premium offering.
Bacardi featured in the trade press coverage with some thought leadership, as its 2021 cocktail trends report pointed out that one of the key macro trends for cocktails in 2021 is the increased prominence of low or no alcohol options. The spirits giant predicted 400% growth in the no and low alcohol category over the next four years. It also compared sober-curious consumers to flexitarians, who take a flexible approach to vegan and vegetarian diets – similarly, the sober-curious are embracing the full spectrum of 0-50 ABV content available to them, adapting their choices to suit specific drinking occasions. ​ ​
In the meantime, Pernod Ricard got under the spotlight for purchasing a majority stake in the non-alcoholic 'spirit' brand Ceder's, saying that the brand has been a success in the no/low category as consumers have embraced the joy of missing out.
For Molson Coors, non-alcoholic beverages, together with CBD beverages and craft, are set to power growth, as the company gained media prominence for setting out a $1bn revenue target for that division. Similarly, Suntory has more than doubled the 2021 sales forecast for the non-alcoholic version of its ready-to-drink (RTD) can, Nonaru Evening Drink Lemon Sour Non-Alcoholic.
But apart from industry giants, a few specialised companies also managed to attract enough media interest to become influential in the debate. For example, US start-up non-alcoholic brewer, Athletic Brewing, has closed a $50 million funding round to expand its brewing capacity in response to growing consumer demand. The Series C round was led by investors including athletes, entrepreneurs and celebrities.
Another low-alcohol spirits startup, CleanCo, made headlines as it secured £7m in funding from high-profile investors to keep up with demand for hangover-free drinking. The company's upmarket low and no alcohol spirits have been marketed as "clean gin" and "clean rum".
A product map
As we mentioned, many companies promoted NOLO products to boost their corporate brands; however, it's interesting to trace how product brands performed in the discussion as opposed to corporate brands, as companies usually put more PR muscle behind their specific product offerings.
We employed Influencer Network Analysis, our patented methodology that uses natural language processing (NLP), text mining, dynamic visualisation and human enrichment, to analyse the recent media discussion around NOLOs and the product brands under the spotlight.
The media discussion around the relevant product brands is presented as a two-mode network map (see below), displaying the brands (circles) and the publications (squares) that referenced them in the coverage. The size of the circles is indicative of the influence that the respective brand is exercising on the discussion.
We colour-coded the brands based on their alcohol types. We used green for beer, yellow for gin, dark blue for seltzers, orange for aperitifs, light blue for whiskey and pink for vodka.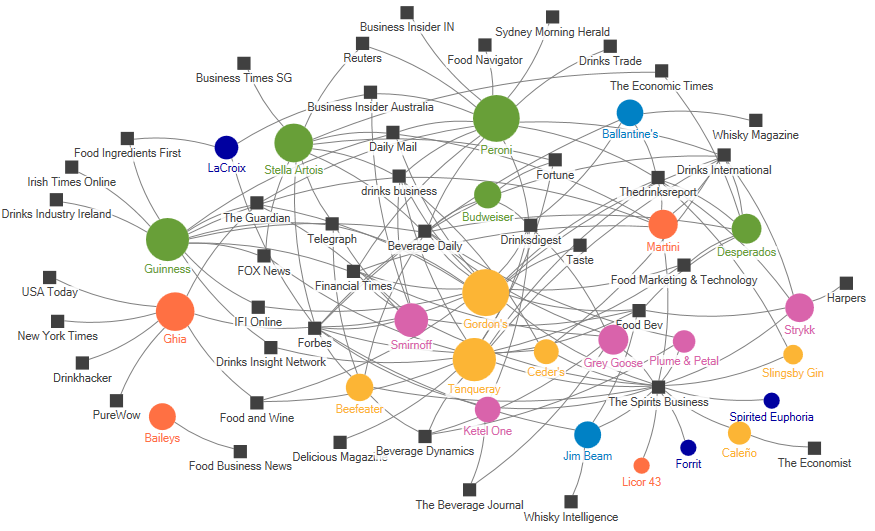 As expected, beer brands were quite central: for example, Peroni Libera 0.0% was covered by publications like Drinks Trade and Drinks Digest for sponsoring Aston Martin Formula One team, while Stella Artois made headlines for introducing its first alcohol-free version.
The discussion around Guinness was more lively, as journalists mentioned that its zero alcohol version began rolling out in November but was immediately recalled amid fears of what Diageo called a "microbiological contamination" that could have made some cans unsafe to drink. Reports remarked that despite having to recall such a high-profile launch, Diageo has had solid success in the booming low & no category since the start of 2021.
It's interesting to note that alongside NOLO beer, which has been around for years, new zero-proof gin brands have also become quite influential.
For example, Diageo's Gordon's was of particular interest to publications like Taste and The Drinks Report when it launched its 0.0% non-alcoholic spirit. Diageo's Tanqueray was another media hit, as it announced that it's launching an alcohol-free version of its iconic gin. Other gin brands to add no and low-alcohol products to their stable in the past six months included Warner's, Salcombe Distilling and Beefeater.
A key point in the messaging around zero alcohol gins is that they were made with the same combination of botanicals that is used in "traditional" beverages so that it could sound like the only difference between the two is the ABV. That message was well-disseminated across the media outlets in our sample, as journalists usually mentioned it in the first few paragraphs of their stories.
The growing popularity of NOLO gins could be attributed namely to the rise of the botanicals movement. Botanicals (ingredients derived from a plant which is valued for its therapeutic properties) are becoming quite trendy throughout the food and drink sector thanks to their association with sustainable credentials, natural flavours and health benefits. So, drinking a gin because of its botanicals and without having the negative effects of alcohol consumption has been driving much of the interest for this segment.
However, the debate around NOLO gins was spiced up by The Gin Guild, an organisation representing gin manufacturers, which has accused low- and zero-alcohol brands of "freeloading" on the success of gin. The industry body was cited as saying that while only drinks with a minimum alcohol volume of 37.5 per cent can be considered as the popular spirit, some brands use the word 'gin' for drinks with an alcohol content of just 1.2 per cent.
The Gin Guild claimed it has secured the withdrawal or re-marketing of several low ABV drinks incorrectly described as gin. One company that has been accused of "misleading consumers" over its popular drinks was start-up Clean Co. Originally called the Clean Liquor Company, the firm marketed a product called "Clean Gin" and was promptly reported to Trading Standards.
Following gins, vodka brands were also quite influential, as vodka producers are reinvigorating the category by revisiting flavoured variants, but moving away from overly sweet and confectionery flavours.
Major vodka brands, including Smirnoff, Ketel One, Grey Goose and Svedka, have ramped up their innovation efforts in the lower‐ABV space to recruit new consumers by offering products made with less sugar and fewer calories. Some have also sought inspiration from the gin sector and launched botanical‐infused bottlings.
For example, Bacardi's Grey Goose received media attention with the launch of Grey Goose Essences, which is 30% ABV, and is additionally marketed as containing no artificial ingredients, sugar or carbs. Bacardi is also planning to release its low-ABV Plume and Petal range in RTD Spritz cans this spring.
Although aperitifs commanded a small share of voice as a whole, some brands managed to become influential in the discussion. For instance, Ghia, which launched its signature non-alcoholic aperitif last summer to much acclaim, secured coverage in places like Forbes and the New York Times as it veered into the RTD space. Vogue called it "an elevated option for mothers-to-be, nondrinkers, or those who just don't feel like another glass of wine."
Sober influencers
Corporate spokespeople emerged as the top opinion leaders in the NOLO media discussion, as we analysed the key individuals by influence score (calculated in terms of coverage by high-profile media outlets). Nearly all of them focused their messaging on predicting immense growth for the low-to-no category in the future.

As his company was the highest impact score in the debate, Dolf van den Brink, the new chief executive of Heineken, was also the most influential spokesperson. He was quoted as saying the company will throw more marketing behind low and no-alcohol beers and that we are only in the very early stages of 0.0. He also wants the group to broaden its appeal. "Our vision is that consumers want choice," he told the FT in an interview. "On Friday nights in a bar you might like to have a full alcohol Heineken, then in the week you might want something slightly lower alcohol and more refreshing, and then for a work lunch, Heineken 0.0."
Tanqueray master distiller Terry Fraser owed his centrality to the aforementioned growing interest in gins. He focused on the botanicals used in Tanqueray 0.0%, saying that they are individually immersed in water, heated and then distilled before being expertly blended together to capture the essence of Tanqueray in an alcohol-free alternative.
But the third most influential person wasn't from a big brand – Bill Shufelt, CEO of Athletic Brewing, was quoted as he estimated that because of the popularity of Dry January this year, Athletic's website traffic is up about 95% compared with December. Based on fourth-quarter sales, he said that doing three times the company's $15 million revenue "is a reasonable expectation."
Similarly, Ben Branson, founder of Seedlip, predicted that the NOLO market will grow and added that it will be all about savoury flavour development in the coming years: "We'll see more savoury, sour and bitter options as people move away from sweetness. I think we'll see more flavoured mixers and more adult flavour profiles. Look out for salt, smoke and shrubs to be in."
Another influential spokesperson from a small company was Clean Co.'s Spencer Matthews, who said in interviews that nobody wakes up saying 'I wish I drank more last night': "We want more drinkers to know that there are choices when it comes to drinking alcohol."
Meanwhile, Big Drop's Rob Fink commented how the low and no alcohol category lacks clarity, advocating for 0.5% ABV beer to be regarded as 'alcohol-free' in the UK. Fink also took issue with the category name 'low and no', arguing that it has negative connotations: "It's a positive choice [to select low and no], a premium product that is bringing benefits to your life."
How can NOLO brands stand outin the crowd
Based on our analysis, here are three main ways in which could brands could staind out in the increasingly lively discussion:
Go beyond the "free-from" health and wellness narrative. In its coverage of the NOLO trend, the media seems to be stuck in the health and wellness frame. It starts to become increasingly important that each brand finds its own angle – soon brands won't all be able to tout being healthy or organic as a standout message for long without sounding the same. A key concern here is the branding centred around the "alcohol-free" labels, which emphasise what the product is free from and doesn't give it any personality beyond that (especially if the product is not based on an already established alcohol brand). Take a look at the food industry, where the "meat-free" label has been replaced by many with "plant-based", which is an important distinction from a consumer perspective. A good example of such comms practices in our sample is gin brands, which focused on promoting their botanicals credentials and managed to catch the eye in the debate.
Try some premiumisation. Premiumisation in the alcohol sector is usually associated with age-old wines or quadruple distilled whiskeys. However, NOLO brands could also employ PR strategies promising a new experience and the perception of luxury. Again, the food sector has already done that, proving that people are willing to pay a premium for lifestyle products – many vegan brands have managed to become quite hip by relying on the idea of exclusivity. Take for example £2 for some small 'protein balls' made of nuts and fruit or $10 for a kale salad. The premiumisation strategies work well when targeting Millenials, as 54% of 18-34-year-olds are likely to choose a premium drink versus just 35% of those over 55.
Educate different consumer types.​ NOLO brands usually target two broad consumer groups: those that already are open to not drinking alcohol and those who don't yet think about 0.0 options. When targeting the first group, brands need to work harder on differentiation and premiumisation to distinguish themselves from all others. But when dealing with the second type, there is even a stigma about not drinking alcohol: for example, many young men might feel embarrassed to be seen drinking low/no alcohol beer, which goes to show there's a lot more consumer education to do than in other categories. Consumers need to know that the appeal of alcohol-free options extends beyond safe driving, which is what the most high-profile marketing efforts have focused on. NOLO brands should demonstrate the attractiveness of alcohol-free options via robust media campaigns.
OR
​