As pharma experiences continued momentum for immuno-oncology treatments, with the current drug development pipeline consisting of thousands of potential therapies and therapy combinations, the media conversation around immuno-oncology is becoming livelier and livelier.
Our media analysis found that clinical trials within immuno-oncology provide a near-constant stream of stories, with companies like Merck, Bristol Myers and Roche being the most influential in the debate.
We suggest that pharma PR pros working on immunotherapies should build distinctiveness by going beyond sending press releases to their traditional media lists while capitalising on the general public's appetite for health and innovation stories.
View a one-page infographic summary of the analysis.
Despite the challenges brought on by the pandemic, the pharmaceutical industry continues to churn out oncology therapies at a frenetic pace, with the current pharmaceuticals pipeline still being disproportionately focused on cancer. With more than 21 new drugs approved to treat cancer in 2021, the industry broke its record of 20 cancer drug approvals, which was set in 2020.
This means that the pandemic has not ended oncology's dominance. Cancer has absorbed the lion's share of R&D money for years and continued to do so even as a rapidly replicating virus shook the world economy and squeezed out trillions of dollars of government support. Significant therapeutic advances have been made across many cancers; there was even discussion at the American Society of Clinical Oncology 2021 meeting around whether the word 'cure' is being discussed in ever more settings.
This continued momentum is mainly due to a next generation of immuno-oncology therapies. Globally, the next wave of innovation for patients is underway at an ever-increasing pace, and more than 550 active cell- and gene-therapy agents are in clinical development.
Some analysts have remarked that the last decade has seen a sustained period of progress in cancer treatment with the emergence of immuno-oncology as a serious therapeutic option in the years since the US Food and Drug Administration's 2010 approval for Dendreon's pioneering Provenge.
Immuno-oncology is a field that doesn't stand still and, after 10 years of change, more advances are anticipated as understanding improves about how the various immuno-oncology treatments available and in development work, both on their own and in combination. The current drug development pipeline consists of thousands of potential immuno-oncology therapies and therapy combinations, many of which are being evaluated in clinical trials.
Trials, approvals and M&A
To see how the recent discussion around immuno-oncology unfolded, we analysed 453 English-language articles published between May 2020 – May 2022 in a set of pre-defined global publications. These comprised top mass media outlets like Reuters, the New York Times, Forbes and the Guardian, as well as leading industry publications such as British Medical Journal, Fierce Healthcare and Kaiser Health News.
We found that Clinical trials and Regulatory approvals were the largest topic in the debate:
We found that Clinical trials within immuno-oncology have provided a near-constant stream of stories and fulfilled many news values, particularly for specialised pharma publications. A single drug can provide a lot of coverage when journalists track its progress through each stage of clinical testing. And unsuccessful trials have their story too: why didn't a product live up to its promise?
That said, much of the news coverage within the Clinical trials was press-release driven and usually followed negative results. For example, Swiss drugmaker Roche announced a drug cocktail including its immunotherapy drug Tecentriq failed a late-stage trial in women with ovarian cancer when it did not increase survival without the disease progressing. Fellow Swiss drugmaker Novartis said that its investigational spartalizumab immuno-oncology drug mixed with the approved medicines Tafinlar and Mekinist failed in a late-stage trial for a type of advanced skin cancer.
The Regulatory approvals topic mostly focused on already existing therapies. For instance, the U.S. Food and Drug Administration recently approved Roche's Tecentriq in combination with its drug Avastin for the most common kind of liver cancer. There was also a more limited amount of news about new products – for example, Bristol Myers Squibb said that U.S. regulators approved the first drug in a new class of cancer immunotherapies as an initial treatment for advanced melanoma, the deadliest form of skin cancer.
The Mergers & acquisions topic followed the significant acquisitions increase among pharma companies – in the second half of 2021, acquisitions increased by 60% from the same period in 2020. A trending story was Sanofi' $1 billion acquisition of privately-held Amunix Pharmaceuticals and its cancer immunotherapy technology. Meanwhile, Gilead announced that it will spend $21 billion to acquire New Jersey drugmaker Immunomedics as part of its ongoing expansion into immune-oncology treatments.
Gilead was also prominent in the Partnerships topic, as it entered into a 10-year partnership with oncology-focused biopharmaceutical company Arcus Biosciences to co-develop and co-commercialise current as well as future therapeutic product candidates in Arcus's pipeline. There were also a number of Partnerships stories about pharma companies and science institutions – for example, Sanofi and Houston-based The University of Texas MD Anderson Cancer Center entered a five-year strategic partnership to develop immune therapies and targeted cancer treatments, leveraging MD Anderson's clinical trials infrastructure and Sanofi's cancer pipeline.
The Scientific research topic focused on new scientific developments within immuno-oncology. A trending story in our research sample was researchers at the Francis Crick Institute, the Royal Marsden NHS Foundation Trust, and UCL finding immune cell patterns within tumours that can help predict if patients with kidney cancer will respond to immunotherapy.
The Pricing topic was not that prominent, which was rather surprising for an industry whose reputation has long been suffering because of the high price tags of new medications. One of the few stories within that topic was Bristol Myers Squibb being on alert for a potential immuno-oncology pricing war as newer entrants undercut established drugs on price.
Lung cancer and melanoma in focus

We also found that lung cancer and melanoma were the two most widely discussed cancer types in the immunotherapy discussion:
One of the most common cancer worldwide, Lung cancer became a topic of discussion as cancer associations have been calling on governments to consider investing in immunotherapy to treat lung cancer patients in public hospitals. In the meantime, an immunotherapy from Merck got media attention as it was the latest drug of its kind to slow the return of lung cancer in clinical testing, though mixed results in the large study supporting its benefit added to questions about the best way to use it.
A prominent Melanoma story was the Food and Drug Administration approving a new type of immunotherapy for skin cancer that's spread to other parts of the body or can't be removed surgically, clearing an infusion of Bristol Myers Squibb's drug Opdualag. Some media outlets noted that approval of Opdualag, which combines Bristol Myers' immunotherapy Opdivo with a novel antibody medicine it developed, gave doctors another option for treating metastatic melanoma that's more effective than Opdivo alone.
Within Breast cancer, Merck again was in the spotlight as it detailed for the first time proof that immunotherapy can stop tumours from returning in patients with an aggressive type of early-stage cancer. The Food and Drug Administration made Merck's Keytruda the first immunotherapy available for patients with a form of early-stage breast cancer, reversing an earlier decision to reject the treatment now that the drugmaker has accrued new data to support its use.
And as the American Cancer Society estimated that more than 42,000 Americans will be diagnosed with Liver cancer this year, a combination of AstraZeneca's cancer drug Imfinzi and another experimental immunotherapy was cited in the media as it extended survival in people with previously untreated liver cancer that can't be removed by surgery.
Merck, Bristol Myers and Roche most influential
We used Commetric's proprietary 'media conversation impact score' metric to identify the organisations with the biggest impact on the media discussion around immunotherapy in our research sample.
We determine an organisation's media impact in the context of a topic by looking at its media influence score calculated in terms of coverage by high-profile media outlets, topic relevancy score measuring its contextual relevance, and media visibility as measured by the number of mentions.
We found that Merck, Bristol Myers and Roche were the most influential companies in the debate:
These companies gained media traction primarily with their work on Breast cancer, as reported within the Clinical trials and Regulatory approvals topics. Journalists noted that Merck and Roche have been more active than their peers in testing immunotherapies against breast cancer — specifically, the fast-moving triple-negative form that appears more immunologically "hot" and thus susceptible to treatment with their drugs. Since 2017, the FDA has cleared Keytruda and Roche's Tecentriq for triple-negative tumours that have already spread. Both companies have worked to expand those clearances earlier in the course of the disease, before and after surgery.
Some media outlets remarked that for later-stage use, Merck and Roche relied on accelerated approvals based on early data showing effects not yet confirmed to translate to actual clinical benefits. That path has been common for immunotherapies but has increasingly led to criticism of the FDA, spurring the regulator last year to begin an industry-wide review of its accelerated approval decisions. Since then, Merck, Roche, Bristol Myers Squibb and AstraZeneca have each withdrawn approvals in stomach, liver and other cancers.
Merck and Roche's breast cancer approvals have come under increased scrutiny as well. Roche, for instance, failed to prove Tecentriq could help triple-negative patients with advanced disease live longer, putting the drug's use in breast cancer in jeopardy. In Merck's case, the FDA stonewalled the company's attempt to win clearance of Keytruda in early-stage disease based on pathological complete responses, or the disappearance of cancers from tissue samples, and asked for more data.
Roche also joined AstraZeneca in withdrawing cancer immunotherapies from U.S. use for bladder cancer that has already been treated with platinum-based chemotherapy, after follow-up studies failed to meet goals. Roche said in a statement it was withdrawing the U.S. indication for Tecentriq, with some $3 billion in 2020 sales, in prior-platinum treated metastatic urothelial carcinoma. In February 2021, AstraZeneca announced a similar move for its $2 billion-per-year drug Imfinzi.
Bristol Myers Squibb was also prominent within the Mergers & acquisitions topic, as it paid $200 million to acquire rights to an experimental cancer immmunotherapy developed by Massachusetts biotech Agenus. The drug, which could enter clinical testing later this year, is aimed at a protein target called TIGIT that's lately become of interest to several top cancer drugmakers, including Merck, Roche and Gilead. Bristol Myers, which alongside Roche and Merck is one of the top cancer immunotherapy developers, already was exploring TIGIT as a target.
Sanofi was another company which owed its influence to the Mergers & acquisitions topic, as it paid $1 billion to acquire Amunix Pharmaceuticals and its cancer immunotherapy technology. Some journalists remarked that Sanofi's Amunix acquisition adds to an active year of dealmaking for the French pharma, which has spent more than $6 billion in 2021 to buy Kymab, Tidal Therapeutics Translate Bio and Kadmon Holdings. The acquisitive streak is part of a plan by Sanofi CEO Paul Hudson to re-energise the company's research and development work, particularly in oncology and immunology.
Similarly, Gilead announced that it will spend $21 billion to acquire New Jersey drugmaker Immunomedics as part of its ongoing expansion into immune-oncology treatments. The acquisition gave Gilead control of Immunomedics' Trodelvy (sacituzumab govitecan-hziy), which earned accelerated approval from the FDA in April last year for the treatment of metastatic triple-negative breast cancer. The agency previously granted the drug Priority Review, Breakthrough Therapy and Fast-Track designations.
Meanwhile, Swiss drugmaker Novartis paid $650 million to snag an immuno-oncology drug from BeiGenе, which was perceived as the latest Western drugmaker turning to China for must-have assets to fill holes in their cancer portfolios.
Journalists noted that Novartis Chief Executive Vas Narasimhan's move, which could bring $1.55 billion in milestone payments and royalties for BeiGene, was also an about-face from comments two years ago when he raised data quality and innovation worries as barriers to Big Pharma's Chinese M&A dreams. Novartis will co-develop BeiGene's tislelizumab, an anti-PD-1 antibody similar to Keytruda from Merck and Opdivo from Bristol-Myers Squibb which help the immune system attack cancer and which have reaped billions of dollars in sales.
Sime media reports compared the move to Pfizer's $200 million investment in China's CStone Pharmaceuticals in September, also targeting an immuno-oncology asset, is another such a deal. Like Pfizer, Novartis has been tardy in developing cancer immunotherapy assets, with home-grown spartalizumab failing in a trial against skin cancer last year. That boosted urgency to scoop up BeiGene's asset that Novartis hopes to pair with other medicines. Susanne Schaffert, Novartis's cancer area head, pledged to use tislelizumab "to develop transformative combination therapies for patients".
Keytruda and Tecentriq at the centre
We employed Influencer Network Analysis, our patented methodology that uses natural language processing (NLP), text mining, dynamic visualisation and human enrichment, to analyse the recent media discussion around the immonotherapies under the spotlight.
The debate around the relevant therapies is presented as a two-mode network map (see below), displaying the major companies (circles) and the publications (squares) that referenced them in their immunology coverage. The size of the circles indicates the therapies' prominence in the media discussion, and the width of the connections between them and the publications is indicative of the coverage volume.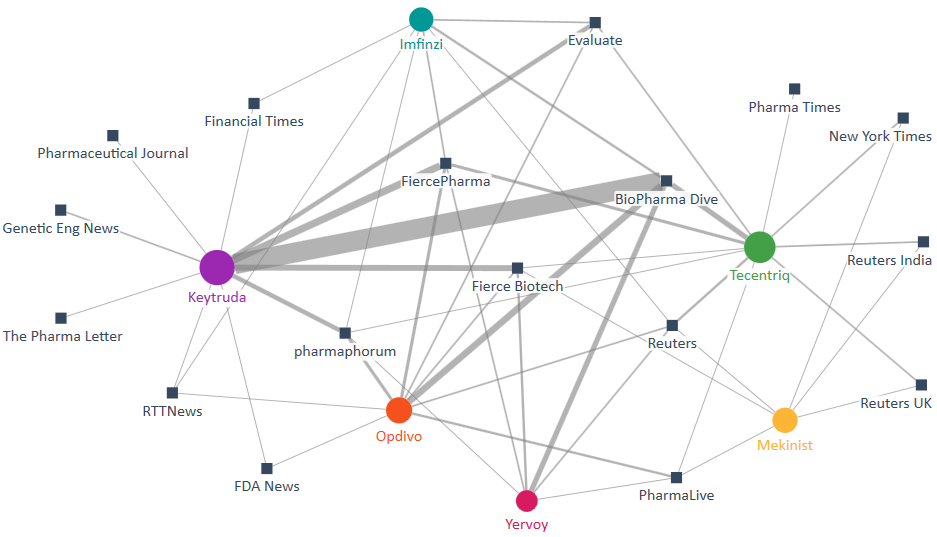 As we can see, Merck's Keytruda was the most central therapy, as it was most notably talked about by BioPharma Dive and to a lesser extent by FiercePharma, Fierce Biotech, Evaluate and Financial Times.
One of the top-trending stories around Keytruda was The Food and Drug Administration approving it for people whose tumours have a certain number of genetic mutations — a measure called high tumour mutational burden — no matter where their cancer originated. The decision marked the second so-called tissue agnostic approval for Keytruda, which made history in 2017 when the Food and Drug Administration cleared it for patients whose tumours have one of two genetic problems — microsatellite instability-high or mismatch repair deficiency.
Roche's Tecentriq was mentioned by Reuters, Pharma Times and the New York Times, as it has ushered in a new era, offering the first immunotherapy option for non-small cell lung cancer (NSCLC) patients right after tumour surgery. But some media outlets noted that doctors appeared reluctant to use it for now, at least for some patients. Despite its landmark nature, it's uncertain how much share Tecentriq can carve out. Doctors have questioned its benefit in a patient subgroup and its ability to help patients live longer.
Bristol Myers Squibb's Opdivo was featured in publications like PharmaPhorum and PharmaLive as a new trial offered insights into how immuno-oncology drugs could be enhanced. By analysing tumour samples from melanoma patients who got Opdivo, scientists at UCLA showed that the expression of interferon-gamma signaling might be key in the response to checkpoint-inhibiting treatments.
Immuno-spokespeople
We also found that Sanofi's chief executive officer, Paul Hudson, emerged as the most influential spokesperson:
Hudson was cited as giving an overview of the company's oncology strategy that focused on four core therapeutic areas in cancer, including multiple myeloma, skin, lung, and breast cancers. He said Sanofi is rapidly building momentum with the execution of its oncology strategy, with several developments on both our pipeline and marketed treatments. Hudson also promised a three-year overhaul to cut €2bn in costs by 2022 and to deploy more resources to growth areas such as oncology, rare diseases and immunology, while ending research into diabetes and heart disease.
He was followed by Robert Wechsler–Reya, professor and director of the Tumor Initiation and Maintenance Program at Sanford Burnham Prebys, who took part in the discovery of a novel immunotherapy approach holding promise for pediatric brain cancer. The findings held implications for other cancers that do not respond to immunotherapy. Wechsler-Reya was quoted as saying that this is the first time he has ever seen a therapy essentially melt the tumour away.
Kotryna Temcinaite, Senior Research Communications Manager at charity Breast Cancer Now, also earned her influence because of a research finding. A study, made possible by a grant from Breast Cancer Now and Secondary1st, aimed to understand how breast cancer tricks the immune system into helping it to grow and spread, which could eventually lead to the development of new immunotherapy treatments. Temcinaite said that the coronavirus pandemic has had a huge impact on research as a whole, but it is vital to continue to do everything we can to support researchers to continue their vital work.
Levi Garraway, Roche's chief medical officer, was the second most prominent pharma spokesperson after Sanofi's Paul Hudson. He commented on Roche's closely-watched combination of two checkpoint inhibitors – TIGIT-targeting tiragolumab and PD-L1 drug Tecentriq – that has claimed breakthrough status from the FDA. "We have been researching TIGIT as a novel cancer immunotherapy target for almost 10 years and we are pleased that the FDA has acknowledged the potential of tiragolumab to substantially improve outcomes for people with certain types of lung cancer," said Garraway.
Bristol Myers Chief Medical Officer Samit Hirawat, was cited in reports about the FDA approving the first drug in a new class of cancer immunotherapies as an initial treatment for advanced melanoma, the deadliest form of skin cancer. Hirawat explained that the drug can restore the function of "exhausted" T cells, which may affect tumour growth.
Another Bristol Myers representative, Jonathan Cheng, head of oncology development, was quoted on a new type of immunotherapy that can help keep aggressive skin cancer from progressing when added to Bristol Myers' widely used drug Opdivo. "[The study] demonstrates the benefit in progression-free survival of the combination over [Opdivo] monotherapy," Cheng said in an interview. "It's not a low bar."
How can pharma improve its immuno-comms?
It seems like you don't need to explain to someone the emotional benefit of life-saving cancer treatment or the brand purpose driving a startup working on a rare pediatric disease. But when properly communicated, the product facts frequently speak for themselves and leave recipients speechless with relief and joy.
But while the pharma industry's innovations in matters of life and death show the limitations of traditional marketing concepts, this does not mean the challenges for pharma strategists are in any way less significant.
In the coming years, in large part because of the explosion in treatments approved by the US Food & Drug Administration, the marketing challenges for the pharma industry will only become more significant and rewarding to work on, becoming an industry that will lead marketing in developing marketing techniques for driving healthy, long term behaviour change.
Based on our analysis, here are a few ways pharma could step up its PR and comms efforts when it comes to immunotherapies:
Build distinctiveness. In the era of blockbuster drugs for single indications – which for immuno-oncology was a decade ago – standing out was less of an issue for marketers. But now, as the pharma industry innovates, and the FDA approves more and more treatments, marketers face a far more complex product landscape. Big pharma companies are managing large portfolios of treatments, each of which is approved for multiple indications, across multiple conditions, all of which face more and more competitors. In this crowded landscape, innovations are not being adopted simply because healthcare professionals are overwhelmed with innovations, and instead falling back on tried-and-true treatments. Medical breakthroughs in immuno-oncology need to stand out, precisely because their categories are so complex and overwhelming.
Go beyond sending press releases to your traditional media list. As we saw, many developments in the immuno-oncology market are covered in specialised pharma outlets, as pharma comms people often have a fixed set of publications they send their press releases to. However, standing out is about the development of distinctive brand assets that ensure brands are recognised and remembered by mass media readers. PR and marketing campaigns across a range of pharma verticals including immuno-oncology are so generic they drive awareness as much for the category leader as themselves. And this is especially true on the healthcare practitioner side, where the focus on communicating product efficacy overshadows the more fundamental task of being noticed and remembered. Focusing brand creativity on distinctiveness will be a key challenge in an increasingly crowded marketplace. Distinctive brand assets, like the Cologuard box character for at-home colon cancer screening tests, may be meaningless, and even annoying, but they get the brand noticed, recognised and remembered. Increasingly meaningless creative assets like this, that drive brand distinction, will be as important as functional differentiation as a strategic deliverable.
Tell stronger partnership stories. Partnering with stakeholders across the clinical trial ecosystem (patient groups, community members, clinical research sites, CROs, academia, nonprofit and advocacy organisations, federal and state agencies, industry, etc.) can help establish a sustainable, community-based clinical trial infrastructure. For pharma in particular, comms executives need to operate differently and put a strong accent on partnership stories. As we saw from our analysis, the media has reported on an increasing number of pharma companies partnering with others in order to strengthen their innovation potential. Our previous research into the relationship between corporate news flow and stock market reactions shows that the stock market responds in a positive manner to news about strategic partnerships in the pharmaceutical industry reflecting the market's immediate response, and expectations of future firm value, resulting from the partnership.
Capitalise on the public's appetite for health and innovation stories. There's an opportunity for healthcare comms to be seized post-pandemic: while the media coverage of medical breakthroughs (such as orphan medicines) has been generally increasing since 2000, the pandemic has led to an unprecedented public interest in medicine. Biotechs in particular could tap into this newly created hunger for specialised information by raising awareness of how their research leads to medical breakthroughs. Comms professionals could also use the crisis to shape the narrative around pharma's inherent reputational challenges, such as volatility and clinical failures. In this regard, a strategic communications priority for the immuno-oncology sector would be to explain to the public that volatility and uncertainty are default positions when a company is working towards pushing the frontiers of medical knowledge and expanding the horizons of scientific understanding as a whole.
Return to the industry's core value – saving human lives. New studies have shown that pharma is experiencing a reputational boost as the coronavirus pandemic highlights its role in developing medications, but the real question is: could pharma sustain these reputational gains even after the pandemic? Will there be a return to the default position "Big Pharma is bad" after the dust settles? To stay relevant after the pandemic, pharma should work towards improving consumers' knowledge of the industry and must do better at explaining its complexity to its audiences. The public's interest in the process by which pharma companies develop and discover new drugs, treatments, and medications has increased since the start of the pandemic, but companies need to make sure that this interest will be sustained even after the current crisis. Our analysis indicates that there's an opportunity for pharma's redemption in the eyes of the public as companies have the chance to return to the industry's core value – saving human lives.