The annual J.P. Morgan Healthcare Conference is widely perceived as the most important event in the healthcare sector. It shapes the agenda for both the industry and individual companies and is often dubbed "speed dating for investors" and "the Olympics of healthcare". This January's gathering brought together more than 450 public and private companies, from start-ups to giants with more than $300 billion in market cap, spanning the whole global healthcare sector, including pharma, insurance and biotech.
The media buzz around the conference began early with many titles such as 5 Things to Watch for at the JPMorgan Healthcare Conference, Six Things to Watch for at the JP Morgan Healthcare Conference and What to watch during health-care investing's biggest week of the year. A big portion of the coverage during and after the event tried to outline the common themes of the talks, which included market disruption, Trump and M&A activities.
In an article for Forbes, Bruce Booth, a partner at biotech venture capital firm Atlas Ventures,  wrote that a common refrain amongst biopharma executives through the fourth quarter is "What's our messaging going to be at JPM?", with many new deals, financings, collaborations, and hires released to the press just before and during the event.
But he also expressed some criticism towards the costs and the marketing of the event: "This year the word "excessive" became synonymous with JPM week… Beyond excessive costs, JPM also highlights our industry's other excesses.  Who was the marketing genius at J.P. Morgan that picked an expensive looking gold pill with golden DNA as the logo for the year's conference? The juxtaposition of shiny gold and our industry's medicines in a world where healthcare costs are considered out of control is the pinnacle of tone deafness."
Others have also developed rather critical views of the conference: some articles point out that the infamously high prices in San Francisco might push people away, citing $2,000 hotel rooms, $300 lobby tables, and $21 cups of coffee. Some professionals want the conference to change its venue, tweeting under the hashtag #MoveJPM. There are articles such as J.P. Morgan Healthcare Conference brings out the high prices, Attendees fed up with venue, high prices call to move JPM out of San Francisco and San Francisco prices are so out of control that one hotel is charging the equivalent of $21.25 for a cup of coffee during a JPMorgan conference.
Companies in the media's spotlight
We analysed the media coverage of the conference and found the most often mentioned companies:
Bristol-Myers Squibb's $74 billion acquisition of Celgene, which already received a great amount of media attention since it was announced at the beginning of the year, was among the central topics in many conference reports.
Business Insider remarked: "Walking from meeting to meeting, it's hard not to hear chatter about the $US74 billion Bristol-Myers Squibb-Celgene deal," adding that "among attendees of the conference, there's some scepticism about whether the deal will go through. Instead, there's a possibility that another pharmaceutical company could come in and make a bid for BMS – nixing its deal with Celgene entirely".
In its report "Health Titans Converge on San Francisco With DNA and Deals on Tap", Bloomberg wrote that the deal gave a surprisingly positive start to 2019 and calmed fears that equity market volatility would slow mergers and acquisitions this year.
The Motley Fool pointed out that Celgene has traditionally kicked off the conference by giving the first presentation, but Bristol-Myers Squibb shared Celgene's key spot this time around, and BMS CEO Giovanni Caforio spoke a lot more than Celgene CEO Mark Alles: "One thing seemed obvious from Caforio's remarks: BMS knows the value of what it's hoping to get with the Celgene acquisition".
The second most discussed deal was Eli Lilly's plan to buy Loxo Oncology for about $8 billion in cash. The news represents marks a shift away from Lilly's traditional area of diabetes care and represents a commitment to oncology, which has become the company's predominant area in drug development, according to Bloomberg. In an interview at the conference, Lilly Chief Executive Dave Ricks said the company is "late to the game" in the fast-growing and lucrative field of new cancer drugs. He also told Reuters that it will leave CAR-T therapies to others: "The data is amazing, but practically, it's not reaching many people".
The Wall Street Journal's report "Health-Care CEOs Outline Strategies at J.P. Morgan Conference" quoted Lilly's Chief Financial Officer Josh Smiley, who expects average net US pricing for its drugs to decline in the low- to mid-single digits on a percentage basis.
A new Pfizer CEO took part at the conference for the first time in eight years – Albert Bourla, who succeeded Ian Read, spoke about Pfizer boosting its dividend by 6%,  its practice of repurchasing shares, its investment in deals and the ongoing focus on bringing phase 2 and phase 3 assets into its pipeline. Many articles concentrated on the new CEO, with The Motley Fool concluding: "It's too early to say whether Bourla will be a great CEO for Pfizer. But his commitment to stay the course Read set when it comes to capital allocation is encouraging."
Novartis' CEO Vas Narasimhan was also quoted extensively – for example, he told CNBC's Jim Cramer: "We're getting into gene therapies and cell therapies that could cure patients of disease, and my belief is there are a lot of diseases we could tackle with these technologies and really provide cures. What we're really finding out is that society wants that and that, ultimately, they will value it. My conviction is that we'll figure out the payment systems. We'll figure out those challenges. But if you're a company that could consistently bring cures to patients, you're really well-positioned to be successful."
The company's pharma CEO Paul Hudson told FiercePharma that he has visited the conference in the past to look for early-stage biotech companies for potential partnerships, but this year it's been about half health-tech companies, and 2019 to be the "beginning of the tech disruption" for pharma, in everything from marketing to supply chain.
Biospace wrote that just a couple headlines about Gilead from 2018 tell the company's story: "Gilead—Down but Not Out?" and "Is Gilead Poised for a Comeback?" But Gilead's story "sounded better than it has in quite a while" at this year's conference, with several executives discussing the company's plans for 2019, the hire of Daniel O'Day from Roche as a new CEO, a return to growth after a tough 2018 and building on leadership in cell therapy.
Sanofi's executive vice president and CFO Jean-Baptiste Chasseloup de Chatillon said in his presentation that in 2018, the company felt the loss of patent exclusivity for some of its products, but its new therapies more than compensated for the financial impact. The company launched insulin lispro Admelog, which, alongside the other 2018 launches, secured a return to growth. "Our new product launches began to deliver revenues greater than the loss of exclusivity impact in the third quarter," de Chatillon said.
Although Merck had success with its top cancer drug, Keytruda, investors will be looking for new growth drivers, according to Bloomberg's report, which pointed out that CEO Ken Frazier will be under pressure to rebuild the pipeline. He has suggested that vaccines and animal health as alternate drivers of growth.
Meanwhile, Johnson & Johnson CEO Alex Gorsky told investors at the conference that drug companies should price drugs reasonably and be transparent. "If we don't do this as an industry, I think there will be other alternatives that will be more onerous for us." Some journalists noted the irony that the discussion around drug pricing was happening while the logo for the year's conference was a gold pill. Life science communications specialist Brian Reid tweeted: a"Let's try to defuse some of the concerns about drug pricing at #JPM19." "Sounds good! What should the logo be?" "How about a solid-gold pill?"
Influence beyond the conference halls
To identify the most influential companies in the media discussion around the conference, we used our Influencer Network Analysis (INA) methodology, which employs natural language processing, entity extraction, free-text data mining and dynamic network mapping technology: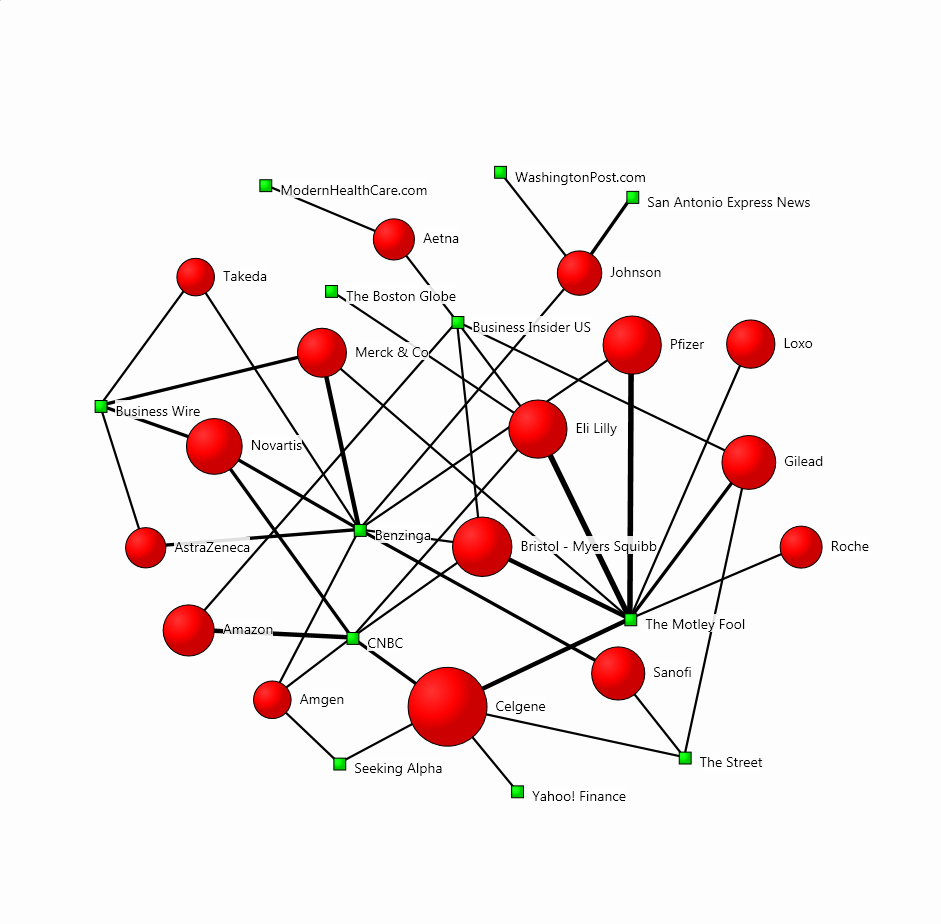 The size of each company's circle denotes the prominence of their presence in the coverage, and the strength of their connections to publications shows the volume of coverage.
For instance, we can see that Celgene,  Bristol-Myers Squibb, Pfizer and Eli Lilly are the companies driving the media discussion around the event, receiving significant coverage by a number of major media outlets, such as The Motley Fool, Business Insider, CNBC and Business Wire.
The presence of Amazon, although not as central as that of pharma giants, marks the importance of market disruption in the conversation around the industry. In this regard, CNBC wrote: "Healthcare's intersection with technology will also likely be a major theme throughout the week. One name stoking both excitement and fear: Amazon. The company's worried Wall Street for some time now. But Amazon's entry into the industry is no longer hypothetical with its purchase of online pharmacy PillPack last year."
The global healthcare sector is facing huge disruption by tech giants which start competing with traditional players in the market, and Amazon is the name which comes up most often in this context, as our analysis showed. Apart from acquiring PillPack, Amazon is often discussed in relation to its partnership with JPMorgan Chase and Berkshire Hathaway, which aims to reduce healthcare costs for employees.
With or without a change in venue, the J.P. Morgan Healthcare Conference will continue to play a key role in communicating pharma's messages to investors and the public. Adam Silverstein, a specialist in healthcare communications at Fleishman Hillard, asserts that  "journalists are a crucial conduit to reach far beyond conference halls and meeting rooms", while professional communicators are always looking for who can execute a vitally important skill – grabbing attention. As we noted in our analysis of the CES 2019 coverage, measuring and analysing the impact of comms efforts is crucial not only for evaluation but also for planning and implementing future strategies.
Photo credits: @jpmorgan