2020 seems to have been dominated by one eerie world: Covid. While news and social media consumption surged during the lockdowns, the content published by media outlets and shared across social networks didn't appear that diverse, as everybody was fixated on the pandemic and its impact.
Commetric played its part by launching the free COVID-19 Business Impact Tracker, which uses our proprietary natural language processing platform ComVix to automatically analyse media data and then extract and categorise news reports of specific business events that affect companies and industries linked to the pandemic.
However, judging by what caught our readers' eye, the pandemic wasn't the only concern for comms professionals. The Black Lives Matter movement, which gathered steam in the wake of the police killing of George Floyd, has made consumers re-evaluate the types of businesses they buy from. This re-evaluation cuts along cultural lines, with many choosing to support or boycott businesses that took a stance related to Black Lives Matter.
Perhaps it was this groundswell of new activism, in line with the growing popularity of political engagement in general, which made our insights into consumer boycotts and shareholder activism respectively Commetric's most-read pieces during this tumultuous year.
Take a look at our top five 2020 analyses by number of readers:
Over the last 10-15 years, boycotts have exploded in popularity, and the anti-Trump #GrabYourWallet campaign alone put almost 50 companies with ties to the president in activists sites.
With some researchers calling consumer boycotts the most common form of political action in the United States aside from voting, we used our bespoke data analysis methods to research and compile the most prominent and active boycotts in the media right now.
With the most successful boycotts being those that generate the most media coverage, we analysed 1,812 articles in top-tier English-language outlets in the last year and identified the brands with the highest media resonance.
Amazon comfortably leads in the media conversation around boycotts, as it's frequently the target of protests over its poor treatment of factory workers. In the meantime, Chinese consumers have latched onto a growing 'Boycott Apple' movement as an answer to the Huawei ban in the US.
These top five highlight the myriad of factors that can lead to boycotts, some of which are often out of the targeted companies' control. With boycotts becoming more popular, global, and unpredictable, it is imperative for both in-house and client-focused communications professionals to be constantly vigilant and aware of the social media landscape around them. Reliable and lightning-fast data analysis allows you to stay ahead of the conversation when it comes to fraught issues such as those above.
Firms should therefore pay close attention not only to calls that gain broad media coverage but also to the small blips on the social media radar that have the potential to gain traction. The volume of public backlash could start gaining momentum like a boulder down a mountain, leading to serious reputational hazards for a brand and for a whole industry.
Our analysis into the motivations behind shareholder activism corroborates previous research on the topic, which has found that activist shareholders are generally driven by two types of motives. The first motive is financially driven, which we refer to as 'financial activism', i.e. where shareholders, disappointed by what they perceive to be mismanagement by the firm, pressure the managers and/or the board of directors to do such things as change the business strategy, spin-off a losing portion of the business, reduce executive remuneration, or pay out more dividend to the owners. In contrast, there are other activists who are driven by socially motivated reasons, which we refer to as 'social activism.' The typical example for these cases involves shareholder concerns for the natural environment, human rights, and/or employee welfare.
It is interesting to note that the industry ranking in terms of which industries are most impacted by shareholder activism differs depending on whether we look at media resonance, i.e. the amount of media coverage referencing shareholder activism, or incidence, i.e. the number of companies subject to activist action reported by the media. Thus, in spite of the high media resonance, the Household & Personal Goods and the Retail industries have considerably lower incidence compared to the other industries at the top of the list. The high media resonance of the Household & Personal Goods industry is due to the 10-month long Procter & Gamble vs Nelson Peltz proxy battle, considered as the most expensive shareholder war in history, whereas the increased media coverage around the Retail industry is due to three companies: Bed Bath & Beyond, Barnes & Noble, and eBay.
Apart from these exceptions, the industries at the forefront of activist action, both in terms of media resonance and incidence, are Technology, Health, Financial Services, and Energy. This is hardly surprising as these are the industries facing the biggest corporate reputation challenges recently, which often gives rise to social activism. At the same time, these industries are also facing the biggest disruption, which causes increased M&A activity, digital transformation and disruptive innovation, and hence motivates financially driven investors to engage in activism.
The top twenty companies impacted by shareholder activism in the three-year period from 2016 till 2019 are presented below:
The high media resonance around Procter & Gamble is due to the prolonged proxy fight with activist investor Nelson Peltz, which ran almost throughout the whole of 2017 and culminated in December 2017 with the appointment of Peltz to P&G's board despite the investor losing the battle.
Meanwhile, the shareholder activism around Facebook in the period under review fits in with the company's reputation challenges over the past two years. Starting with the Cambridge Analytica data scandal, Facebook has seen substantial reputational loss as reflected by authoritative reputation rankings such as Reputation Institute's RepTrak and the Harris Poll Reputation Quotient.
Unlike Facebook, whose reputation continues to decline, Apple's reputation has started to rebound after a drop in its RepTrak score in 2018, the year in which the company was subject to increased shareholder activism.
In 2020, the anti-vaccination movement has reached new peaks. It has tailored some old claims about vaccine safety to fit the current outbreak and has joined forces with movements protesting the lockdown measures. Some of the most popular hoaxes speculated that the coronavirus was manufactured so that investors in vaccine research and development could profit.
One of the most widely shared posts on social media is the petition "No to mandatory vaccination for the coronavirus", whose description reads that "unwitting citizens must not be used as guinea pigs for New World Order ideologues, or Big Pharma, in pursuit of a vaccine (and, profits) which may not even protect against future mutated strains of the coronavirus."
Examining the discussion on Facebook, Twitter, Pinterest and Reddit, we found that youtube.com was the domain with the highest number of engagements across social media channels, meaning most users consumed vaccination content via YouTube videos rather than via media outlets.
And in spite of all the new video content published during the lockdowns, some of the top trending videos in terms of social media engagement, particularly on Facebook, were several years oldand promotedlong-standingconspiracy theories.
Our findings align with a recent study published in the science journal Nature which suggested that there were nearly three times as many active anti-vaccination communities on Facebook as pro-vaccination communities. The study also found that while pro-vaccine pages tended to have more followers, anti-vaccine pages were faster-growing, exploiting in-built community spaces such as fan pages.
But it seems that the coronavirus pandemic has led to the resurgence of conspiracy materials from the debris of the Internet. We found that the most popular YouTube channel was ExperimentalVaccines, whose last publication was a year ago.
In its description, ExperimentalVaccines asserts that "vaccines damage and weaken your immune system making you more susceptible to viruses and bacteria when encounter in the wild". Some of the channel's most popular videos are entitled "Microchips Embedded Into Medications: The Big Brother Pill" and "Vaccines Linked to Infections in Multiple States Across the USA".
We also found that much of the conspiratorial thinking on social networks was stirred up by Plandemic, a 26-minute conspiracy theory video, first posted on social media on 4 May. The video, promoted as a trailer for an upcoming film to be released in the summer, starred discredited former medical researcher and prominent anti-vaccine activist Judy Mikovits.
In addition to Plandemic, another major motif in the anti-vaccination rhetoric is the theory that Bill Gates, who is well-known for efforts to vaccinate people around the world, had something to do with the virus.
To get a closer look at the spread of misinformation on Twitter, we analysed a sample of 25, 726 vaccination-related tweets posted on 17 May. We illustrated the discussion using a network mapping software: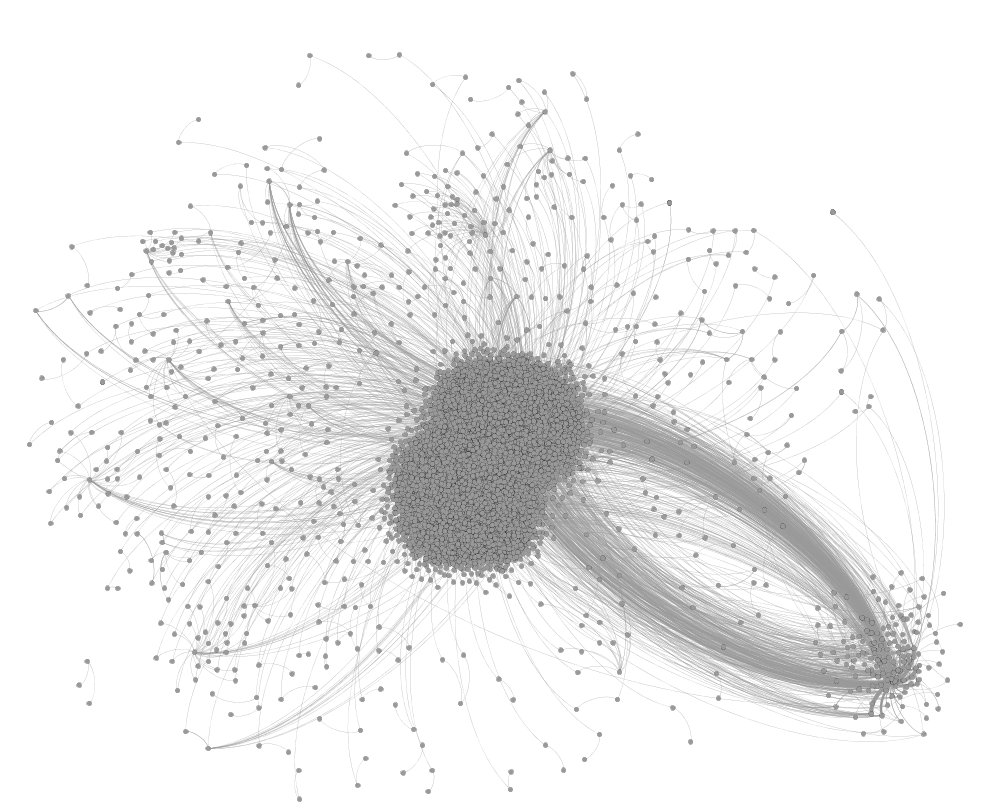 Looking at the cluster map, we might say that the structure of the conversation around vaccines resembles a Tight Crowd network (as per Pew Research Center's terminology). Users in such dense networks have strong connections to one another: they follow each other and reply to, retweet and mention each other regularly. Tight Crowd networks usually consist of densely interconnected groups where users share a common orientation, which means that they could create an echo-chamber effect.
Canned wine's affordability is especially luring for younger consumers, many of whom are just starting their careers and may not have the disposable income of their predecessors. Another key draw is the cans' convenience in comparison to glass bottles: cans allow wine lovers to travel with them more casually, as they are lighter to transport and don't require the special packaging and transport considerations of glass bottles. Moreover, they can be taken to beaches and parks where glass is often forbidden.
Millennials are loving the sustainability angles of consuming canned wine. Cans are a greener option since they're recycled more than glass – people recycle their cans 20% more often than they recycle glass, while the proportion of wine bottles that end up being reused is woefully low (about 50% in the UK and 30% in the US). Moreover, glass bottles represent up to 73% of the wine industry's carbon footprint, with 80% of wine bottles ending up in landfills.
In order to find the companies at the forefront of the media discussion around the new trend, we analysed a sample of 547 articles published in daily and trade English-language outlets from October 2018 to March 2020.
The media conversation was dominated by beer giants Molson Coors and Anheuser-Busch, which have sought to capitalise on the canned wine trend amid worrying beer performance. Beer's leading position in the US beverage market seems to be under threat as sales are declining and the number of new breweries is starting to plateau while alternatives are spiking.
The companies in our research sample strived to address the trends set by millennials and Gen Z in one way or another. As these generations are expected to be the biggest food and beverage spenders in 10 years, with their purchasing power projected to reach $1.4 trillion, the change in consumer tastes is bound to continue. A number of publications pointed out that millennials and Gen Z are more likely than older generations to prefer wine over beer.
It's interesting to observe how brands are prompting a cultural shift in consumer perceptions of wine. While wine is a product often associated with snobbery, elitism and even pretension, companies tapping into the new canned trend are hoping to position wine closer to the accessibility of more casually consumed drinks like beer.
This year marked Pride's golden jubilee: it's been ​50 years since the inaugural Pride parade in 1970. For these 50 years, Pride Month has become a powerful economic engine, with big brands investing heavily in sponsorships, ads and merchandise to express their support for the LGBTQ+ community and to win over new consumers. In fact, many commentators argue that such corporate initiatives have played a positive role in "normalising" LGBTQ+ culture, even though some companies have faced accusations of "pinkwashing".
But with lockdown measures still in place around the world, Pride-goers won't be able to properly celebrate the anniversary as large gatherings in key cities like New York and San Francisco, along with around 1,500 Pride events globally, have been cancelled for the first time in history.
Most Pride organisers have tried to bring the spirit and mission of the celebration to online platforms: for example, InterPride, the overseeing body for World Pride, co-produced an international virtual event called Global Pride with content, performances and speeches for each timezone.
We analysed 2139 articles published in top-tier English-language outlets between 1 May-24 June to find which brands stood out with their Pride-related marketing efforts.
We found that Apple and Netflix had the largest share of voice. Apple released two new colourful watch bands and faces: one Apple Watch Pride band with a light-coloured rainbow and another with a twist on the existing Nike Sport Band with rainbow colours located inside the holes of the band.
Apple, one of the few global companies whose CEO is openly gay, began annually releasing new Pride-themed bands and watch faces in 2017. Since then, these products have secured the company's share of voice in the conversation around Pride, with its loyal fan base repeatedly publicising the watches on social channels.
We also analysed the top-trending Pride-related content around each brand from our study sample and compared how it performed in terms of engagement (likes, shares, comments) across Facebook, Twitter, Reddit and Pinterest.
We found that an article on confectionery brand Skittles, published by American LGBTQ+ news magazine Out, significantly outperformed the coverage around other Pride campaigns.
The brand, whose iconic rainbow is recognised globally and whose tagline is "Follow the Rainbow. Taste the Rainbow.", ditched their colourful symbol and introduced grey limited-edition "Pride Pack" candy bags. The campaign's message is "Only one rainbow matters during Pride", promoted online via the #OneRainbow hashtag.
While almost all brands in our study sample have put rainbows on their products or logos, Skittles, which did exactly the opposite, reached more social media users, especially on Twitter, where it gained much more impressions and mentions, as per our analysis of the Twitter conversation around each brand during Pride.
The brand gained so many impressions and mentions probably because the Twitter discussion was rather polarised. While a number of users welcomed the campaign, calling it "one of my fav things" and "so freaking cute", there were also many who still perceived the bag as white and said that it appears as though it's celebrating White Pride. Others asked how does a Fortune 500 company could make "stuff like this" and not stop to think whether putting the word "Pride" on a bag of white skittles is a good idea.