The COVID-19 pandemic has exacerbated preexisting mental health challenges, giving a stronger impetus to the debate around depression and anxiety in both healthcare and mass media.
Our media analysis found that the conversation in health industry outlets was mainly press release-driven, meaning healthcare companies primarily relied on owned and paid media.
However, healthcare companies were largely absent from the mass media, where the mental health debate was primarily driven by influencers, NGOs and government agencies, as well as companies from the financial and management consultancy sectors.
We suggest that Covid presents an opportunity for many healthcare brands to go beyond their usual media pool and dive into the mainstream by contributing to the destigmatisation of mental health and use influencers to personalise their stories.
Even prior to the pandemic, mental health was starting to become a hot topic. Back in 2018, we discovered that the level of public awareness is markedly rising and the conversation about various mental issues is becoming livelier. This was due to the higher number of celebrities and influencers who have opened up about their own struggles, including Kendall Jenner, Adele and Beyoncé. Some have even started campaigns – for instance, Prince William, Kate Middleton and Prince Harry launched Heads Together to raise the profile of mental health.
And as preexisting mental health challenges have been exacerbated by the impact of the COVID-19 crisis, mental health became even more trendy. Hardly a day goes by when we don't encounter a mental health-related headline in the media or in our news feeds.
The news regularly reports on study after study showing the heavy psychological burden of the pandemic. For example, in a recent poll from the Pew Research Center, 73% of Americans reported feeling anxious at least a few days per week since the onset of the pandemic. And between mid-February and mid-March 2020, prescriptions for antianxiety medications increased 34%.
Intrepid investors, who started dabbling in mental healthcare over the past few years as part of a broader digital health funding boom, found new incentives to pour money into that space. In 2020, mental health startup funding was 5.5 times the $275 million investors ponied up four years earlier. Commentators and industry analysts have noted that the main reason for this is the collective psychological fallout during the pandemic, which finally mainstreamed mental health.
Depression and anxiety in the centre of trade media
To see how the mental health debate unfolded in the specialised healthcare media, we analysed 1,042 English-language articles published in the six-month period between 1 April – 30 September in leading industry publications such as BioSpace, British Medical Journal, Fierce Healthcare and Kaiser Health News.
We found that depression and anxiety were the two most commonly discussed conditions in the conversation.
This is hardly surprising since these two conditions skyrocketed since the start of the pandemic, and many companies have started investing in this sphere. In 2019, around 11% of U.S. adults reported experiencing symptoms of anxiety or depression, which increased to 42% by December 2020.
The industry media was dominated by news around clinical trials, as healthcare companies focused on communicating about their new drugs and therapies. For instance, Biogen had some positive news from a phase 3 clinical trial of a depression drug jointly developed with Sage Therapeutics. Meanwhile, Perception Neuroscience, an atai Life Sciences biopharmaceutical company, announced the initiation of a clinical study to evaluate its therapeutic treatment of psychiatric disorders such as Treatment Resistant Depression (TRD).
Industry publications also followed the developments in medtech and digital health. For example, an NYU study found that Wise Therapeutics' game-based app reduces anxiety in multiple sclerosis patients. Meanwhile, telehealth firm Ro launched virtual mental health services for anxiety and depression to capitalise on the demand for behavioural health.
Healthcare still relies on owned and paid media
We found that a significant portion of the conversation in our trade media sample consisted of press releases, as many of these outlets reprint announcements as part of their industry coverage. Our analysis corroborates that healthcare companies, especially start-up and specialised small firms, still very much count on news wires as their main PR vehicle. Historically, health comms have typically relied on a small pool of media, typically owned and paid.
To find out which companies managed to disseminate their messages successfully, we used Commetric's proprietary 'media conversation impact score' metric to identify the corporate brands with the biggest impact on the media discussion around mental health.
We determine an organisation's media impact in the context of a topic by looking at its media influence score calculated in terms of coverage by high-profile media outlets, topic relevancy score measuring its contextual relevance, and media visibility as measured by the number of mentions.
Cybin, a biotechnology company focused on progressing psychedelic therapeutics, emerged as the most impactful one in our media sample. Many industry outlets reprinted its announcements that it will co-sponsor a trial of psychedelic-assisted psychotherapy for frontline clinicians experiencing COVID-related distress, and that it selected anxiety disorders as the initial target indications for its proprietary psychedelic molecule.
Apart from clinical trials, Cybin's messaging was also focused on partnerships and collaborations: it entered into an exclusive research and development collaboration agreement with TMS NeuroHealth Centers to establish Mental Health Centers of Excellence for facilitating research and development of innovative psychedelic therapeutics for patients suffering from depression.
The second most impactful company, Core One Labs, a biotech focused on advancing psychedelic medicines to market, focused its messaging on its mergers and acquisitions activity: it announced that it acquired all of the outstanding share capital of Akome Biotech.
However, these two specialised companies owed their influence to the distribution of press releases in the industry media. This was also the case with Braxia Scientific, which announced it has launched a psilocybin-assisted clinical therapy training program, and with Mydecine Innovations Group, which filed its final patent application for one of its lead drug candidates for enhanced treatment of anxiety and post-traumatic stress disorder (PTSD).
In the meantime, most Big Pharma companies, which typically have well-established PR programmes, secured their influence primarily via earned media. For instance, Eli Lilly was mentioned for conducting a study with Apple to uncover connections between tech use and cognitive function, which found that patients already diagnosed with mild cognitive impairment or mild dementia used smartphones differently.
Another pharma company that was featured because of its collaboration with Apple was Biogen, which helped the iPhone maker develop algorithms that use sensor readings of mobility, typing patterns and more to identify mental health conditions like anxiety, depression and mild cognitive impairment.
Roche was also in the trade news for partnering with a tech giant – it published a study conducted with Google that showed eight weeks of the Headspace meditation app resulted in a 31% decrease in anxiety symptoms and a 46% decrease in depressive symptoms among healthy adults.
Other pharma companies earned their impact by participating in specific initiatives. A coalition of pharma companies including Takeda, Johnson & Johnson and Bristol Myers Squibb sponsored Mental Health America's COVID-19 educational efforts to help caregivers and others including mental health screening tools, webinars and podcasts.
Likewise, Teva hoping to help lessen COVID caregiver stress with a raft of new resources and programs to support mental health via virtual life coaching sessions and free access to a caregiver support app.
Apart from these initiatives, there was fewer product-related news around pharma. One of the rare examples was Boehringer Ingelheim, which announced that the US Food and Drug Administration (FDA) has granted Breakthrough Therapy Designation (BTD) for its treatment of Cognitive Impairment Associated with Schizophrenia (CIAS).
Healthcare companies lag behind in the mass media
To see how the mental health debate unfolded in the mass media, we compiled a second research sample of 1,249 English-language articles published during the same period (1 April – 30 September 2021) in top outlets like Reuters, the New York Times, Forbes and the Guardian.
We employed Influencer Network Analysis, our patented methodology that uses natural language processing (NLP), text mining, dynamic visualisation and human enrichment, to analyse the recent media discussion around mental health in the mass media and the organisations under the spotlight.
The media discussion around the relevant organisations is presented as a two-mode network map (see below), displaying the organisations (circles) and the publications (squares) that referenced them in the coverage. The size of the circles is indicative of the influence that the respective organisation is exercising on the discussion.
We colour-coded the organisations based on their type: we used blue for companies, yellow for NGOs, green for government agencies and orange for universities.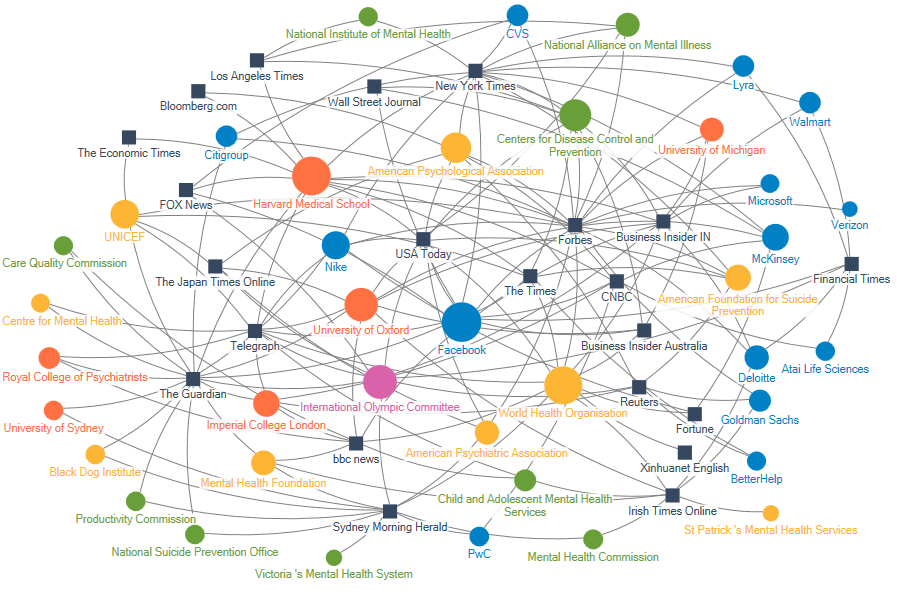 The conversation was shaped mainly by government agencies like the US Centers for Disease Control and Prevention, non-profits such as The World Health Organisation, American Psychological Association and UNICEF, as well as elite universities like Harvard, Oxford and the Royal College of Psychiatrists. These institutions were widely cited because of their studies and recommendations regarding mental health.
The map nicely illustrates how most companies are at the periphery of the debate, as they were referenced by a more limited number of publications. The most notable exception was Facebook, which was referenced by many outlets like the BBC, the Times and Forbes when Antigone Davis, its global head of safety, testified to the US Senate about child protection. It comes after a leak exposed how Instagram's own research found the platform could harm children's wellbeing. Previously, Instagram boss Adam Mosseri, said the app's effect on teen mental health was "quite small".
In contrast, a company that received positive media attention was Nike, which made headlines for giving head office staff a week off for mental health break. The sportswear and trainers brand said workers at its headquarters in Oregon would be "powering down", with senior leaders encouraging staff to ignore all work responsibilities to aid their mental health.
Similarly, Wall Street banks Goldman Sachs and Citigroup boosted their reputations as they took action to help their employees cope with the strain of long hours and pressure working during a pandemic. David Solomon, the CEO of Goldman Sachs, walked back his requirement for bankers, brokers and traders to immediately return to the office after conducting a survey of about 40,000 employees. And Citigroup CEO Jane Fraser informed her 210,000 employees that she is banning internal video calls on Fridays. The move was part of a larger program to set boundaries and help her people have a healthier work-life balance.
The management consultancy sector was also well-represented. For instance, McKinsey featured in the Wall Street Journal and Fortune with its thought leadership – one of its recent analyses showed that COVID-19 could result in a potential 50% increase in the prevalence of behavioural health conditions, while another report noted that 91% of employees believed that their employers should care about their emotional health and 85% said that behaviour health benefits were important when evaluating a new job.
In a similar manner, Deloitte was mentioned for its study that found businesses investing in mental health programs saw a median annual ROI of CA $1.62 for every dollar spent, while a survey conducted by PwC showed that mental health and wellness this year overtook the cost of living as the most important societal issue.
However, healthcare companies and pharma companies in particular were largely absent from the debate. The most influential health company was Lyra, one of the mental health app firms that have achieved private "unicorn" status during the pandemic. It was mentioned in the Financial Times and Forbes as it raised $200m at a $4.6bn valuation, which was perceived as indicative of the mental health market possibilities.
Mental health services company BetterHelp, meanwhile, was featured in Reuters and The Times as it partnered with seven-time Grand Slam winner Venus Williams for a $2 million "free therapy giveaway." And biopharmaceutical company Atai Life Sciences got in the Financial Times and CNBC with its new results from a clinical trial using MDMA to treat post-traumatic stress disorder.
A debate still driven by influencers
As per our 2018 analysis, we found that influencers continued to act as coverage drivers in many reports around mental health. In our current media sample, most influencers came from the sports world and included tennis players like Naomi Osaka and Venus Williams, gymnast Simone Biles, swimmer Michael Phelps and basketball player Kevin Love. This was in part because our research period included the Tokyo Olympics, which took place between July 23, 2021 – August 8, 2021.
Gymnast Simone Biles emerged as the top influencer, as celebrities and athletes were rallying behind her after her decision to withdraw from competition at the Tokyo Olympics to care for her mental health. Biles, the most decorated women's gymnast of all time, sat out of a U.S. team competition because she wasn't in the right headspace to compete and didn't want to go into any other events "second-guessing" herself.
The 24-year-old drew broad praise for prioritising her well-being above the games and also drew comparisons to tennis star Naomi Osaka, another superstar athlete of colour who cited her mental health when she withdrew from the French Open and Wimbledon earlier this year.
Many media reports remarked that two of the biggest names in sports publicly revealing that they are struggling with their mental health could be the catalyst for wider change. But some have had the opposite reaction, making claims that Biles let her country down. Turning Point CEO and radio talk show host Charlie Kirk came out and called Biles a "selfish sociopath" who is a "shame to the country." "I don't think it's remotely courageous, heroic or inspiring to quit," wrote British columnist Piers Morgan.
Meanwhile, many mass media outlets broke the news that Prince Harry and Oprah Winfrey will premiere a television documentary series on mental health issues, with singer Lady Gaga and actress Glenn Close among those contributing. The TV series is one of the first ventures Harry since he and his wife Meghan Markle stepped down from official duties and moved to California.
The only corporate representative among the top influencers was Facebook's head of safety Antigone Davis, who told lawmakers that Facebook put in "multiple protections to create safe and age-appropriate experiences for people between the ages of 13 and 17." According to Davis, Facebook taps internal research and outside experts to make changes to its apps, with the goal of keeping young people safe on its platforms and ensuring that those who aren't old enough to use them do not.
It's interesting to note that all the influencers, alongside the organisations mentioned above, made anxiety and depression the two most often mentioned mental health conditions, just like in the trade press. But while the industry media covered some other problems like addiction and PTSD, the mass media took mental health to mean namely anxiety and depression.
This topic overlap between mass and trade media indicates that there's an opportunity for many healthcare brands to go beyond their usual media pool and dive into the mainstream. The main difference is in the way messages are conveyed. Health companies have naturally focused on the clinical aspects of mental health, as their messaging has been primarily product-centred and aimed to promote their drugs or therapies.
How can healthcare brands tap into the mass media conversation?
Our analysis showed that the portrayal of mental health issues like depression and anxiety in the mass media is more abstract and encompasses not only clinical cases but also more general feelings (e.g. an athlete not being in the right headspace to compete).
However, health brands, even if they specialise in prescription-only products, could seize the Covid-induced opportunity to build their reputation by establishing themselves as educators on mental health matters.
This is especially true for emerging corporate brands, which have so far limited their messaging to their product lines and have counted on news wire services to make their names heard. There is now an opportunity for healthcare brands to build on brand trust, with the ultimate goal of making fundamental changes to the often-complex healthcare space while boosting their patient's education and experience.
Here are a few ideas on how to do it:
Contribute to the destigmatisation of mental health. The first building block of any PR effort could be tackling the ever-persisting stigma around the very notion of depression and anxiety. Since the majority of stigma comes from a lack of understanding and misplaced fear, educational campaigns to increase knowledge around mental conditions is paramount. Providing relevant information to the media goes a long way towards positioning a health company as an authority on particular conditions.
Use influencers to humanise and personalise. As we saw, the mass media mental health debate is largely driven by public figures and influencers. There is a very simple explanation for that – they tell a personal relatable story and elicit strong reactions. After all, if an accomplished athlete could feel anxious before a competition, doesn't that mean that anxiety is quite natural? Some mental health brands have already started doing that – take Olympic swimmer Michael Phelps' campaign with virtual therapy startup Talkspace, which started to chip away at the long-standing stigma.
See how consultancies have done it with thought leadership. Thought leadership has been the cornerstone of management consultancies' marketing for many years, with the most prominent thought leaders commanding significant market share. In our analysis, McKinsey, Deloitte and PwC used thought leadership in the form of accessible, widely available content and through improving the visibility of experts within the firm. The most effective thought leadership supports not just brand building and PR coverage, but genuine business development activity.
Adopt some tech tropes. Digital technology quickly moved from the periphery to the core of healthcare, enabling providers to offer more accessible and cheaper options. Creative content and digital media experiences can engage younger audiences, especially in patient education. Convenience, a sense of community and fun are all key to connecting with this hard-to-reach audience. Also, a tech-related venture means greater media interest not only for innovative medtech startups but also for traditional pharma players – take Eli Lilly and Biogen's collaboration with Apple and Roche's work with Google.
Borrow some Covid saviour halo. For pharma in particular, our recent analysis indicates that the coronavirus crisis could present an opportunity for its redemption in the eyes of the public as companies have the chance to return to the industry's core value – saving human lives. Thanks to the vaccines, the public's interest in the process by which pharma companies develop and discover new drugs, treatments, and medications has increased since the start of the pandemic. With the growing interest in mental health, pharma has the chance to frame itself not only as saviours of lives but also as saviours of something equally important – our minds.