2019 was another year whose headlines were dominated by Trump and Brexit. However, it was also a year which saw a growing media focus on topics involving corporate social responsibility (CSR).
High-profile media outlets got into the habit of scrutinising companies for their approaches towards the social issues of the day. More than ever, the notion of corporate reputation has come to imply putting purpose before profit and delivering value to all stakeholders instead of merely focusing on the interests of stockholders.
This trend culminated with August's Business Roundtable statement, which was met with both support and criticism. For some commentators, the statement was a definitive repudiation of the overarching "Friedman doctrine", formulated in the 1970s by economist Milton Friedman, according to which the sole social responsibility of business is to increase its profits.
Our analyses of the media landscape proved that throughout 2019, many corporations were mentioned in the media namely for their CSR policies or their failings to behave responsibly. Judging by our most-read stories of the year, what grabbed our readers' attention was the way businesses conveyed their engagement with matters like consumer well-being, sustainability and LGBTQ+ issues.
Here are our top five 2019 analyses by number of readers:
Our most-read analysis of 2019 was on fast food, a segment which, alongside fast-casual, accounts for more than 50% of sales in the entire restaurant sector. Fast food continues to grow in popularity due to the accelerating pace of life in urban areas and the need for quicker and cheaper meals.
But the development of the market might be obstructed by the ever-increasing health awareness among customers. While consumer tastes shift to healthier meals, fast food maintains its long-standing reputation for being unhealthy, to the extent that researchers draw comparisons with the tobacco sector.
An empirical and historical analysis, published in healthcare journal Milbank Quarterly, claimed that there are similarities between the tobacco and food industry in terms of the practices, messages and strategies to influence public opinion, legislation and regulation. In particular, there are significant similarities in the actions that these two industries have taken in response to the concerns that their products cause harm.
Apart from health, working conditions is the most controversial topic in the fast food coverage. The most widely covered news on this subject recently was the strike organised by McDonald's employees targeting sexual harassment at work. The protest aligned with the global 'Me Too' movement and helped make McDonald's the most often mentioned brand in the conversation:
Fast food spokespeople have often stated that there are no good or bad foods, but there are good or bad diets instead, underlining that consumers are entirely responsible for what they eat. Such messages are most effective in the US, where personal responsibility and freedom are historically central values.
But a growing number of journalists, scholars, health campaigners and celebrity chefs blame fast food companies for contributing to global obesity. Other allegations include unethical treatment of animals, worker exploitation and deceitful marketing.
In response, some food and drink players are keen to promote themselves as "part of the solution". The International Food & Beverage Alliance (IFBA) – a coalition between giants such as Coca-Cola, Pepsi, Nestlé, Mars, Unilever and others – wrote to the World Health Organisation (WHO): "We all recognise that non-communicable diseases and childhood obesity are major public health problems that require multi-stakeholder solutions. As a member of the private sector, we firmly believe that the food industry has a role to play as part of the solution, and have committed our time, expertise and resources to do our part."
A large number of fashion brands are now considering environmental sustainability a management agenda, and words such as "green", "eco", "organic", "slow" and "ethical" are increasingly becoming a part of the fashion conversation. Many companies have started building their business models on sustainable production and operation, making sustainability a major focus for long-term growth.
In order to gain attention and credibility, as well as to strengthen the emotional connection with their customers, brands have started communicating specific initiatives like supporting charitable organisations and collaborating with influencers focusing on sustainability. They are also employing giving-back-to-the-society strategies by donating a part of each purchase to a cause or community. In this way, the customer not only purchases a sustainable product but also supports a cause beyond the fashion industry.
We analysed the media discussion around sustainable fashion and found the brands driving the discussion using our Influencer Network Analysis (INA) methodology, which employs natural language processing, entity extraction, free-text data mining and dynamic network mapping technology: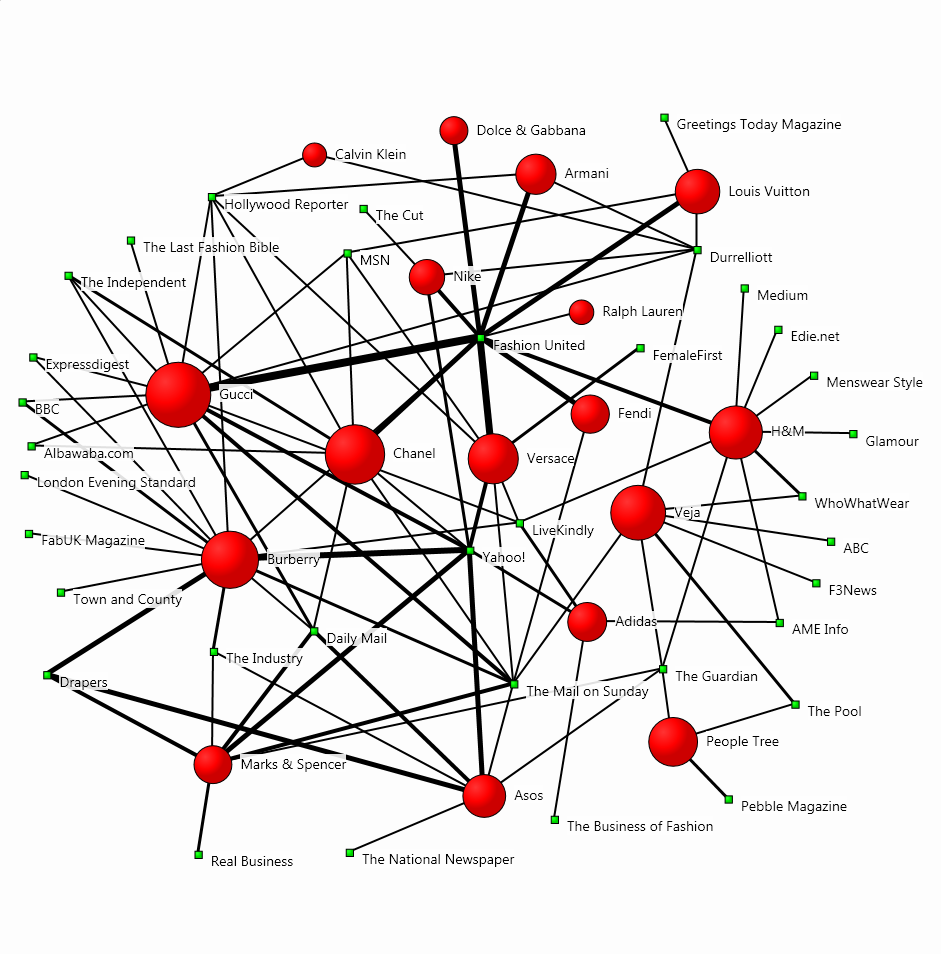 Although the industry's environmental footprint is associated primarily with fast fashion brands, the discussion was dominated by big luxury houses, as their actions are often perceived as trend-setting and indicative of the industry's state. They featured prominently in articles enumerating the best eco-labels on the market, such as: "Sustainable Fashion 101: The Beginners Guide to Dressing Ethically", "Super cool ethical brands you need to know about" and "36 Conscious Fashion Brands I'm 100% Buying Into".
The popularity of the topic was also emphasised by the fact that the brands featured not only in specialised publications such as Fashion United, The Business of Fashion or Glamour, but also in daily outlets such as the BBC, The Guardian, London Evening Standart and The Independent.
Gucci had the greatest prominence and centrality in the discussion mainly because of its latest initiative, Gucci Equilibrium, which aims to solidify the brand's position as a sustainable and responsible luxury fashion house. "Gucci is committed to a culture of purpose putting environmental and social impact at the heart of the brand," Marco Bizzarri, Gucci President and CEO, said in a statement. "Together, by committing to a culture of purpose, taking responsibility and encouraging respect, inclusivity and empowerment, we want to create the necessary conditions for a progressive approach to sustainability."
The expression "a seismic shift" is regularly employed in media reports and analyses into the accelerating gender-neutral trend in the fashion industry. A growing number of fashion brands are trying to reframe their narratives so as to attract fresh clientele from the ranks of Generation Z and millennials, which are perceived to be the most important retail consumers, accounting for $143 billion in spending in the next four years.
The latest seasons have seen luxury brands like Gucci, Saint Laurent and Haider Ackerman combining menswear and womenswear runway shows, Others, such as Proenza Schouler and Rodarte, have started showing women's pre-collections or women's ready-to-wear during the back-to-back menswear and couture calendar. Meanwhile, fast-fashion labels such as Zara started releasing ungendered collections with models of both sexes dressed in the same clothes.
Analysing the media conversation around gender-neutral fashion from October 2018 to August 2019, we found that Gucci was the most prominent brand in this context:
Gucci has been commonly perceived as a lynchpin brand in the gender-free movement, with its shows often having female models wearing clothes from the men's collections and vice versa. The label positioned itself at the forefront of the trend by launching a campaign for gender equality called Chime for change and releasing reports on young people's feelings on gender and fluidity.
Kenzo was mentioned for using the menswear media spotlight at Paris Fashion Week to showcase the women's fall-winter ready-to-wear as part of the same runway show, with the styles borrowing from some of the menswear themes. Kenzo's collection was often cited as an example of designers blurring the definition of any boundaries between men's and women's clothes to produce genderless clothing.
Louis Vuitton was discussed mainly for closing Paris Fashion Week with a futuristic gender-neutral Spring 2019 collection featuring space and science fiction themes, implying that in the future, gender fluidity would be the new norm. The models wearing sharp suits were actually girls giving the impression that they want to look like tough men.
Boeing, the world's largest commercial aircraft manufacturer, is in the midst of a swelling PR crisis after the Lion Air crash in October 2018 and the Ethiopian Airlines crash in March 2019. The fatal accidents involved the same jet model, the Boeing's best-selling 737 MAX, which has been a central business driver since the company introduced it in 2017 as "a reliable fuel- and cost-efficient solution to air travel in the 21st century".
The reputational damage has quickly made investors knock more than 13% off Boeing's share price, equal to about $32 billion of market value. Moreover, the passenger backlash may eventually lead to losses of some corporate customers, benefiting its European rival Airbus, which offers a similar fuel-efficient jet.
A research by the Business Insider, conducted a week after the Ethiopian Airlines crash, concluded that 53% of Americans would not want to fly on a Boeing 737 Max even after the Federal Aviation Administration (FAA) clears the aircraft for service. In our own analysis, we found out that Boeing ended up with such a damaged reputation after a series of crisis communications errors.
To evaluate the impact of Boeing's crisis management, we analysed the Ethiopian Airlines crash media coverage during the three days following the accident in the top-tier US publications, such as New York Times, CNN, Bloomberg, CNBC and so on. In addition to making it seem passive and damaging the brand's credibility, Boeing's lack of pro-active communication strategy created an information void which was filled by the criticisms of other stakeholders, as our analysis found:
In this way, Boeing didn't take a central place in the media discussion around the incident but rather outsourced the media narrative about its product to critics from across the stakeholder groups. As a result, the media narrative quickly switched from the jet to speculations about Boeing's passiveness against the backdrop of regulatory activities.
But Boeing wasn't only slow and passive – its crisis management was additionally undermined by the insistence that its product was safe, which was hardly a well-formulated message at a time when the media was preoccupied with analysing the two crashes and the similarities between them. From a strategic point of view, such defensive behaviour is negatively linked to the post-recall brand image because it often communicates a lack of corporate responsibility and sincerity.
These issues are illustrated by some of the best practice case studies on product recalls in other industries. One of the best-known examples in the crisis management literature is Johnson & Johnson's successful recall of its pain relief product Tylenol in 1982 after some fatal incidents. The pharma giant implemented a decisive response strategy which included a forthright media campaign, new tamper-resistant packaging designs and a hotline for customers. It didn't wait for regulators to act first, unlike Boeing.
Not many brands have made national headlines and triggered such strong consumer reactions with their corporate messaging as Procter & Gamble's Gillette with its new "We Believe" ad. Putting a twist to its three-decades-old tagline "The Best A Man Can Get", the nearly two-minute ad, created by the brand's agency Grey, focuses on the #MeToo movement, bullying and "toxic" masculinity, asking: "Is this the best a man can get? Is it? We can't hide from it. It has been going on far too long. We can't laugh it off, making the same old excuses."
The "We believe" ad was covered by almost all major media outlets and extensively analysed by journalists, marketing experts and celebrities. Most headlines centred around the negative reactions to the ad and contain words such as "backlash", "outrage" and "anger".
Critic and essayist Kyle Smith wrote in the New York Post that the ad hasn't caused a backlash but rather a "hacklash" because journalists deal with pretend outrage, even citing tweets from anonymous Twitter accounts. For instance, the BBC claimed that "there have been calls for Gillette to post an apology video", but their source was a Twitter user with 18 followers, while another supposedly angry party cited by the media outlet turned out to be an anonymous Twitter user with six followers. Such examples of overstating the negative reactions made Kyle Smith think that journalists exaggerated the volume of the backlash.
To check if the backlash has been exaggerated, we conducted a sentiment analysis of tweets from genuine active users followed by more than 500 people:
We discovered that most of the tweets were actually carrying a positive sentiment and that most shares and comments were also with positive connotations, especially those by younger users. Some thanked the brand for its campaign and pointed out that the negative responses show the need for it. Others remarked that real men realise that respecting women and being masculine are not mutually exclusive.
It seems that brands become more and more confident about value-based marketing and are more willing to take the risk of addressing controversial issues. Gillette ensured it would be in the centre of a heated conversation by tackling a topic about which consumers usually have strong and divided opinions.
Procter & Gamble CFO Jon Moeller said Gillette's post-ad sales were "in-line with pre-campaign levels" and called the campaign a big success, citing the "unprecedented levels" of media coverage and customer engagement. "It's a part of our effort to connect more meaningfully with younger consumer groups," he said. "That campaign was aired once and has generated significant conversation, which is important and has generated a huge number of impressions."
A brand's stand is one of the main drivers of interest – 43% of consumers express purchase intent after viewing a product or brand communication relating to the brand's stand, and 32% express intent to advocate for the brand. In addition, 60% agree that brands should make it easier to see what their values and positions on important issues are at the point of sale.