As COVID-19 has unequally affected many racial and ethnic minority groups, the crisis served as a call to action within the public health community, spurring pharma to pursue actionable efforts toward reversing health inequity.
Our media analysis found that the top issues of concern were clinical trial diversity and drug pricing, while Pfizer, Johnson & Johnson, Moderna and Novartis were the most influential companies in the health equity debate.
We suggest that pharma players could better address health disparities by following the wider diversity and inclusion conversation and establishing a sustainable, community-based clinical trial infrastructure.
View a one-page infographic summary of the analysis.
Among everything else, media headlines during the pandemic have highlighted the disproportionate effect of COVID-19 across certain racial and ethnic groups. Data from the Centers for Disease Control and Prevention (CDC) showed disparities in everything from testing and vaccination rates to cases, hospitalisations and deaths.
Many media stories have noted that COVID-19 is disproportionally affecting the poor, minorities and a broad range of vulnerable populations due to its inequitable spread in areas of dense population, high prevalence of chronic conditions or poor access to high-quality public health and medical care. And beyond the direct health impacts of the virus, the pandemic has taken a disproportionate toll on the financial security and mental health and well-being of people of colour, low-income people, LGBTQ+ people, and other underserved groups.
But while the media has now drawn attention to these health disparities, they existed well prior to the pandemic. Outside of the COVID-19 narrative, many news stories also highlighted other topics such as maternal health equity, as Black women living in rural counties were reported to be much more at risk of pregnancy-related deaths, and life expectancy and chronic health equity, as the diabetes age-adjusted mortality rate has been much higher among Black people and American Indian/Alaska Natives than White people.
By catapulting deep-seated disparities into the spotlight, many media publications have started scrutinising pharma companies for clinical trial diversity, pointing out that although communities of colour have been disproportionately affected by several diseases, they were largely underrepresented in trials. In the United States, 12% of the population is Black and 18% is Hispanic or Latino, but among the 32,000 patients who participated in the clinical trials that led to the FDA approval of new drugs in 2020, only 8% were Black and 11% were Hispanic.
Equity champions
The pandemic served as a call to action within the public health community, spurring pharma to pursue actionable efforts toward reversing health inequity. To find out which companies stood out in the health equity media conversation, we analysed 547 articles published in top-tier outlets between September 2020- September 2021. We found that Pfizer, Johnson & Johnson, Moderna and Novartis led the way by media influence score calculated in terms of coverage by high-profile media outlets.
Vaccine makers Pfizer, Johnson & Johnson, Moderna and AstraZeneca earned their influence in the debate due to the large number of COVID-related articles discussing the diversity in vaccine clinical trials. But Pfizer managed to emerge as the most influential company with its clinical trials diversity report, which gathered much media attention.
In an effort to foster transparency, the company published diversity data from its clinical trials going back 10 years, showing there's much work to be done. Between 2011 and 2020, Black or African American participants made up 14.3% of 212 trials for which data on race was collected, but when broken down by trial, only about half of Pfizer's studies (56.1%) surpassed census levels for Black participants.
Pfizer said it is committed to "achieving racially and ethnically diverse participation at or above U.S. census or disease prevalence levels" when appropriate in all of its clinical trials: "Sharing our baseline on clinical trial diversity is the beginning of continued transparency on our progress toward this commitment."
In this regard, another news story around Pfizer was the establishment of the Columbia-Pfizer Clinical Trials Diversity Initiative. The company partnered with the Columbia University Irving Medical Center and its Herbert Irving Comprehensive Cancer Center to reduce health disparities by increasing the participation of underrepresented minorities in clinical trials and enhancing the diversity of clinical researchers.
For more Pfizer insights, read our report: "Pfizer: Corporate Reputation Analysis Case Study".
Moderna, in the meantime, slowed enrollment slightly in its large clinical trial in September 2020 to ensure it has sufficient representation of minorities most at risk for the disease. "I would rather we have higher diverse participants and take one extra week," Moderna CEO Stephane Bancel said. Diversity "matters more to us than speed."
Apart from news around diversity in its vaccine trials, Johnson & Johnson earned its influence for believing in going local for advice on how to handle health equity. The pharma giant launched The Health Equity Innovation Challenge, set to start in Chicago, Detroit, Los Angeles, New Orleans, New York City and Philadelphia, all areas that suffer extreme health inequality within the Black and Hispanic communities. The challenge is an open call to these communities to submit ideas to help open up access to quality care, improve diversity in science, push for more trustworthy community-based healthcare and prevent and treat illnesses that disproportionately affect them.
In addition, Johnson & Johnson made headlines with its plans to increase the number of Black managers in the company by 50% within five years as part of a $100 million initiative to tackle racial inequality. The world's biggest health company said it also would create college scholarships for Black students interested in science, business and health care.
British vaccine maker AstraZeneca got into the debate by announcing it's going to let more people take part in clinical trials from the comfort of their own homes in an attempt to increase the diversity of participants, among concerns in the UK that a lack of diversity among people participating in clinical trials means drugs and medical equipment may be less effective in certain groups. Cristina Durán, the chief digital health officer, R&D, at AstraZeneca told the Guardian typically only 3% to 5% of eligible patients choose to join a clinical trial, with recruitment taking as long as 18 months.
Meanwhile, Novartis earned its prominence when it announced a commitment of $33.7 million over ten years to address the root causes of disparities in health and education. The commitment includes partnerships with Coursera, the National Medical Association, Thurgood Marshall College Fund, Morehouse School of Medicine (MSM), and twenty-six historically Black colleges and universities and HBCU medical schools to co-develop programs focused on building trust in the healthcare system with communities of colour and making measurable progress toward health equity.
Novartis CEO Vas Narasimhan said racial inequity in research and care is a complex problem with many causes, requiring effort on many fronts to solve, while Patrice Matchaba, president of the Novartis US Foundation and head of U.S. Corporate Responsibility, said his company wanted to do more in the aftermath of George Floyd's murder and the Black Lives Matter protests than just issue a press release.
Similarly, Bristol Myers Squibb announced a five-year, $300 million plan to address health disparities, vowing to increase clinical trial diversity, increase Black/African American and Hispanic/Latino representation at all levels of the company, and "strengthening health equity work across the business." The commitment to clinical trial diversity will see BMS extend the reach of its trials into underserved patient communities in urban and rural US geographies.
Gilead Sciences joined the pharma industry's list of pledges to address health inequities, extending its ongoing work with $10 million in grants, which will stretch over three years and contribute to 20 organisations tackling inequality in the Black community. Gilead's recently announced Racial Equity Community Impact Fund plans to fight social injustice in Black communities by focusing on three areas where it says it can have the most impact: funding community advocacy and mobilization, working with historically Black colleges and universities and supporting Black students from "cradle to career."
Gilead's commitment came after researchers called out the company for failing to "provide equal representation of Black, Latinx and Native Americans" in its clinical trials for Veklury, the first FDA-approved treatment for COVID-19. The researchers analysed the demographics of several data sets for the drug, also known as redeliver, finding that Black Americans made up 11% of the participants in a 397-patient study and 20% of a larger study involving more than 1,000 patients.
Positioning map
The companies we analysed were clearly positioned in a topic-specific manner in the media debate, as shown in this graph illustrating the proximity of each company to the others in the media discussion: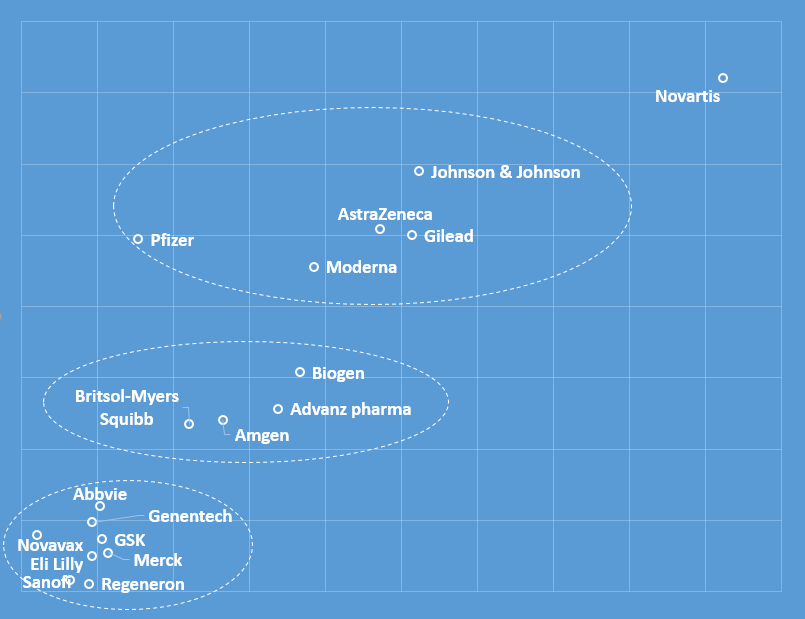 Pfizer, Johnson & Johnson, AstraZeneca, Moderna and Gilead formed a cluster as they all gained prominence within the COVID narrative. However, Pfizer had the most distinguishable presence, with reports underlining that over 42% of participants in the company's COVID-19 vaccine trials came from diverse ethnic backgrounds.
The positioning map also shows that Novartis managed to distinguish itself from other pharma companies and to establish a unique presence in the media conversation. Its main differentiation point was the widely covered commitment of $33.7 million over ten years to address the root causes of disparities in health and education.
Another cluster of companies formed around the topic of drug pricing. For instance, Biogen was sharply criticised in many publications for the $56,000 price tag placed on its newly approved Alzheimer's treatment Aduhelm, a move that threatened to embroil the biotech company and its medication in yet another national controversy. The Alzheimer's Association released a brief statement calling the wholesale price "simply unacceptable" and that, for many people, it "will pose an insurmountable barrier to access … and may further deepen issues of health equity."
As a result, Biogen slashed in half the price of its controversial new Alzheimer's disease treatment in a bid to revive a product launch that has stalled in part because of the backlash. Biogen, whose shares have been hurt by Aduhelm's poor performance, also said it planned to cut costs by about $500 million.
For more on this topic, read our analysis "Alzheimer's in the Media: How Has the Latest Progress Changed Pharma Comms?"
In the meantime, Amgen's venerable TNF inhibitor Enbrel (etanercept) for arthritis and other inflammatory conditions topped the list of offenders in terms of the added cost to the healthcare system. The list was compiled by US cost-effectiveness watchdog ICER, which found 10 examples of substantial price rises for top-selling medicines in 2019, and concluded that seven of those were not backed by any clinical evidence.
And hoping to send the pharma industry a "clear message" on anticompetitive marketing tactics, the U.K.'s Competition and Markets Authority (CMA) slapped Advanz Pharma with more than £100 million ($139.6 million) in fines for hiking the price of its thyroid disease tablets by 1,110%. Advanz's pricing of the drug, which is used to treat thyroid hormone deficiency, was "excessive and unfair," the CMA found.
Drug price levels have been one of the hottest topics discussed in the US media in the last 30 years, as a recent communications study found. The debate has been intensified by the launch of a number of breakthrough high-cost specialty medicines, whose prices (often above $100,000 per treatment course) stirred up growing discontent.
Many commentators have accused brand name drug companies of gaming the Food and Drug Administration (FDA) system that limits the distribution of some medicines so that they can avoid giving samples to generic drug manufacturers, which as a result cannot prove their products are as safe and effective as the more expensive brand name predecessors.
The allegations of exploiting the FDA system in the context of generics are similar to the suggestions that Big Pharma has a tendency to play the patent game to ward off competitors in the context of biosimilars and to prolong the commercial dominance of brand-name medicines.
For more on this topic, read our analysis "Covid's Halo Effect: Will Vaccines Become Pharma's Redemption Story?"
A third cluster of companies was formed around smaller health equity topics – for example, Merck earmarked $10 million to improve U.S. maternal health equity. The new funding, pledged through the pharma giant's global Merck for Mothers initiative, specifically targets maternal health inequity in U.S. cities with above-average rates of maternal mortality for Black people and other people of colour.
Roche's Genentech partnered with the American Cancer Society to try to address cancer health disparities with a "Return to Screening" initiative. It was perceived as the latest effort from pharma to emphasise the importance of keeping up health screenings during the pandemic, especially in under-resourced communities.
Genentech also featured in the debate for releasing a health equity study which found that Black, Latino and other marginalised groups continue to think the healthcare system is stacked against them—and the COVID-19 pandemic made unfair treatment worse.
Other drugmakers in that cluster gathered media attention with their general donations and pledges. For instance, AbbVie is donating $50 million over five years to promote health and education equality, while Eli Lilly is investing $30 million in a new venture capital firm, Unseen Capital Health Fund, that will fund minority-owned, early-stage healthcare companies. Kayode Owens, Unseen Capital's general partner, said that solving for equitable healthcare is the challenge of the 21st century.
How can pharma boost its ESG credentials?
Although not a brand-new measurement, ESG accountability—thanks in part to the pandemic—is pushing the measure to the front page across industries, including pharma.
Pharma players have historically tried to embrace the social aspect of ESG by improving human health, and our recent analysis indicated that the coronavirus crisis could present an opportunity for pharma's redemption in the eyes of the public as companies have the chance to return to the industry's core value – saving human lives.
However, the media conversation around clinical trial diversity and drug pricing continues to pose new challenges to an essential part of pharma's ESG image. Here are a few ways companies can address these issues, based on our analysis:
Follow the wider diversity and inclusion conversation. The diversity and inclusion topic gained particular prominence after George Floyd's death and the growth of the Black Lives Matter movement. Consumers want the corporate world to step up and play a central role in addressing systemic racism – 60% of respondents in an Edelman survey said that brands must take a stand to publicly speak out against racial injustice and that they need to use their marketing dollars to advocate for racial equality and to educate the public on the issue. Pharma companies would be well-advised to tap not only into the clinical trials diversity debate but into the diversity conversation as a whole. This also includes analysing how other industries are doing it – a good example in the fashion sector, where a growing number of brands are trying to reframe their narratives so as to attract fresh clientele from the ranks of Generation Z and millennials.
Tell stronger partnership stories. Partnering with stakeholders across the clinical trial ecosystem (patient groups, community members, clinical research sites, CROs, academia, nonprofit and advocacy organizations, federal and state agencies, industry, etc.) can help establish a sustainable, community-based clinical trial infrastructure. For pharma in particular, comms executives need to operate differently and put a strong accent on partnership stories. As we saw from our analysis, the media has reported on an increasing number of pharma companies partnering with biotechs in order to strengthen their innovation potential. Our previous research into the relationship between corporate news flow and stock market reactions shows that the stock market responds in a positive manner to news about strategic partnerships in the pharmaceutical industry reflecting the market's immediate response, and expectations of future firm value, resulting from the partnership.
Establish long-term relationships and invest in educating the community. It is critical to build long-lasting relationships rooted in a shared commitment to improve health equity in the communities being approached. These relationships should be established well before a clinical trial is proposed. Stakeholders of a community-based clinical trial infrastructure should invest in uplifting the community in ways that expand beyond their specific objectives. Investments could range from health education to donating buildings for educational programs or volunteering to help those in need. It is important to understand the diverse needs of the communities being served, including who the trusted key opinion leaders are. These community leaders and trusted messengers could serve as liaisons that can provide information about clinical trials and what participation means for patients.
Explain why pharma continues to pursue innovation profitably. Corporate spokespeople from pharma companies have usually tried to justify high prices with innovation. Indeed, the media coverage of medical breakthroughs (such as orphan medicines) has been increasing since the 2000s. The Food and Drug Administration has also tried to facilitate access to novel medicines by introducing regulations such as priority review, accelerated approval, fast track review and breakthrough designations. But the innovation argument has done little to sway public opinion – common criticisms include that costs have gone up not because of innovation efforts but because companies are raising the price of drugs that are already on the market, with commentators saying that a lack of competition and the US regulatory landscape allow for price increases much higher than in other countries. The pandemic is a chance to explain better why it's in everyone's interests that pharma continues to pursue innovation profitably.
Go beyond innovation and medical breakthroughs to justify pricing. As the narrative around the whole pharma industry continues to be innovation-driven, and the FDA approves more and more treatments, marketers face a far more complex product landscape. Medical breakthroughs need to stand out, not least because their categories are so complex and overwhelming. To achieve that, pharma players need to go beyond the innovation arch and invest in more properly communicated emotional brand strategies that explain the emotional benefit of the drug. Companies working on Alzheimer's, including Biogen, still haven't done much in this regard. For a notable recent example of an emotional brand campaign, take a look at our analysis of Pfizer's Science Will Win.