In the beginning of every year, the media shines its spotlight on the Swiss Alpine town of Davos, where political and business leaders from around the world gather to chew over the issues of the day. Interestingly, the conversation around this January's World Economic Forum meeting focused not only on the attendees but also on those missing: almost every report emphasised that some of the world's most important political figures, including Donald Trump, Theresa May, Vladimir Putin, Justin Trudeau, Xi Jinping, Emmanuel Macron and Narendra Modi, were apparently too busy to attend.
Because of these no-shows, Davos produced fewer big headlines this year. As Reuters suggested, "the suspense of wondering whether Macron will lecture Trump on globalism, or whether the U.S. president will castigate the assembled Davos men and women for their elitism, will be replaced by something else: relative quiet."
Indeed, the media's consensus was that WEF lacked buzz this year and that without Trump or Putin, Davos didn't have a headline act. Huw van Steenis, a Senior Adviser to the Governor of the Bank of England, noted that Davos 2019 was "a long way from the heady exuberance of last year", and the mood was the most uncertain in years, with investors and CEOs preoccupied with the backlash against big tech, trade tensions between the US and China, slowing global growth, volatile markets and political standoffs.
Artificial intelligence (AI) has become the big conversation for executives with 11 public discussions, the most of any topic. AI replaced blockchain, which was driving most conversations last year, with 85% of chief executives thinking that AI would fundamentally change their business over the next five years, according to PwC's 22nd Annual Global CEO Survey, which was presented at a press conference in Davos.
Remarking that "everyone wants to know about AI but very few people really know what they are talking about when they speak on the subject", Forbes reported that there were two schools of thought on display at this year's conference: 'incrementalists', who thought that AI simply improves existing business processes, and 'radicals', who thought that there would be exciting and scary consequences.
It's all about tech
Such conversations made tech giants the most mentioned companies in the Davos coverage, as our analysis shows. To identify the most influential companies in the media discussion around the conference, we used our Influencer Network Analysis (INA) methodology, which employs natural language processing, entity extraction, free-text data mining and dynamic network mapping technology. Analysing the top-tier English language publications worldwide, we connected the companies to the media outlets which mentioned them most often: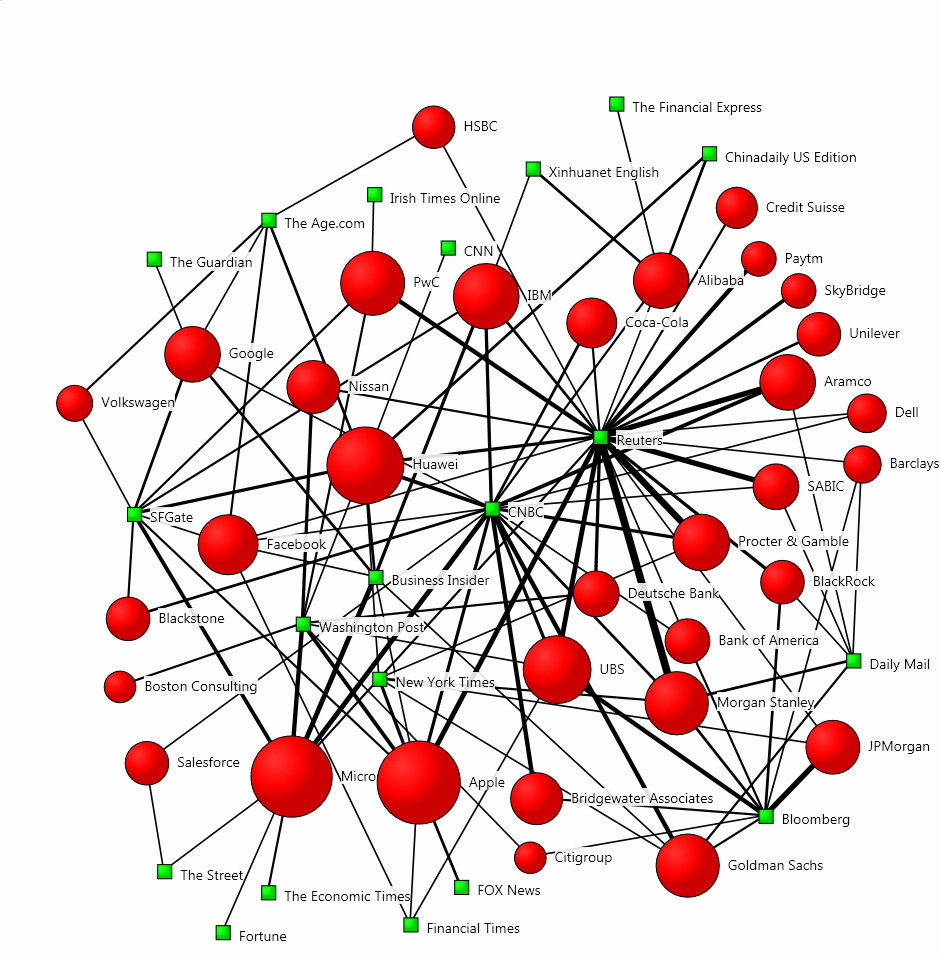 The size of each company's circle denotes the prominence of their presence in the coverage, and the strength of their connections to publications shows the volume of coverage.
The prominence of tech companies is not only due to conversations about AI but also due to discussions around more specific issues such as data privacy, digital disruption and regulation. The most prominent companies in the coverage, including Apple, Microsoft and Facebook, were all mentioned in the context of these issues.
Facebook, for instance, was in the focus of publications such as Business Insider and Reuters because its operations chief Sheryl Sandberg said that the company has to win back public trust after the privacy scandals which dominated headlines of late. In an interview hosted by German newspaper Die Zeit and UK law firm CMS, Sandberg said that Facebook is investing billions of dollars a year to improve security: "We did not anticipate all of the risks from connecting so many people."
The Business Insider reported that Facebook is turning up the volume on the feelgood stories and amplified its "connecting people is good" message with its branding in Davos, with the glass of the company's temporary building in the Alps reading "Choose Love"."We are in a period of rewriting the rules of the internet," Sandberg said.
The subject of privacy was also important for Google: Alphabet CFO Ruth Porat spoke on a panel entitled "Shaping a New Market Architecture," saying that data "is more like sunlight than oil," and that Google would support privacy legislation in the US and would like consumers to trust the company is "doing what we should."
As we can see on the map, Apple's and Microsoft's presence in the coverage is more prominent than that of its peers. This is because outlets such as the New York Times, CNBC, Reuters and Washington Post focused on the Apple CEO Tim Cook's debut at the World Economic Forum and the fact that he sat at the same dinner table as Brazil's far-right President Jair Bolsonaro together with Microsoft CEO Satya Nadella. A picture of them surfaced on Twitter and resulted in titles such as "Apple and Microsoft CEOs Tim Cook and Satya Nadella were pictured at dinner with Brazil's far-right president in Davos" and "The CEOs of Apple and Microsoft had dinner at Davos with Brazilian President Jair Bolsonaro, who has a history of misogyny, racism, and homophobia".
Huawei's centrality was because of its involvement in an international dispute and the concerns over Huawei's ties to the Chinese government. Ken Hu, the deputy chairman of Huawei, and other senior executives appeared while the company's chief financial officer Meng Wanzhou was under arrest in Canada, accused of dealing with Iran in violation of US sanctions.
The Business Insider noted that Ken Hu "appeared calm and composed during his talk at Davos and mostly spoke about 5G wireless technology. He also said the company has seen a damaging effect on its business because of the US-China trade war."
For more tech insights, take a look at our analyses: Trends in Telco PR: 5G in the Media and The Internet of Things: Leveraging the New Industrial Revolution.
Bank better
The other central companies in the coverage were banks such as JP Morgan, UBS, Goldman Sachs and Morgan Stanley. They were also involved in tech discussions, with digital disruption being one of the hottest topics for them. Huw van Steenis, Senior Adviser to the Governor of the Bank of England, remarked: "The largest global banks at Davos are dramatically upping their game on digital transformation spending and cyber defences. Little wonder that many of the fintechs that haven't yet got scale are now looking to partner instead of trying to be disruptors."
For more on fintech, take a look at our analysis: The Digital Dawn of Finance: How Banks Keep Up with Fintech.
Axel Weber, chairman of Swiss banking giant UBS, spoke at a panel about the effects of central banks keeping interest rates low. Simon Smiles, the bank's chief investment officer for ultra-high-net-worth individuals, talked to Bloomberg about sustainable and impact investments through personalised instruments: "The preponderance of sustainable investment instruments is currently available on an aggregate basis and not personalised basis."
Meanwhile, Goldman Sachs' new chief executive David Solomon talked to the BBC about Brexit, emphasising that a "difficult" Brexit will negatively affect its investment plans in the UK: "If this [Brexit] is resolved in a difficult way, or in a hard way, I do think it'll have an impact on where we invest in where we put people. All these things ultimately have an impact on the investment decisions and the business decisions that all of us as business leaders make."
Goldman Sachs is the most mentioned bank in the Brexit coverage, as our analysis found. Goldman's lead is to a great extent because of former CEO Lloyd Blankfein's presence on social media. Although he signed up to Twitter in 2011, he barely used his account before the referendum, but quickly attracted a significant amount of followers after what he tweeted during a trip to London: "Here in UK, lots of hand-wringing from CEOs over #Brexit. Better sense of the tough and risky road ahead. Reluctant to say, but many wish for a confirming vote on a decision so monumental and irreversible. So much at stake, why not make sure consensus still there?"
Spokespeople's influence
We also found the most often quoted individuals in the Davos coverage:
Not surprisingly, the list is dominated by political figures, while Prince William's debate with Sir David Attenborough also featured in many reports. Using our Influencer Network Analysis (INA) methodology, we also found the most prominent corporate spokespeople in the coverage and connected them to the media outlets which quoted them most extensively: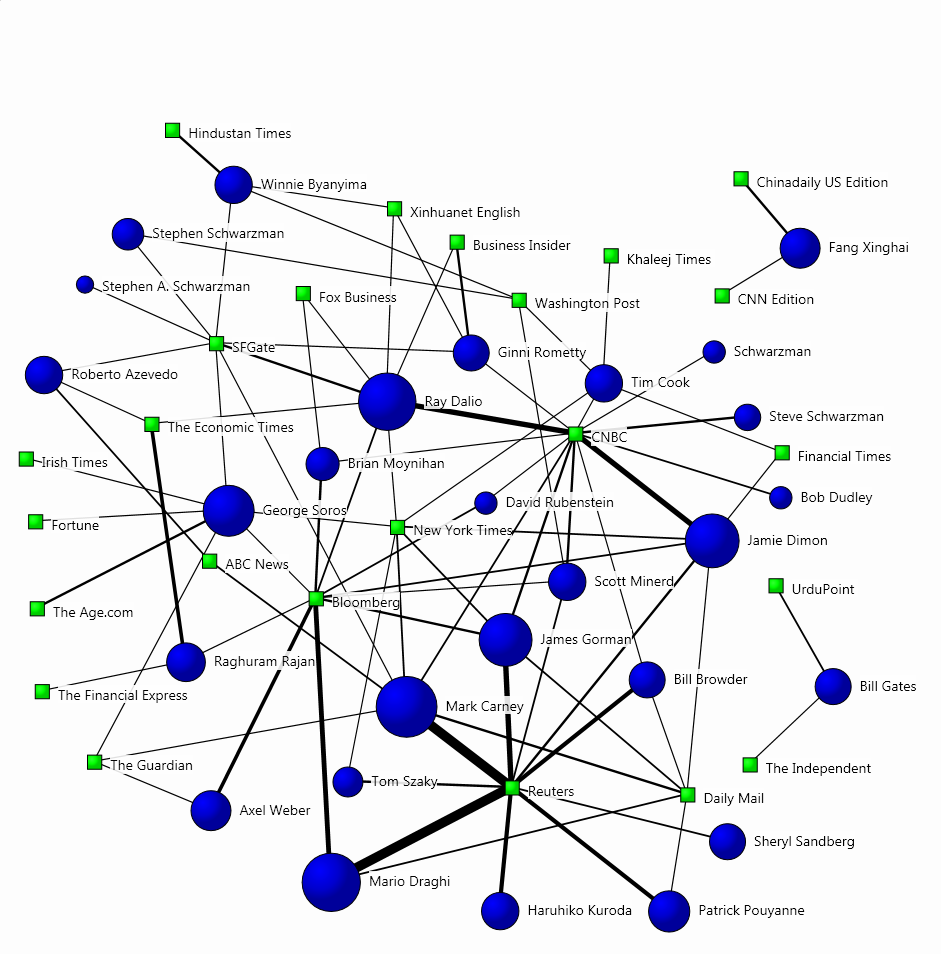 George Soros has the greatest centrality in the coverage, with many publications such as The New York Times, The Guardian and Bloomberg quoting his criticisms of China. Soros said the US "needs to crack down" on Chinese technology companies, arguing that if "these companies came to dominate the 5G market, they would present an unacceptable security risk for the rest of the world" and that President Trump "seems to be following a different course" that leads him to make "concessions to China and declare victory while renewing his attacks on U.S. allies."  He also warned that AI could be used to entrench totalitarian control in China.
Ray Dalio, the billionaire founder of the world's largest hedge fund Bridgewater Associates, came second in terms of centrality. Many outlets quoted his remarks about the next downturn in global growth: "What scares me the most longer term is that we have limitations to monetary policy — which is our most valuable tool — at the same as we have greater political and social antagonism. So, the next downturn in the economy worries me the most."
Rarely revealing his political inclinations, Jamie Dimon, the CEO of J.P. Morgan, attracted the media's attention by saying: "My heart is Democratic but my brain is kind of Republican." In the meantime, Morgan Stanley CEO James Gorman's comments on the US government shutdown also proved popular: "At a human level, you've got 800,000 families affected by this. This is not the way the U.S. should be working. If it goes on through months of this year, it's going to have an extremely damaging effect on the U.S. economy."
The media interest in European Central Bank Chief Mario Draghi was due to his opinion that downside economic risks are dominant, while Bank of England Governor Mark Carney said that he has been preparing for a hard Brexit since the leave vote: "From the day after the referendum we've been preparing for Brexit, no matter what form it takes, if you're a central bank the easiest thing and the most important thing is to prepare for a hard Brexit with no transition (period). So that's what we've been preparing the (financial) sector for."
At PR firm Edelman's Trust Barometer panel, Richard Edelman discussed the Trust Barometer findings and said that "for the PR business I'm going to push to move our work from advocacy/lobbying to information," and that PR should play a 'fundamental' educational role when it comes to fake news: "I urge you all to recognise that silence is just not an option. You have a lot of other people out there taking advantage of your good-natured behaviour. Every company here should consider itself a media company."
Despite the lack of buzz, Davos 2019 was a very important communications exercise, with business and political leaders conveying messages which could set the tone for the year ahead. As we noted in our analysis of the Consumer Electronics Show (CES) 2019 coverage, measuring and analysing the impact of such comms efforts is crucial not only for evaluation but also for planning and implementing future strategies.